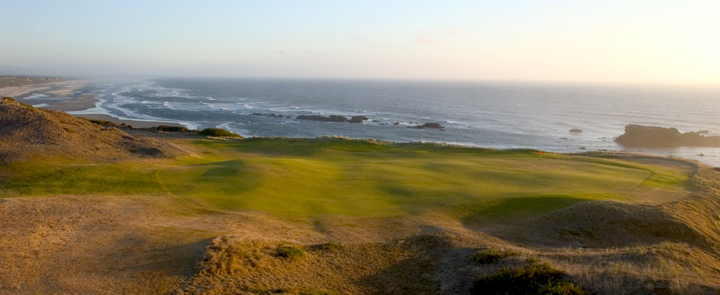 It's a fine day on the southern Oregon coast—warm and clear, with a nip of salt on the breeze blowing in off the Pacific.  I'm in the car with my new friend Al Greenfield, proprietor of A Bandon Inn, on our way from the renowned Bandon Dunes Resort to the Sheep Ranch— which is not actually a ranch, and has no sheep.  Nor is it a clever moniker for a house of ill repute.  It is, in fact, a nearly mythical linksland, but not really a golf course.  It is a magical domain right out of a Michael Murphy book, where scores and yardages cease to hold sway.  It is a grassy hallucination.   And it has generated more gossip and jealous buzz among hard-core golfers than an invitation to Augusta.
The car torques and twists along a back road made tiny by high yellow hills of blooming gorse, and then veers onto a gravel road that leads to a locked gate. Al has been entrusted with a key for the day so we unlock two padlocks, pull forward, and close the gate behind us.
The gravel road jogs north to parallel the ocean a quarter mile inland from sheer cliffs. Between the road and the cliffs stretches what may be the most sublime golfing grounds you've never heard: a mile of perfect, musical, rolling, wild coastline that plunges down to the Pacific. It boasts one of the best short par threes most people will never play—over crashing surf to a green that clings Cypress-like to the very edge of the continent. The links are buffered on the inland side by shore pines and the gray, elegant ghosts of dead shore pines that, in juxtaposition, seem to impart some wisdom about the nature of time. It is all perfectly green and gorgeously wide and humongously empty beneath the golden sun.  If Al and I were movie villains we would wring our hands and laugh: "Mu-hu-wa-ha-ha-ha!"
We follow the road up a steep hill to a dirt parking area.  In the distance, we notice a pickup hauling ass toward us, trailed by a twister of dust.  When a middle-aged man becomes visible, Al says, "Here comes the starter, the cart girl, and the head pro."
Moments later the superintendent of the Sheep Ranch climbs out to collect our  greens fees as if we are spies passing him microfilm that will bring down a government. He is a man of few words.
I learn this much. The owner of the property only allows a few groups a month to play out here. The course is closed on weekends. It's closed in the summer—because there's no irrigation and, as the super says, "So I can go fishing more."
He tells me that the putting surfaces—all 13 of them—are watered by hooking up a 1,000-gallon fire truck to a few sprinkler heads around each green. Some greens soak up two or three truckloads. Two maintenance workers will spend eight hours every day all summer watering seven acres of greens on this golf course that isn't even open and some would say doesn't really exist.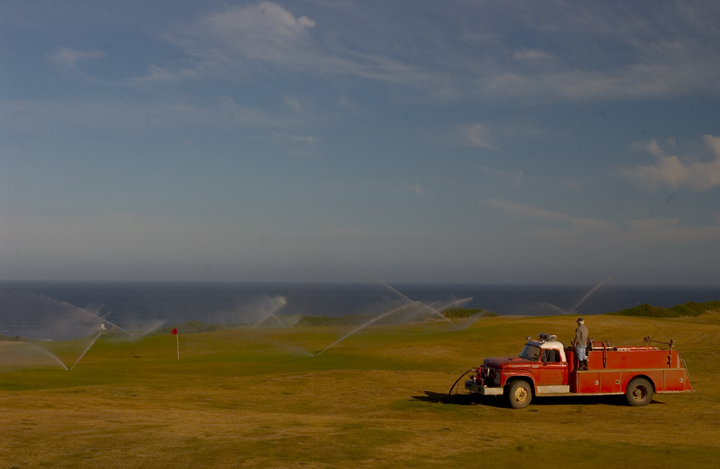 Finally, I ask how folks can book a tee time and he says that he doesn't want to encourage that too much. But people should just call him.And I think: this may be the most private public course ever conceived.
"How do they find you?" I ask.
"They just find me."
And then he is gone– but not before reminding us to lock the place up when we're through.
For the rest of the day it's just Al and me amid the blowing fescues and the snapping red flags, the views of rolling lines of white breakers and the old fire truck parked on the gravel road behind one of the greens. All part of one of the greatest tracts of pristine, embraceable, untrammeled golf terrain on the planet. And possibly the only course where you can actually hit a shot over a fire truck and remain in play.
We commence our round from an elevated tee box just below the parking area. The scorecard informs us there is a hole 427 yards away. We're not certain where, but we hit directly at the blue splash of the Pacific. Eventually we find a green and think it's the correct one, called "H." The greens at the Sheep Ranch are labeled "A" through "K" (plus one called "A-") in no discernable order. Though the card lists 18 holes (you play some of the greens twice) and even provides distances, this is more or less a nod to convention, an option that we happily ignore. Next to two asterisks at the bottom it also says "Teeing areas not available." A local rule holds that whoever wins a hole walks off the green, finds a flat spot, and invents a tee—just like they did in Scotland 500 years ago. He also gets to pick where the next hole is by pointing to a flag and saying, "Let's go there."  And "there" might mean a green sitting on a ridge beyond a rock-filled bunker a punch shot away.  Or it might mean "THERE"—700 or 800 yards distant at the other end of the property.
The scorecard actually describes a course of 6,500 yards and a par of 70 but these, too, are negotiable. It's anyone's guess whether you're even following the routing—a generous term for how the Sheep Ranch is laid out. The card identifies holes ranging from 154 to 562 yards but this doesn't include par sixes and sevens or the rumored par 12 if you play from the northern to the southern end. Even if you tried to play the greens in order you couldn't really be sure you'd chosen correctly since the fairways often branch toward several different putting surfaces. But very soon none of this sort of thing really matters anyway.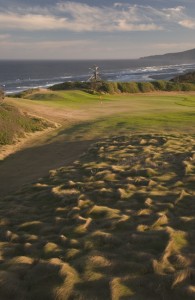 Almost immediately Al and I abandon any notion of propriety and begin making up holes as the mood strikes. Still, for the first three of these holes I write down our scores in the little boxes on the card—until I recognize how truly ludicrous this is. As if it's a fresh revelation, I begin to understand that the true nature of golf has little to do with score and everything to do with the quenching thwok of clubhead against ball, the joy of envisioning and executing cool shots to unknown locations, the camaraderie of friends old and new. I have spoken or written similar sentiments a thousand times but never really believed them until now.
I am dumbstruck by the simple idea of walking through a beautiful landscape and playing for the pure sake of play, undiluted by extortionist greens fees, Pro V1s, graphite shafts, GPS systems and all the other horseshit that we've built around the game. As we begin to play close enough to the ocean to hear waves crashing against the shore, I almost wish I had a stick and a pebble instead of my ridiculous high-tech equipment. I am embarrassed by my golf bag. I have an urge to strip off all my clothes except my shoes.
Soon we discover ourselves a wedge shot away from the green that I have heard described as "a power spot" and a "vortex." We stumble upon a tee box on the edge of a cliff overlooking the ocean. Across a wide chasm—beyond a gorse-covered hump and a dead tree that create a half-blind shot right out of Prestwick— lies a 32,000 sq ft., tightly mown platform only the tip of which is visible from the tee.
Al and I hit shots to this green from three different "tee boxes." After playing out, we strike putts for fun from 120 feet. We back up to seven-iron distance, three-wood distance. We approach from various angles. We spend an hour here, maybe two—I don't know. Why? Because we can. Even when we eventually play south down the beach to an elegantly curving Cape hole, and a blind par three hole, and to another cliffside green shaped like the infinity symbol, we still think about that vortex hole. We are drawn irrevocably back to it.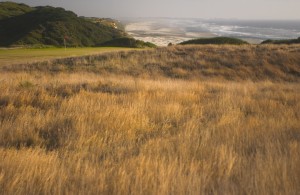 The rest of our afternoon is right out of a Beckett play.
At one point Al, wandering the topography, says, "I think this is a tee box."
Long pause.
"No. Seriously."
Pause.
"I'm not kidding."
"It's as good as any," I say. "Where are we going?"
"Where do you want to go?"
I consider this. "How about over there?"
"Is there a flag over there?"
"I have no idea."
"Let's hit it over there. If there's no flag we'll go somewhere else."
"Okay," I say. "How far do you think it is to the short grass?"
"I have no idea."
Later, after stepping off one of the greens, I notice a sprinkler head that reads "96." But from what? There's nothing in view but the putting surface we just holed out on five feet away. Perhaps this has some deeper meaning that's lost on me.
Similarly, as we're golfing cross-country from the road back to the hanging oceanside vortex green (a par six, we determine), we pass three pot bunkers luxuriating in the long grass. They're not guarding a putting surface or set in a fairway, but they're lovely, and we admire them and move on. It's as if this golf links exists in several dimensions and while we're playing in one of them we see occasional signposts from the others, though we don't know what they mean.
As we approach the vortex green from this new direction I gaze toward the south and notice a red flag way off in the misty distance. I recognize the thirteenth hole on Pacific Dunes, at the Bandon Dunes Resort, which lies on the other side of a huge sand blowout just beyond the southernmost edge of the Sheep Ranch. So close, yet worlds apart. People are playing golf there right now. We are just playing.
If you ask anyone at the resort about the Sheep Ranch they'll shrug like the locals probably did when Cortez showed up in Mexico five centuries ago and asked if they'd seen any gold. Ask them how you get on the course—call it "Area 51" or "the Secret Course" or use one of the other names this place has been described by, to show that you're in the know– and they'll still just shake their heads in apology. You'll need to search further. But I can't tell you how.
Al and I finish the par six to the ocean and decide to play one last hole from the vortex green back up to the car. Then we drive away and lock the gate behind us.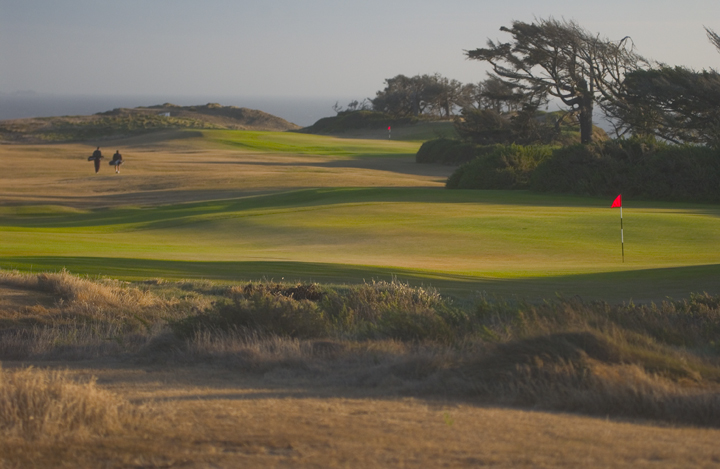 All photos by Rick Schafer, www.rickschafer.com.