Here's an unusual opportunity to read what was one of the first national magazine stories ever published about the now-renowned Bandon Dunes Golf Resort.  This piece was originally published in Links Magazine following a visit to the course in 1999, about six months before it opened, before anybody had heard of it yet, before the legend.  I played the course with then General Manager Josh Lesnik, who was working out of a trailer in the woods and seemed grateful for some company.  When we finished the round we wolfed down a couple of sandwiches and went out to play some more.  How could we not?
All Bandon Dunes golf course photos by Wood Sabold, the official photographer of Bandon Dunes.  Prints are available at www.woodsabold.com.
— JCW
When new golf courses like Oregon's Bandon Dunes come along– as they do every hundred years or so– it's difficult to describe them because folks have already exhausted all the superlatives in characterizing other, far lesser golf courses.  A layout such as Bandon Dunes calls for an entirely new vocabulary.  It is that rare locale which induces a sweet and delicious nostalgia and somehow returns us to ourselves.  Just looking upon this collaboration of nature and design makes you want to wave your arms and run wildly down the fairways yodeling nonsense syllables into the sea air.
A couple of years ago, a man named Mike Keiser began searching for a perfect links property on which to build a golf development in North America.  Although every new course to open in Michigan or Oklahoma describes itself as a links course, the fact is that few if any true links courses really existed in the United States– until now.  Keiser's Realtor, a non-golfer, stumbled across this stretch of deserted coastline outside Bandon, but had doubts about its viability because, she reported, it was all sandhills and gorse.  Keiser bought the property right up, and has since spent another $3.5 million of his own money building Bandon Dunes.  The relatively low cost reflects the fact that this terrain was already pre-designed for golf by God himself.
As the sole owner, Keiser is developing the site in a way that honors the land, which is hugely refreshing.  He does not need to sell real estate or worry about paying down a note.  Kemper Sports, which is managing the project, modestly hopes to put out at least 10,000 rounds during the first year of operation.  But once the word gets out– which won't be long, as industry insiders are already tripping over each other to play here, months before the official opening– pilgrims will flock to southwestern Oregon from all over the globe.  If Bandon Dunes were a hundred miles farther south, in California, folks might call it a vortex.
Keiser's master plan calls for two more golf courses also sited on rolling dunes beside the sea.  Construction is currently underway on a 32,000 sq. ft clubhouse that will contain 19 third-floor guest rooms, bar, restaurant, locker rooms, spa facilities, and other amenities.  Four cottages with twelve rooms each, gathered around a lily pond, will follow.  At capacity the resort will initially house up to 121 blissful guests.
Keiser, who passed up a chance to attend Harvard Business School to found a recycled greeting card company (with which he made his fortune), also demonstrated extraordinary vision in hiring an unknown golf course architect named David McLay Kidd, of Gleneagles Golf Developments.  A 30 year old Scotsman with only one previous design to his credit, Kidd's work brings to mind such other Scottish geniuses as McKenzie, Egan, and Ross.
With six sets of tees, Bandon Dunes plays from 5080 to 7435 yards over 250 acres of the most gruffly enchanting and achingly graceful golf terrain this side of Dornoch.  Seven holes caper along cliffs overlooking the ocean, but every single hole offers an aspect of crashing surf and/or roiling sea.  The fairways themselves heave and roll like grassed ocean swells, and they're adorned with bunkering so sublime you could weep just looking at their deep shapes and rich, dark colors.  The rough, which has been cut low to sedate its potentially punitive remonstrance, contains just enough gorse and scotch broom to confuse your geography.  It could be allowed to turn brutal for tournament play.  The greens are huge (number seventeen runs to 17,000 sq. ft), and curvaceous as a belly dancer, firm yet eminently fair, and designed to 1880's specifications.  Simple boardwalks wind through waste areas and around some of the tees, lending a natural, beachy feel.
The course begins boldly and never shrinks back into complacency.  Number one plays 396 yards from the white tees; whack your drive into a receptive tureen of fescue and bentgrass, but prepare for a possible blind uphill approach shot that's equal parts faith and hopefulness, over a sandy wasteland edged in beach grass that camouflages the huge, slopey green.  Facing this shot is like quaffing a triple espresso, but after the sudden spike in your blood pressure, Bandon Dunes will reassure you with fair, challenging shot-making requests, and dazzle you with its pure elegance.  Playing here is like watching a Shakespeare play staged in two acts, each containing nine gripping scenes.
The third hole, a par five of 518 yards, calls for a muscular 185-yard carry off the tee.  From there, you can look down upon the rest of the layout spread like a green silk flag rippling in a salt breeze blowing toward the sea.  Standing with club in hand, you'll feel like Moses in Foot Joys.  Number five presents the most memorable hole on the front side; it spills across 423 yards of cliff-top overlooking the beach.  Your drive must avoid clumps of beach grass dividing the fairway into two slots– one portly and welcoming as Falstaff, the other narrow and bitter as a shrew, perched upon the rim of the abyss but offering a shorter route to the hole.  Your second shot must follow a tight gizzard of fairway.  Some players will be wise to lay up even though it's a par four.  On the eighth hole, steeply faced bunkers form a barrier 200 yards from the tee of this 351-yarder; they're not too difficult to carry, but may prove malignant if you go in.  The ninth hole features a cluster of semi-sunken fairway bunkers dividing the first landing area of a 554-yard odyssey.
The back side begins with a risk/reward option: play left for a longer shot to a visible pin, or hit right over steep bunkers for a shorter but blind approach.  Windblown pines frame the ocean view beyond the green.  Thirteen, a par-five which looks inland toward Oregon's coastal mountains, presents a fairway that ululates like an abstract expressionist painting of green form stretching 539 yards. Many players will call sixteen the most dramatic on the course, a seaside holiday of 313 yards with a ravine slashing up into the fairway from the beach.  It may well provide the best view of any golf hole in North America.  Seventeen runs beside a brushy creek-and-bear-filled ravine with which you must negotiate to hit at a misanthropically placed pin.
I played 27 holes at Bandon and would have kept going indefinitely if it hadn't gotten dark.  When shadows fell across the linksland I'd have mortgaged my heart for that fleeting pleasure to last.  Walking the course isn't just encouraged, but required; only medically disabled golfers will be allowed to take carts.  And caddies will play a major part in the Bandon Dunes experience.  Walking, I found myself grinning and shaking my head all day like a guy who's just discovered a gym bag full of magic lamps washed up on the empty beach.  Like old songs, certain holes loosed warm, goosey memories from my youth, not to mention associations with holes at such places as Turnberry, Ballybunion, and the Old and New Courses at St. Andrews.  Need I say more?
*     *     *     *     *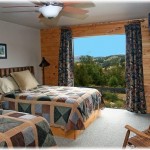 Bandon Dunes is a 4-5 hour drive from Portland, much of it scenic, all of it fraught with giddy anticipation.  The town of Bandon is a sleepy fishing village brimming with character.  By far the best place to stay off-property is Al Greenfield's A Bandon Inn— a terrifcally homey retreat hidden in the woods five minutes from the golf course.  A Bandon Inn features a poker room, outdoor fire pit perfect for smoking cigars around, and plenty of other original touches brought to you directly by the beloved proprietor, who attends to all details himself.  The property  sleeps up to 8-12.  As if you could sleep.  As if anyone could, knowing what's out there on the golf courses.