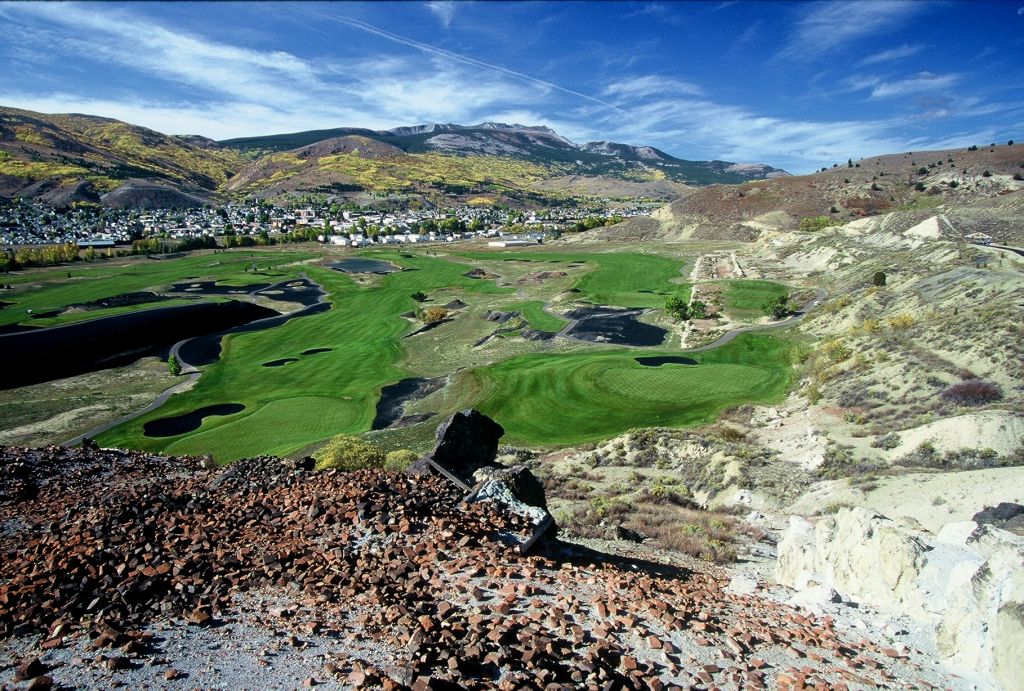 You'd be hard-pressed to find a town in America or in any other first-world nation as bleak and disheartening as Butte, Montana, a place that has literally digested itself.  A place that other Montanans like to refer to by dropping the final "e."  In the atrophied, arsenic-laden heart of Butte, lovely brick Victorians crumble behind plywood, and once-grand hotels bustle only with spiders and wheezing ghosts.  Drive about a mile out from the formerly stately main drag, and dirt roads will lead you right up to the precipitous edge of the most horrificly impressive abandoned open-pit copper mine in the galaxy.  The bleeding orange hole gapes 1.5 miles wide and 2000 feet deep and is filled with a cocktail so toxic that a mad scientist couldn't have devised such a recipe.  On the bluffs above the massive hole, the wind blows cold and lonely.  Along descending, artificially-gouged mesas, old mining apparati still hunch above abandoned mine shafts like iron Tyrannosaurs devouring the earth.
The nearby town of Anaconda– where the Copper Kings built a series of smelters to process Butte's ore– isn't much cheerier.  It  exudes the same downbeat, kick-me ambiance, but lacks Butte's former grandeur– although Anaconda IS home to what was once the tallest smokestack in the world.  After environmental problems closed the mines and hence the smelters back in the 1980s, The New York Times referred to Anaconda as "a company town without the company."
Visiting these hard luck Hootervilles makes you wish to drop a stadium-sized Prozac tablet on the entirety of Deer Lodge County.  Unless you're drawn to tragedy or have to pee so badly that you can't speed past the forlorn exit on Interstate 90, only one thing could possibly draw you to Anaconda, Montana; only one sprig of both literal and metaphorical greenery barks out from among the hang-dog grays and blacks: the town happens to boast an utterly anomalous and ridiculously inexpensive Jack Nicklaus signature golf course, which happens to be located atop a former EPA Superfund site.
In 1883, "Copper King" Marcus Daly erected the upper works of a huge smelting operation in Anaconda to handle ore coming out of nearby Butte– 4 billion tons valued at $22 billion over the next hundred years.  A second lower works followed the original in 1887.  Business boomed heartily enough that in the early 20th century, Daly replaced the old works with the spanking new Washoe Smelter, which boasted the world's highest smokestack rising 60 stories above the Montana foothills, a dark, coughing symbol of a certain kind of prosperity.
Anaconda's smelters continued to belch out the smoke that locals equated with good times for another half century.  Then, in the 1970s, when Chile nationalized it's mines (thus throwing out the American copper rascals), and U.S. air pollution standards conspired to make extraction a tough business, Anaconda Copper Mining Company began divesting its Montana holdings.  It sold the Anaconda facility to ARCO in 1977, and ARCO closed the works three years later.  Three years after that the EPA listed the smelter as a Superfund site, sticking ARCO with the bill for a century of environmental roguery.
ARCO's cheapest option was to throw a blanket over the waste and fence in the whole poisonous gulag– a solution which didn't much please locals in this town of 10,000, hundreds of whom were recently unemployed.  As so often happens in such situations, ARCO decided not to decide anything for several years, during which the Butte/Anaconda area slipped further down the slag heap.
Then in 1989, a city councilman named Gene Vucovich was struck by a wacky idea.  Driving through Coeur D'Alene, Idaho he noticed a golf course built on the site of an old sawmill.  Why not dare similar irreverence at the Old Works site, he reasoned to fellow council members, who enjoyed a good laugh at his expense.
Five years later, though, Vucovich's dream acquired some bulk: a team consisting of ARCO, the town of Anaconda, the EPA, Deer Lodge County, and the Montana Dept. of Health and Environmental Services roped together to scale a mountain of regulations and try to build a golf course on the Anaconda smelter site.  They brought in Jack Nicklaus to design the thing, figuring they needed a high-profile architect to make this elephant fly.  When Nicklaus showed up on a scouting mission he was received like an astronaut by cheering crowds and high school baton twirlers.  In a refreshing respite from the usual p.r. hype, Nicklaus described the Old Works site as "one of the ugliest properties I have ever seen."
Instead of spending an estimated $65 million to haul away Anaconda's smelter pollution (and where would they put it, anyway?), ARCO ponied up $30 million in remediation costs and another $11 million (including $1 million to Nicklaus) to construct a very strange golf course above the entire mess.
The engineering challenges posed by building Old Works were as monumental as the paperwork.  Crews covered the smelter wastes– which stood as deep as eight feet in places– with a two- inch layer of lime, more than a foot of clay, and ten inches of dirt and sand which they then seeded with grass.  Greens, tees, bunkers, and lakes were underlined with PVC plastic to prevent moisture from percolating down into the waste and discharging into streams.  The complex drainage system had to ensure that excess water would be captured in artificial lakes rather than enter natural systems.  And when grounds crews dig for any reason, they must save out, separate, and then replace materials in precise layers.  All told, construction crews pushed around 1.3 million cubic yards of dirt.  When the whole thing was finished, developers turned ownership of the Old Works Golf Course over to the town of Anaconda, making it the most expensive Jack Nicklaus signature muni owned by a bunch of unemployed smelter workers.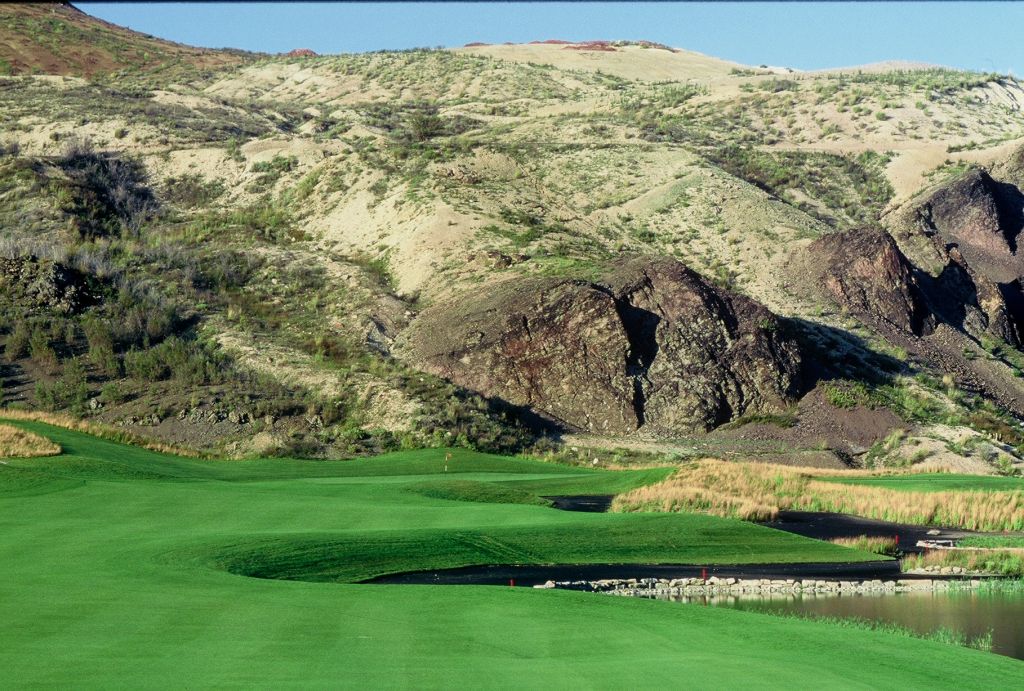 The result of these astounding efforts is a beautiful and bizarre golf venue on the outer fringe of the middle of nowhere.  The design neatly incorporates elements from the old smelter works: enormous iron ladles now spilling only wildflowers greet players on their way to the first tee.  Granite slabs from the mill line the banks of Warm Springs Creek and protect the tenth green.  Old smelter furnaces border the third fairway, and a 150-ft flue backdrops the par-three fourth hole.  Throughout the course, glimmering black slag heaps provide contours, and rocks rendered green by the smelting process mark the lines between generous fairways and gently waving fescues.  As a final touch, Nicklaus filled all the bunkers with powdery black slag.
Five sets of tees– named brick, limestone, copper, gold, and slag– reinforce the mining heritage of this 7705-yard track.  Individual holes bear such monikers as Black Canyon, Refiner, Slum House, and Copper Kings.  Across a landscape where formerly no living thing dared to tread, now deer, elk, marmots, and even mountain lions stroll across fairways and search for lost balls in the high grass.  Though long and hilly still, the previously toxic topography makes for a fine walk. It is a formidable and wondrous course.
With a high-season rate that's still low by almost any standards, Old Works has been called the most affordable Jack Nicklaus championship layout in the world.  Many locals pay a low annual fee to belong to a club they otherwise could not have even dreamed of living within 500 miles of.  Outside the golf business, everyone from industry bigwigs to Sierra Clubbers have praised this innovative project.  Who wouldn't love to see a golf course grow up through a blighted waste dump?
Still, one question haunts Old Works the way the legacy of black-lung disease still clings to the town of Anaconda: is this really as good an idea as it seems?
The nearest major city to Anaconda (Salt Lake) lies a full day's drive away.  And though Montana is the fourth largest state, it's population crests at just under 900,000 souls.  The population of Deer Lodge County, in particular, has declined by nearly half over the past 40 years.  Boosters point out that two million tourists pass close by on Interstate 90 on their way to Glacier and Yellowstone National Parks each summer, but how many can be counted on to stop in for a round of golf?
In small towns throughout the west, circumstances are forcing formerly extractive economies– especially those erected on mining and timber– to try morphing into tourist draws, belying the question of whether unemployed miners and loggers will serve scones to bed-and-breakfast guests or willingly man the pro shop desk.  While The Old Works Golf Course employs a few dozen workers for about seven months each year, it has not yet drawn a reliable stream of tourists to the area.  It has not inspired a major corporation to build a hotel.
Now that the town of Anaconda owns the former Superfund site, locals are responsible for making the golf course that's built upon it succeed, and by all indications they're off to a fine start.  And sure, they'll benefit from any surplus cash (the course is designated a non-profit entity and must turn excess revenue over to the county).  But they'll also be accountable if Old Works fails to generate enough money to cover maintenance and operations once the half-life of hype exerts its influence.  And if any serious environmental problems occur in the future, the people of Anaconda can no longer hit up a deep-pocketed corporation to make things right.  Which is to say that while everyone who believes in justice and resurrection is rooting for Old Works, its still in some ways a western-style saloon gamble, the losing side of which could turn the place into a ghost town– although a greener one– again.
For more information call (406) 563-5989 or visit www.oldworks.org.
The best closest place to stay near the Old Works Golf Course is the Fairmont Hot Springs Resort, fifteen minutes away, in Fairmont.  The rustic resort offers two soaking pools, two Olympic-sized swimming pools, and a 350-ft water slide all using natural hot springs water and open 24 hours a day seven days a week.  The resort also features a charming old golf course that plays out in the open with views of surrounding forested mountains.  For more information call 800-332-3272 or visit www.fairmontmontana.com.