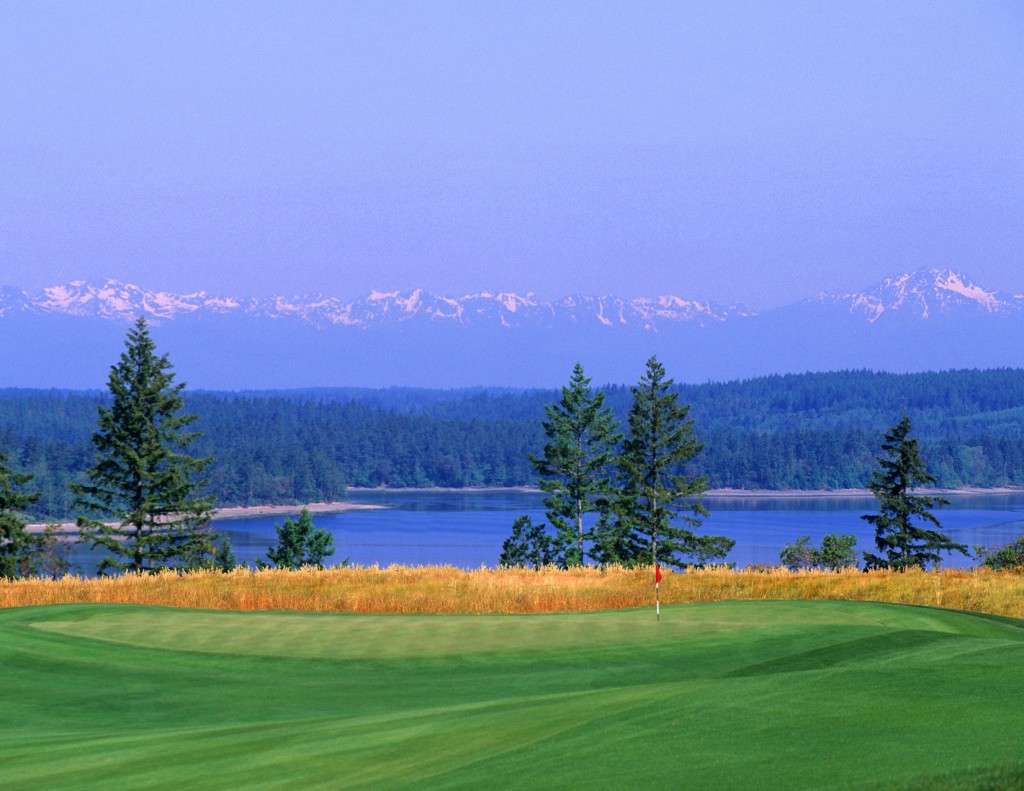 When most golfers talk about their home course it's not usually called, well, The Home Course.  Unless you happen to live in Dupont, Washington, an hour south of Seattle and not very far from the already-renowned Chambers Bay Golf Course, which will soon hold the US Amateur followed a few years later by the US Open.  The Home Course will work in a supporting role in the upcoming Amateur, hosts a couple of other Championships (the Sahalee Players Championship and WSGA Champion of Champions), and can also play host to you and your buddies.
First, a quick history lesson.  The site the course is build on was a center of commerce for the Nisqually Native American tribe– so negotiating strokes with your partners won't be the first business transaction to take place here.  The Hudson's Bay Company established a cabin nearby for early trading and some records suggest that traders may have laid out a crude six-hole golf course, which would have been the first in the Northwest, if not in the country.  No doubt collarless shirts weren't allowed, though possibly some players wore beavers on their heads, an even worse fashion statement.  In 1906 the DuPont company acquired the property and built a plant that manufactured explosives.  I will refrain from making a joke about explosion shots and merely say that the course may well have set a precedent for blowing up on the back nine.  The dynamite produced by Dupont here over seven decades was intrinsic to the settling of the American West.  The site was acquired by Weyerhauser in the 1970s, and a private golf course was eventually erected.  But through many years of negotiations and Herculean efforts by many people but especially John Bodenhamer, CEO & Executive Director at Washington State Golf Association, the Pacific Northwest Golf Association and Washington State Golf Association were successful in acquiring the course and establishing their headquarters there.  According to them, The Home Course "will be a home for caddies, junior golf programs, environmental stewardship, turfgrass research, championships, and all that is good with the game of golf in the Northwest."
Now that we've got that out of the way, I'm sure you're eager to hear a shot-by-shot description of my round there.  No?  Hey bartender, where's everybody going?
Okay, well then how about a breezy, fun general description of this fun, breezy  layout?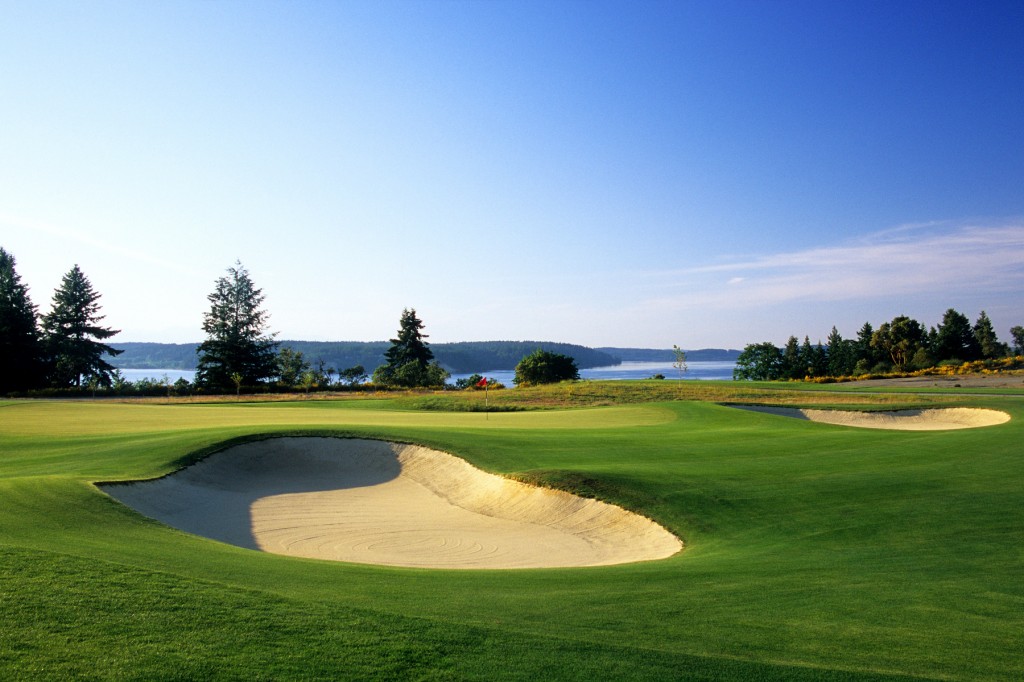 From the longest of five sets of tees the course plays to 7,424 yards.  Tall brown fescues define the playing areas on many holes and provide a natural and aesthetic framework for many fine golf puzzles.  A number of bowl-shaped greens may help scoring, and the putting surfaces are well-thought and fair.  Tee markers consist of bundles of dynamite, the kind of distinctive, creative touch that all courses should use in defining their brand and differentiating it from other courses.
The front side is filled with great design and fun golf challenges.  Number one plays around a corner so that a draw will make you look like a genius, to a green protected by three sodded bunkers that are very pleasing to the eye, if not to your score.  This green breaks from both edges toward the center.  On the right side of the hole look for several apple trees planted during the 1830s by Hudson Bay settlers.  Left of the green are remains of Fort Nisqually, and to the right– once you know it's there– an old burial ground may bring to mind the famous graveyard at Ballybunion.  The first few holes have an open, parkland feel, a sort of getting-to-know-you friendliness.  And all the holes have names– such as "Apple Tree," and "Four Maples." and "Rhododendrons" so that you can greet them appropriately and they'll know you're talking to them.  Number four, the first par three, is also the first green you'll be able to see from a tee box.  The right side is protected by a sod-faced bunker, and the green, divided by a severe ridge, looks a bit like one of Dali's melting clocks.  The ridge also works to deflect shots hit without confidence.  One of the best holes on the front may be number seven, where you'll climb a two-story tower before teeing off to make sure the group in front of you has cleared the fairway.  Hit about 220 yards so as not to have a down-hill lie to a green tucked neatly behind a lake.
If the front side is merely solid and entertaining, the back side really excels with great holes, a perky rhythm, engaging variety and the feeling that the architect has really hit his stride.  Number ten, a 560-yard par five, allows you to swing away, even if your swing is as wild as mine.  Number eleven, at 310 yards, will really tempt you to swing out of your shoes, but who wants to play the rest of the round without shoes?  Lay up in front of the sodded bunker and leave yourself a wedge into the green just like the local I was playing with did: he holed his pitch for eagle.  By the massive 13th the tempo has changed quite a bit, like a car accelerating with a powerful purr into a turn.  Fourteen presents a beautiful par three with a peninsula green and a steep bunker to the left.  The fringes are cleanly shaved enough to send mishit shots to unpredictable futures.  When the course guide describes bunkers on the fifteenth it's referring to several buried bunkers from the days when the course was an explosives factory.  Coming home, you'll see several great views of Mt. Ranier and the Olympic range, a scenic end to a very solid round of golf.
Alas, as much as I enjoyed The Home Course I must mention a couple of negatives which are small but noticeable to anyone paying attention– but also vastly overcome by the positives already described.  I lost count eventually out of sheer disbelief, but other than on the par threes, almost no greens on the entire golf course are visible from the tees of those holes.  I know– this doesn't seem possible, but I can testify that not a single par four or par five on the front side presented a full view of the hole.  A couple of exceptions occurred on the back.  While the overall architecture of the course is quite strong, this is an odd and not in any way endearing quirk that can't be explained by the site, which is open and rolling and should have provided a wide variety of potential hole layouts.  Architect Mike Asmundson shows impressive chops on much of the design work, but there's just no explaining why he chose to hide so many of the targets from view.
The other negative, to me, was that every par four on the front side of the golf course played to a length of between 367 and 390 yards.  Not a single short, fun driveable par four.  No monster par fours that only a gorilla could reach in two.  Basically, drivers followed by mid-irons for two hours (actually, nearly three hours as play was SLOW and the marshall seemed not at all interested in our complaints about it).  Conversely, the par fours on the back showed tremendous variety– from the 310-yard 11th that tempts a vicious lash at the ball to get it to the green, to the 440-yard eighteenth, a fine and vast finishing hole . . .  (Note: these yardages are from the 6,629-yard blue tees– where you should probably be playing from!).
Despite a few quirks, all in all, The Home Course– dare I say it– was a blast!