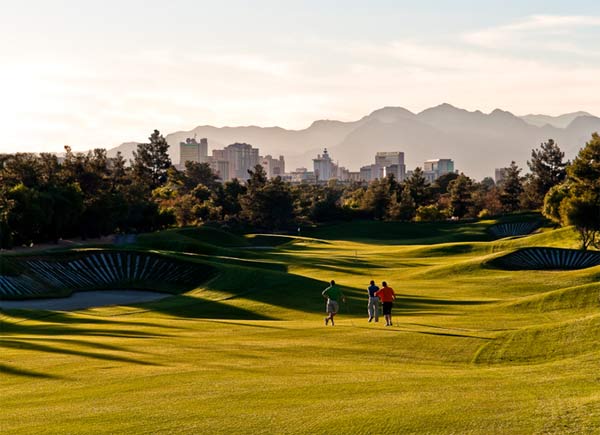 The Golf Road Warriors concluded our Vegas sortie with a visit to Walters Golf's Desert Pines Golf Club, a perky Pete Dye design twenty minutes from the strip– and, I might mention, that was twenty minutes in a LIMO provided by our gracious hosts.  The course is among the most visually pleasing Vegas layouts, with smoothly-wrought earthworks piled up into lovely humps and mounds, some of which are further decorated with Dye's signature railroad tie bunkers.  If Walters Golf's Royal Links Golf Club is like a trip to the British Isles and Bali Hai transports you to the tropics, Desert Pines brings to mind the lowlands of the Carolinas– and is not unlike Dye's work at Harbour Town, with thousands of mature pines lining the fairways and blocking the wind.  Except that instead of a lighthouse in the background you've got a casino skyline further backed by dusky mountains.
In most cases when the guys in the golf shop tell you that the greens are rolling at a 10 you may discover that they mean "10 minutes"– but not so at  Walters Golf facilities, where short game artistry and control of the flat stick will serve players well on greens sometimes as slick as a the fat guy with the big cigar you saw at the poker table last night.
Narrow fairways define Desert Pines from the start but are slightly off-set by canted edges that may nudge mishit shots back toward the short grass.  The 195-yard second hole requires the shaping skills of a sculptor to bring the ball into the green from right to left over a mound that protects the putting surface the way the tigers (most of them) protected Sigfried and Roy.  Water comes into play on the second shot of the third hole– a reachable par five with a waste bunker along the left side and said water lurking to the right.  Risk reward options emerge soon afterward, as do elevated greens, doglegs, ridged and tiered putting surface,s and other subtle challenges that you may miss if you've been spending too much time chatting up the lovely beverage cart hostess, of if you've hired a Walters Golf Par Mate to caddie for your group.
The back side opens with a 372-yarder named "Valley of Fire,"– a short par four with a crowned green that will make you king of the hill of you can two putt here.  It's followed by a short par three with a pesky pot bunker blocking your view of the green– particularly pesky to Walters Golf Sales and Service Specialist Jim Schwartz, who claims to have made a hole-in-one here despite not seeing the ball go into the hole due to said pot bunker.  Oh, and he noticed David Copperfield, the illusionist, in the vicinity at the time (okay, I am making that up).  You'll only find one par five on the return nine– long hitters will be rewarded there by a fairway slope that kicks balls back toward the center.  Finish your round by running "The Gauntlet"– at 466 yards as much par four as anyone needs to close out a great day of golf.  Short drivers like El Jefe (me) may need to hit the best five-wood ever struck in the 600 year history of golf to be looking at a short birdie putt (which I missed).
During our round at Desert Pines the amazingly proficient and surprisingly entertaining staff not only dressed in costumes (see photo above) but also set up several skills challenges for us throughout the round– including a closest-to-the pin contest that involved hitting over several other greens; a five-pronged bunker escape challenge; and that most traditional of golf contests: mower races– the brainstorm of evil Superintendent Erik Ostlund.
While I'd prefer not to talk about the mower race results, I will mention who triumphed in the bunker challenge, over such fierce competitors as Walters Golf Senior Director of Sales Brennan Blednick and former Big Break star Aubrey McCormick.  That would be: me.  Though I borrowed Blednick's 60-degree wedge for the shortest of the bunker escapes and proceeded to decel and flub my shot, I returned to the sand wedge from the fine Callaway rental set for the other shots and hit the green four times running– with two shots landing in the outer concentric circle that  affable General Manager Chuck Bombard put out for this event.  We have no idea what the large outing of Korean accountants playing the hole after us thought of the circles– perhaps they were awaiting a landing from over in the direction of nearby Area 51.
The skills challenges is the kind of thing that Walters Golf will set up for a large enough group at any of their courses; add the company's signature Par Mates program, a little amateur vs. pro bet they'll make you during a round on any of their courses, and other added services, its clear that these guys are all about fun.  And they certainly made a lost weekend in Vegas fun for us.  Thanks, guys!