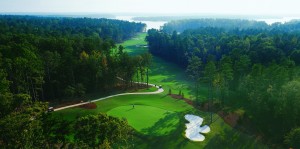 With even the briefest glimpse of a golf course it's easy tell whether you're in the hands of a master architect and whether he was given good or great land and ample artistic license to perform his work.  Tom Fazio's The National at Reynolds Plantation checks off all the boxes.  In fact, Fazio says of the The National, "I got excited because from the first calls about this course I was told they had lots of land, lots of acres, and no preconceived ideas about what should go there."  The Golf Road Warriors went there to take on  18 of the course's 27 holes this morning, playing the Cove and Bluff nines to great delight.  My own round was with fellow warrior Dave Gould and journalist Scott Michaux from the Augusta Chronicle.
The day began with great excitement as Michaux stepped up to the tee box and ripped a huge drive, having seen the group ahead of us disappear up the cart path toward the vanishing point.  But they took an unexpected hard right and drove right under the flight path of Michaux's tee missile– though when we rode up to the green a few moments later to apologize profusely they had no idea what we were talking about.  The opening hole worked on many levels– literally– dropping down toward water off the elevated tee and then climbing sinuously past bunkers en route to a terrific green that putted cleanly and well, as Hemingway might have said if he hadn't been too macho for golf.
On the second hole I introduced my partners to my initiative to play cliche-free golf and not long after that Dave Gould muttered something about number two being a good driving hole– and then turned to us and said, "What does that even mean, anyway– 'a good driving hole'?  I only said that because I hit a good drive."  I told Dave he was already one over on the day in trying to play cliche free.  Which set his mind to seek out as many cliches as he could think of, figuring that if he uttered them with some irony perhaps they wouldn't count.  Dave also, throughout the day, uttered a huge portfolio of endlessly strange sounds, including singing, humming, chanting, barking, sounds most often heard in barnyards or jungles, strategy tips to himself, and sometimes just complete nonsense syllables.  He also liked to talk during his own backswing.  It seemed to work just fine, as he tore up the front side.
Hole highlights on the Cove nine included number four, a 563-yard par five that requires two long, straight shots before turning more severely left than Rush Limbaugh thinks Obama headed, and climbing uphill over a creek, which inspired Gould to utter some frippery about "in golf, as in life . . . "  And thus continued his round of cliches, though we innovated at that moment to decree that if a golfer somehow manages to utter something wholly original and never heard before on the golf course that it would act as a birdie against the bogey of speaking in "old chestnuts".  The only problem  using today as an example was that most of the wholly original phrases uttered during our round aren't really publishable anywhere other than on a porn site.
On that same stellar fourth hole, Scott Michaux hit one of the best golf shots ever seen since the great game was invented in Scotland (or China, or Holland, depending upon who you believe) 500 years ago, when he launched a high, pure wedge at the putting surface directly between two Canada geese flying overhead at that moment, which uttered squawks not unlike some of the sounds we heard emanating from the  general vicinity of Dave Gould.  It's hard to say who was more surprised– Michaux or the geese.
Not to be outdone, though, on number seven Dave hit a miraculous shot over 600-ft-tall trees from something like 3,000 yards away (this on a par three) out of pine straw that was probably laced with land mines, to three feet, and then knocked in the putt for a par.  All geese seemed to fly en masse away from Gould's general vicinity.
And then on number ten he undid much of his own fine work by saying that power corrupts and absolute power blah blah blah, to go about seventeen over on the cliche score for the round.
You may have noticed that I haven't said much about my own front nine.  And I'd like to leave it at that.
I'm somewhat sheepish to admit that on number fifteen– also known as six on the Bluff Nine– I asked Dave if he was "in his pocket," at which he just looked at me with disappointment.  It was as far as I'd gotten into a round without audibly communicating a shop-worn phrase– which is of course a shop-worn phrase in itself.  The hole wasn't much better, as it struck me as the only weak creation in the whole lot– a rather awkward par five that requires a layup on the second shot somewhere to the right of a lake and bunkers, but exactly where was difficult to discern.
The National finished in the finest Fazio style with a muscular par three at seven (where the bunt driver displayed its efficacy on the 200-yard tee shot into the wind), and two finishing holes ribboned by creeks and waterfalls and lakes.  The final hole is a grand par four with the typically receptive fairway and then a daunting approach to a green fronted by a steep bunker with a lake to the right.
Today's single unsolved golf mystery was this: how can a player hit all fourteen fairways, only three-putt once, lose just one ball, and still shoot a 96?  If you said: he can't hit an iron or fairway wood or hybrid or even a wedge (especially not a sand wedge) to save his life, then you got the answer correct, but will be penalized one stroke for the cliche.