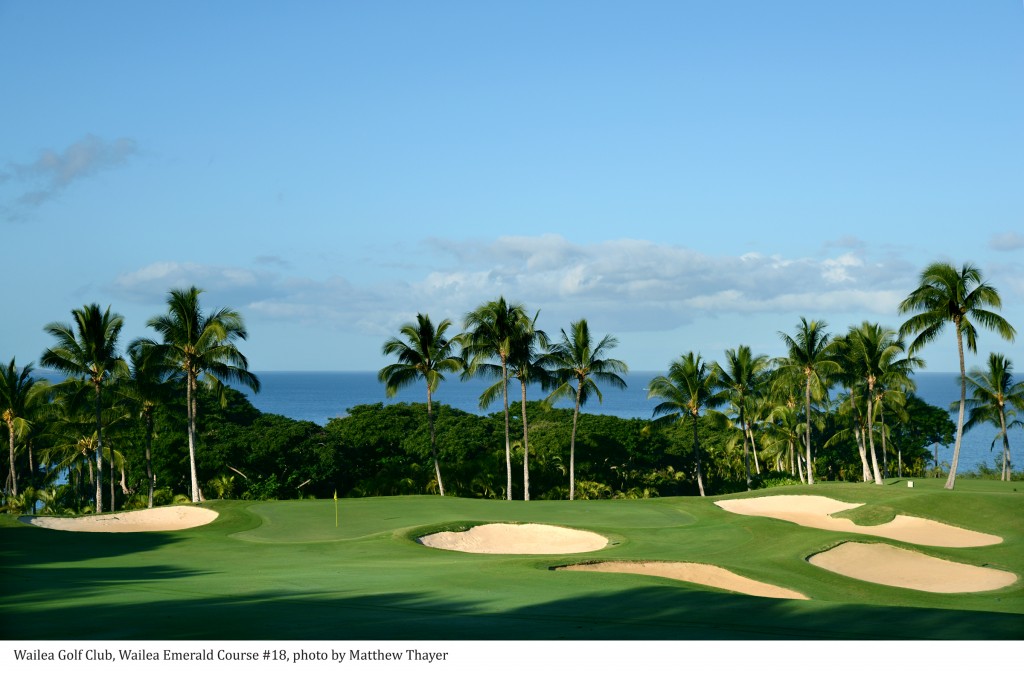 Today the Golf Road Warriors took on Wailea's renowned Gold Course in the morning and the equally fine Emerald Course in the afternoon.  I played both rounds with fellow warrior Tom Bedell and the first with affable General Manager Charles Head, from the Fairmont Kea Lani Hotel, whom I hadn't seen since a few years back when we walked 36 holes together at Kingsbarns just outside St. Andrews– another very memorable golf day.  Head was up to the challenge today, and hits a long tee ball for a General Manager.
Although I'd played the Wailea courses several times, today was essentially the first time I really "got" them.  At first, Gold, in particular, strikes a cogent player as a target course, though in fact it has great subtlety for the ground game.  Which is to say that hitting right at the target is often not the best play you can make.  Rather, you need to use the landforms to move the ball toward the hole.  So while I liked the course before, today I came to appreciate just how good it really is– strong and sprawling yet still boasting a sharp intellect and even a sense of humor.
I also came to understand that putting and short game wizardry are the unseen challenge at Wailea due to the grain of the Bermuda grass on the course.  While on many previous visits to Hawaii, the Caribbean, Mexico, and other golf locales that employ Bermuda, I often thought that understanding grain was an added but unnecessary dimension of play in these places, today's rounds made it clear that you cannot ignore grain any more than you can ignore, say, wind, or distance, or which club you've pulled out of the bag.  And to take this one step further, good golf is all about adjusting quickly to local conditions and playing your shots accordingly– so for example taking more club to hit into greens fronted by grainy Bermuda defenses that will rob some of the bump and roll that would otherwise take your shots closer to the pins.  Nowhere is this more true than around the Bermuda greens of a course as cleverly architected as Wailea's.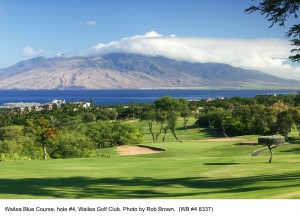 If golf course architecture can be said to create living, breathing, photosynthesizing works of art on a large scale, then Wailea Resort is a triptych worthy of, well, a really gigantic museum.  The resort is home to three championship courses that are in places as pretty as an impressionist landscape, as inviting as trompe l'oeil, and as challenging as a Picasso.  Set beneath the dramatic 10,023-foot Haleakala Volcano, Wailea's courses are even named for colors right off an artist's palette: Blue, Emerald, and gold.  The trade winds blowing over Maui often add a gentle, unseen hazard to golf rounds here.  Bunkering also creates some sandy mayhem.
Wailea's Old Blue Course (which we will play tomorrow), designed by Arthur Jack Snyder in 1974, is a delightfully resorty track of 6,758 yards lined with lakes, fountains, and tropical foliage such as hibiscus, plumeria, and bougainvillea.  It makes for a perfect warm-up round.  The very first thing constructed at Wailea, Old blue exudes a classic, well-crafted feel, like a perfectly tuned vintage automobile.  The layout serves up an easy romp along wide fairways to large greens protected by coral and sand bunkers.  Despite its generally easy-going demeanor, the course has hosted the LPGA Women's Kemper Open, as well as a popular Japanese celebrity pro-am event.
The two remaining layouts in the Wailea triumvirate were designed by renowned golf course architect Robert Trent Jones II.  Jones's pair of designs here are among Hawaii's most recognized and lauded courses. Gold and Emerald, which both debuted in 1994, are true jewels that lend sparkle to the 1500-acre world-class resort, and have helped it win many awards.
Jones himself talks like an artist (or poet, which he also is) when describing his golf courses—almost as if they are paintings or musical compositions. "All great courses express a mood or rhythm that inspires anticipation mixed with nostalgia in players when they reflect upon the course," Jones says.  "The best courses are those where nature has provided the canvas and my job is to discover her secrets and reveal them, as opposed to imposing a philosophy.  Golf is a nature walk through a garden, which in every culture is an extremely important place of sanctuary and restoration and re-creation."  And nowhere is that more true than at Wailea.
The two Jones courses at Wailea might be differentiated by describing Gold as the more masculine due to its length of over 7,000 yards, profuse bunkering, and a generally muscular feel.  Emerald is more feminine, with more color, and a softer, more flowery feel. Golf for Women magazine agreed, listing it among the most women friendly courses in America.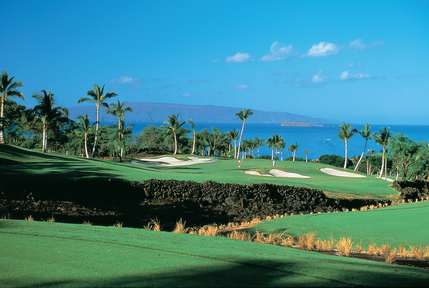 Stretching to 6,825 yards, Emerald exhibits many facets, including a sensuousness created by a lush tropical landscape full of plumeria, wilwili, birds of paradise, firecracker plants, and kiawe and monjety pod trees.  Adorable mongooses can occasionally be seen darting in and out of the underbrush and the variety of birds is startling.  The course is flexible and forgiving, with four to six tee boxes on every hole and few forced carries. Great holes include number six, a 456-yard par four with a green that falls sharply into grass bunkers, leaving a tricky approach.  Number eleven, the longest hole on the course, plays directly into the wind.  The tenth and seventeenth holes share a double green fronted by a lake
But despite the glimmer of Emerald, Wailea's Gold course is the 24-karat option for serious players.  This 7,078-yard thinking-man's track blends classic design with rugged natural topography, including 200-ft elevation changes, low lava rock walls (that were preserved during construction), tall native grasses, ample bunkering, and enough strategically placed doglegs to pull a sled. On the driveable 287-yard par four sixth, a lava ravine separates tee from fairway. Just don't let it separate you from your golf ball. Number seven, an uphill double-dogleg of 590 yards, requires negotiating strategically placed bunkers and a prevailing crosswind on the way to an undulating green.  The eighth hole offers views of the distant crescent island of Molokini.  Tee box and fairway are divided by dark lava walls and the green is ringed by coconut trees and bright white bunkering.
The back nine consists of a series of memorable holes made even more famous by the Wendy's Champions Senior Skins Game, which finished here in dramatic fashion.  Past winners have included Palmer, Watson, Nicklaus, and Trevino.  Virtually every hole offers expansive views of the Pacific.  While a birdie on the finishing hole may not win you $510,000 (Ray Floyd's and Dana Quigley's take when they collected 10 skins in the first-ever team event in 2004), you'll certainly win the admiration of your playing partner—and you just can't put a price on that.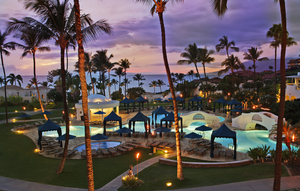 The superlative Wailea Resort can go mano a mano a mano with nearly any golf property on the planet with its three stunning golf courses.  The 1,500-acre oasis offers a handful of toney beachfront hotels (including the current most excellent digs of the Golf Road Warriors at the Fairmont Kea Lani), spas, and restaurants.  Try a meal at award-winning Ko Restaurant at the Fairmont,  then work off that extra dessert by snorkeling, sea kayaking, sailing, or with a power nap.  A 1.5-mile paved beachfront walkway links Wailea's hotels, five white-sand beaches, and other amenities, creating a wonderful sense of community.