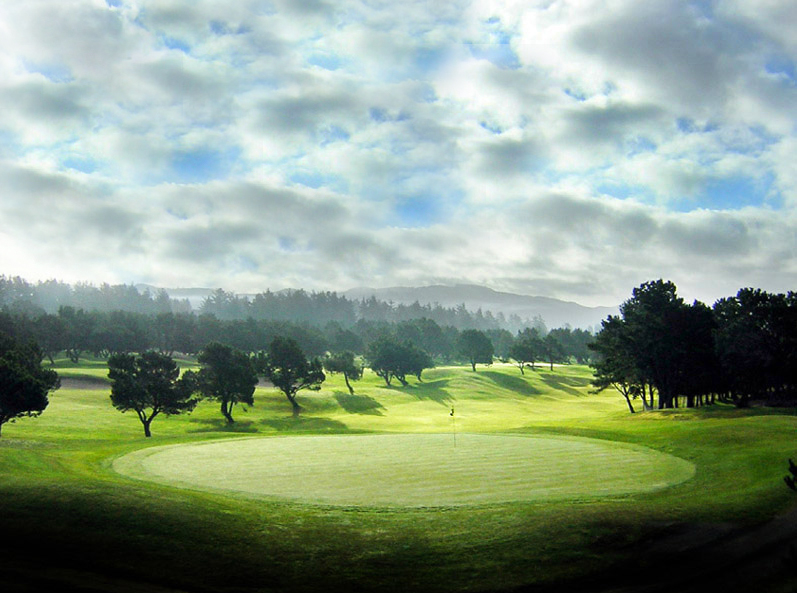 The refreshingly little-known Gearhart Golf Links and Resort, along the northern Oregon coast, is the second oldest golf course in the west (it opened in 1892 with four holes).  Over the years a number of designers—including the renowned Chandler Egan—left their mark on the course.  In 1999 the links received a full make-over at the talented hands of William Robinson, who replaced all tees and bunkers as well as several greens, installed new irrigation, and otherwise pepped things up.  The new 21,000 sq. ft Victorian clubhouse recalls the original 1900-era hotel.  Even better, it has a McMenamins' bar and restaurant, which Oregonians already know all about, and visitors will be thrilled to learn about.
Gearhart is a true links course that rolls and dips among moundy, grass-covered dunes. The ocean only provides subtext here, remaining just out of sight, although you can hear and feel it.  The 6218-yard layout is charming and subtle.  The front side careens along nicely if uneventfully until the fine number five, a 372-yard dogleg left with a narrow landing area.  Even a slightly mishit drive may leave a difficult approach over a pond to a small green.  Number ten, at 341 yards, also excels, with angled cross bunkers creating a landing area that widens farther from the tee, an enticement to long hitters. Throughout the course, narrow ridges and other topographical features carom balls every which way, so consider where you want them to end up.  Gearhart provides a breezy adventure in classic links golf.
The sleepy town of Gearhart is perfect for beach walks and gallery browsing, the kind of place Portlanders have retreated to for over a century—these days to rent weathered Cape Cod style beach houses where they read and cook fresh local seafood.  Elsewhere along this part of the scenic coast—tucked between crashing surf and Pacific forests—you can tour the Tillamook cheese factory (503-815-1300), glide through the Air Museum (503-842-1130), visit lighthouses and Lewis-and-Clark historic sites, fish, kayak, hike the headlands of a number of state parks, or visit kitschy shops and chowder houses before retreating to a bed and breakfast.  The north coast's attractions are quiet and understated.  Down Highway 101 in Seaside and Canon Beach the action—in the form of skee ball arcades, a good bookstore, and a long promenade from the turn of the century—climb a notch.
All photos by donfrankphotography.com.