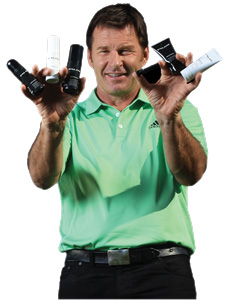 The PGA Merchandise Show has begun.
Golf's biggest trade show opened this morning in Orlando with Demo Day, a huge, outdoor, beat-balls-till-you-drop fest at the Orange County National Golf Course, which is somewhere the other side of Mickey Mouse.
I'm proud (or maybe deluded) to say that this is my 28th consecutive PGA Show, which means 1) I've seen a lot of change in the golf industry, 2) I've made a lot of good friends in the business, and 3) I'm old. Old enough to wisely allow others to try the clubs, grips, and other gadgets featured at Demo Day, which wrapped around the gargantuan range at OCN. All the big companies were there—TaylorMade, Nike, Ping, Cleveland, Titleist, etc.—along with numerous smaller guys trying to break in with unusual putter designs, oversized grips, training aids, GPS devices, gloves, cleats, hitting mats, and more.
Probably the most telling moment of Demo Day occurred while walking in when, along with the hats, tees, and booklets, we were handed bottles of 5 Hour Energy Drink. And 5 hours was about how long I lasted looking at stuff, bumping into old friends, and feeling cautiously optimistic that maybe this will be the year, at last, that the golf business rebounds.
My plan is to write about what I see at the show—which moves indoors tomorrow through Saturday—while here and especially once I'm back home and able to digest it all. So please keep checking in at my site (theaposition.com/jimgolfrank) for reports.
Let me begin with one of the more intriguing invitations I received, the chance to see Sir Nick Faldo (and it's always "Sir Nick" now) in his only PGA Show appearance. It was for something that the invite listed only as Faldo ProCare, which I thought could have been a training aid, a health product, or a nursing home for pros past.
Faldo ProCare actually is a line of skin-care products for men who spend time outdoors abusing their bodies. The initial six (and much was made of it being six products from the man with six major championships) are an SPF30 sun lotion, SPF15 lip balm, an insect protector that won't harm the golf course, a roll-on muscle protector, a foot protector to relieve itching and burning, and a hand protector to care for what Sir Nick called "the tools of my trade." All six were described as non-greasy and lightly scented, with the ability to keep skin from cracking and drying. And they are made in the U.S. by Kyoku, a company with seven years' experience in men's personal products.
Individual products, in generous travel-sized tubes and vials, will cost from $3 to $12 each. Or they can be purchased as a set, in a carry bag that attaches to the golf bag—although I strongly doubt anyone actually will—for $40 retail. They will be sold in pro shops, department stores, and the like.
Sir Nick called his newest venture "essential for golfers," and I agree. In my experience, too many golfers ignore their skin, even forgoing sunscreens. Yet we all know horror stories of melanomas and other serious problems. Of course, you don't have to buy these products to do yourself some good, but I doubt there's anything wrong with them. And even if you don't quickly win six majors of your own, Sir Nick is quite right when he says, "the message is to use them." At least use something!
For more information, check out the website at faldoprocare.com.