While golf magazines will typically pick Kauai's Prince Course, Lanai's Manele Bay, or Maui's Plantation Course as number one in the 50th State, none of these are the right choice.
Don't get me wrong, they are all among my favorites, and I would always be happy to play any of them. But the best course in Hawaii is also one of the most overlooked, the Kiele Course at Kauai Lagoons, one of two Jack Nicklaus Signature courses that have long comprised the facility.
I've always loved Kiele, which is a masterful combination of golf course design and sheer natural awesomeness. Most of the greens are offset from the fairways and often tucked behind menacing bunkers, and the approach shots are some of the trickiest in golf, an exercise in golf course architecture that vividly demonstrates how much difference being on an angle to the putting surface makes. At the same time, the course runs down a too-stunning-to-believe peninsula of black lava rock set against the crashing surf of the Pacific. In fact, the Moana Nine has the longest continuous stretch of ocean holes on any course in Hawaii. While Hawaii is famed for its waterfront, and its most photographed holes are on the water, most courses can afford just one or two such signature holes with the bulk inland, because coastal real estate is so dear. Kiele is the exception, with water, water everywhere.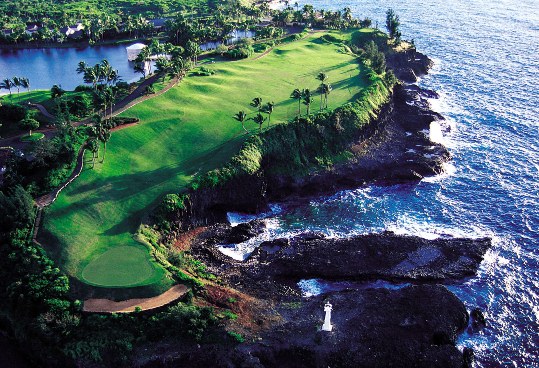 For the past couple of years Kauai Lagoons has been under construction, and the Kiele course just re-emerged and is truly better than ever. The original back nine of Kiele got three entirely new hotels replacing the weakest links, and now boasts more than half a mile of continuous oceanfront golf. It was renamed the Kiele Moana Nine, while the front is now the Kiele Mauka Nine, and all eighteen holes got new better TifEagle putting surfaces and all the bunkers on the course were refilled with shockingly white silica sand, both more dramatic and better to play out of.
The renovations are part of a $50 million upgrade of the resort, which also included a significant improvement of the Kauai Marriott Resort, providing onsite lodging. The next phase tackles the second course, the less demanding but still very impressive Mokihana, which has been downsized to nine, cherry picked from the best holes of the original 18 to form the Kiele Waikahe Nine.
So when all the work is complete, Kauai Lagoons will have lost something, moving from 36 to 27-holes, but traveling golfers will have gained something: the best 18 in the state is now even better.
NOTE: To complement the debut of the Kiele golf experience, Kauai Lagoons Golf Club and the Kauai Marriott Resort are offering "Escape to a Great Golf Getaway" packages, valid through October 6, 2011, with a minimum 2-night stay is required.  Visit www.kauaimarriott.com and use promotional code GOF in the special rates and awards section.