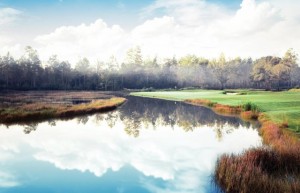 A few months back I wrote about how pleasantly I was surprised by golf and the golf travel infrastructure, including great food and casino hotels, along the 77-mile coast of Mississippi. Well the good golf is still there, and the folks in the area could really use your support while BP is giving them the high hard one, and as summer temps heat up, prices just keep coming down.
So in the spirit of  summer, barbecue, hot weather and Americana, I am posting the highlights of the most recent Stay & Play deals along the wonderful Mississippi Coast. For particulars on the courses, you can refer back to my last piece.
Fallen Oak (pictured above) and Beau Rivage Resort & Casino: This is the top of the food chain, the best course in Mississippi, the east coast sibling of Vegas' famed Shadow Creek, same owners, same Tom Fazio as designer, same immaculate conditioning, caddies and first rate operation. Fallen Oak is open solely to guests of the Beau Rivage Resort & Casino, owned by MGM Mirage Resorts, and starting this year is home to a PGA Champions Tour event. Rates include a limo to and from the course. Of course, it's the priciest in the region: The stay and play golf package (per golfer, per night, double occupancy) is $209 Sunday-Thursday nights and $299 Friday and Saturday nights and includes a room and a round.
The Oaks Golf Club and Isle Casino Hotel: For the more budget minded folks who still want first arte golf, stay-and-play rates start at $66 per night, per person (double occupancy) and throw in$20 a night in slot credits or promotional chips ($10 for each additional night).
Shell Landing Golf Club and IP Casino Resort Spa: This Davis Love III design gets back to nature and reminds you it's the Mississippi Delta with a combination of marshes, bayous and towering pines and this package is right in the middle, Starting at $120.83 per golfer, per night (double occupancy) through July and $155.23 per golfer, per night (double occupancy) in August and September and also includes a $10 Free Bet Coupon, $10 Food Credit Coupon, and $10 in IP Rewards Play, all per person, per day.
So head down South and tee it up!