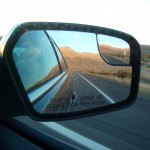 The stretch of I-15 from Mesquite, Nevada, to St. George, Utah, passes through the extreme northwest corner of Arizona.  Also extreme was the effort to create this highway, thanks to the extraordinary piece of road carved into the Virgin River Gorge.  This channel runs between sheer rock walls, past massive striated formations, rising gently to a 3000-foot elevation.
Just north of St. George, in the town of Washington, lies Coral Canyon Golf Course, named for the red rock backdrop around which the holes wind their way.  It's a challenging but friendly golf course, with wide fairways and gently sloping greens.  It provides plenty of difficulty from the blue tees despite measuring a mere 6,527 yards, and makes for a fun day of golf from the white tees at 5,993.  (You're welcome to find out how it plays from the tips at 7,200 on your own.)
The layout is good enough to distract you from the views of Bryce Canyon and Zion National Park.  Several of the fairways are crossed by sandy washes that force the player to make decisions off the tee about line and length.
Most of the greens are guarded on one side only, allowing the shorter hitter to run the ball onto the putting surface from the proper angle.  A distinct exception to this is the par-3 sixth; its wide but shallow two-level green calls for a do-or-die approach, but from an appropriate length of 122 yards from the blue tees and 110 from the white.
For playability, pleasure, and visual splendor, Coral Canyon is well worth the hour's drive from a Mesquite base of operations.  Just make sure to adjust your watch accordingly, since Utah is in the Mountain Time Zone, an hour later than Nevada.