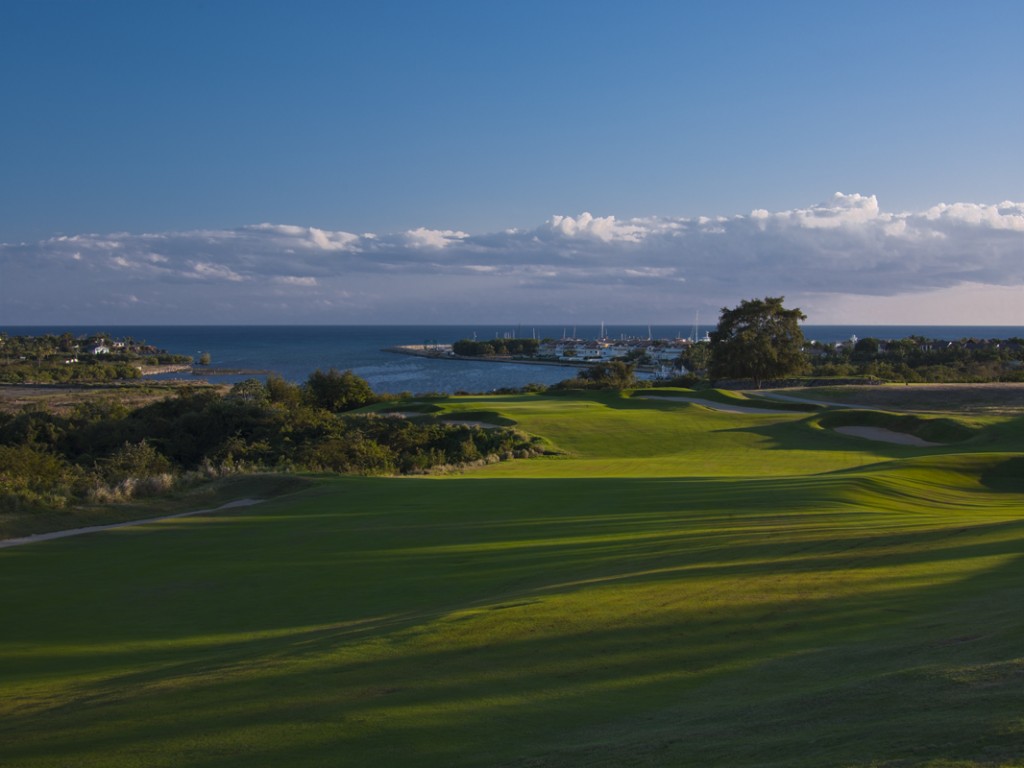 From the fifth tee of the Marina nine at the Dye Fore course, I can see the shoreline and the water, well beyond the golf course.  I can also see a fairway bending broadly from right to left, with significant contours into which I can bank my drive.
I take the club back, and come down steep and fast and ugly.  The ball zooms left at a 45-degree angle to the intended line, past the dogleg's inner bunker and on into impenetrable jungle.
It is a truly wretched shot.  It is not the only one I will hit on this day.  At least this one has gone into a lateral hazard; I've been spared the dreaded "lying two on the tee."
On 15, a par-three, I hit such an ignominious dribbler that my instinct is to run after it to try to keep it from bouncing into no-man's land.  When I was growing up, I once hit a tee shot so directly vertical that I had time to dash to the end of the tee box and catch it before it landed.
These moments might ruin a scorecard, but they couldn't ruin my day.  I had known, when I came to Casa de Campo, that Teeth of the Dog was one of the finest courses in the world.  I had no idea that Dye Fore was as good as it is, good enough to stand alongside its older sibling on an equal basis.
Comparisons are silly, since the two occupy such vastly different terrain.  "Teeth" is essentially flat, enlivened by a creative routing that maximizes the effect of its coastal setting.  Dye Fore is broad-shouldered and brawny, a big-punching heavyweight on high ground with major elevation changes, sweeping views, and greensites on the edges of precipices.
Brian McCallen has done an excellent job elsewhere on this website describing the process by which Pete Dye designed and created this hymn to maximalist golf architecture.  I won't repeat what he said; I'll simply note that I have played very few places with anywhere near the Wow Factor of Dye Fore.
I couldn't help thinking as one great hole led to another, How did I not know about this place?  It is epic in scale, audacious in conception, a knockout in execution.  There isn't a dull hole on the two nines we played — Marina and Chavon, the latter named for the river that runs below the cliffs on which the holes are perched.  (Maybe one — the final hole of the Marina nine is bland, if only in context of the fireworks before it.)
Is it better than Teeth?  Don't know how you'd decide.  Are mountains better than waves?  Is chocolate better than passionfruit?  Is dancing better than rock-climbing?
However one might rate them, any destination that has one of these as its second-best golf course is doing pretty well for itself.
I had no idea Dye Fore would be so terrific.  It makes me eager to find out what else might be waiting around the next corner.