At the PGA Merchandise Show in Orlando, every aspect of the golf experience is analyzed, probed, and subject to innovation.  (I am legally obliged to note for the record that the Merchandise Show is not open to the public.  Really — it says so in the application for media credentials and ever'thing.)
At the outdoor demo day, I was startled to learn that even the beer cart can be improved, thanks to the efforts of Retail Application Deployment Systems (RAD Systems, LLC).  They've developed a simple application called SCAN4BEER, which they're marketing to course operators.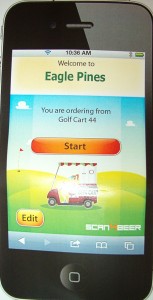 Simply use your smartphone to scan a QR code available on each golf cart.  The code identifies your cart, a menu appears on your phone, you make your selection, and the beer cart locates you through your GPS and brings you a chilly beverage.
No more waiting for the cart to make its circuit, no more tedious slog through nine holes to reach the halfway house.  Swing oil is just a click away.
As the website demonstrates, they haven't improved on the cart girl yet.  Some things are out of reach of even the most extensive new-product showcase.