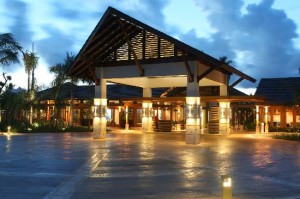 I left my New York apartment this morning at about 5:30 a.m., in the cold and dark, with a crescent moon rising in the east.
Six hours later, I landed in Punta Cana, Dominican Republic, in bright sun, moist air, and a club-and-a-half wind.
Ah, the Wars we on the Golf Road fight.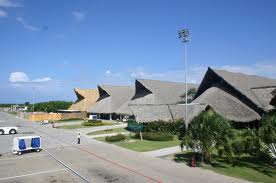 It's been many years since I've come to an airport whose primary design feature is thatch.  The terminal is styled as a series of connected huts, and the walk to the Customs area is like a stroll through a tropical village, albeit one where they decided to crowd the dwellings together like urban brownstones.
The primary occupation in Punta Cana seems to be baggage handler.  There were three per passenger, all vying zealously at the baggage claim to be of gratuitous assistance.  I consider it a victory that I reached the exit without being forcibly strapped to a hand-truck.
A van driver was waiting for me, holding a sign.  As we settled into the van, he reached into his cooler and handed me a bottle of ice-cold water, and a moist towelette for my sweated brow.  "You've done this before," I said.  He apologized for his English, which was far better than my poorly-remembered high school Spanish.  We chatted in pleasant fits and starts on the forty-five minute drive past banana plantations and sugar-cane fields.  The highway was completed in August, and cut an hour-plus off the drive to La Romana.  I was alarmed when the toll taker rang up a $50 charge — 50 Dominican pesos, it turned out to be, about $1.25.
Then on to Casa de Campo, which belongs to that rarefied class of resort locations that provide worlds unto themselves.  Sprawling doesn't do it justice; at check-in you are given the key to the golf-cart that bears your room number, and sits near your door.  This is to be your primary mode of transportation around the property.  The beach, I hear, is a good 15-20 minutes cart-drive from the rooms; by bicycle it would probably be half that, and the walk time is unknown, because who walks anywhere at a place like this?  The pool is closer, as is the spa and beauty salon.
Upon arriving at reception I was greeted by name and handed a cool, moist towel.
I think I'm going to like it here.