Psst — wanna buy some golf balls?
You run into them at resorts and daily-fee courses all around the world: the guys who position themselves along the way and offer you the golf balls they've found and washed clean.  It's an enterprising piece of scavenging, though it's usually discouraged if not downright outlawed at places that have licensed the "reconditioned ball" market to an outside company.
At Casa de Campo, chief marketing officer Peter Bonell said that they know it goes on, and they're fine with it.  "It's just a little something extra for the local economy," he said.
Very little, really, though it is literally found money for the guys who do the washing and bagging.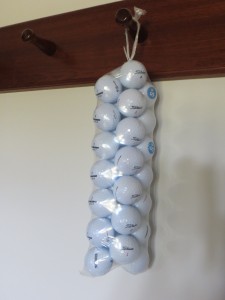 I bought this bag of Bridgestones and Titleists from a guy for $12.  There are twenty-eight balls in the bag, mostly NXT Tours and e6s, with a few Tour B330s thrown in.  An interesting array of company logos, too. I have to wonder about the one labeled instinctive golf coaching (all in lower-case letters); if that coaching really were so instinctive and effective, I wouldn't be holding this ball in my hand.
That is one of the worrisome things about buying such balls; they had all acquired bad habits or they wouldn't have gotten lost in the first place.  I'm hoping they're sufficiently chastened to stick to the straight and narrow path I have in mind for them.  If not, they'll get another chance in the next life.  It's downright Hindu when you think about it.
The other question is whether I should have bargained with the gentleman in the first place, or simply given him the price he asked for.  I didn't really want to pay more than I paid, and I could have happily walked away without adding any extra balls to my bag.  I don't know the answer; it's an ethical calibration of value, exchange, respect, and expectation.
In the meantime, anyone want a couple DT SoLos or NXT Extremes?  The woods are full of 'em.