(originally published March 10, 2011)
If you could go back in history to attend any one sporting event, which would it be?
There are many ways to approach the question.  For social significance, one might want to be at Ebbets Field on April 15, 1947, to watch a dark man in a white uniform shatter a barrier on a field of green.  Or at the Olympiastadion in Berlin in 1936, where Jesse Owens stuck pins in Hitler's notion of racial superiority.
For comic relief, it would be hard to top November 20, 1982, in Berkeley, California, when five Cal laterals and the Stanford band combined for a winning touchdown and a blooper reel all-timer.  To clear up a mystery, there's Wrigley Field on October 1, 1932, when Babe Ruth did or didn't call his shot before homering off Charlie Root.  For sheer joy and improbability, I do believe in Lake Placid, February 22, 1980, when a team of American amateur and college players upset a Soviet hockey squad that was essentially professional and surely the world's best.
All are fine selections, but my choice would be a boxing match held at Madison Square Garden forty years ago this week.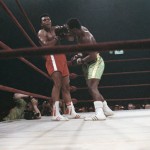 On March 8, 1971, Muhammad Ali and Joe Frazier met in a bout that took all the social upheavals of a turbulent era and compressed them into a spotlit square.  It also happened to match two unbeaten fighters, both legitimate claimants to the heavyweight crown, in Act I of their four-year, three-act personal and professional drama.
It is hard to imagine, as we view him today, that Muhammad Ali was once considered one of the most dangerous men in America.  He was a revolutionary figure, within and beyond the world of sports.  He boldly proclaimed, "I am the greatest!" at a time when athletes – especially African-American athletes –were expected to be humble and grateful.  He declared, "I'm so pretty," when "Black is Beautiful" was still around the corner as an assertion of identity and pride.  He embraced Elijah Muhammad's Nation of Islam and cast off his "slave name," Cassius Clay, while equal rights for people of color was still being fought for in the streets.  He demanded to be called by a name as foreign and threatening to the white sports establishment – the only kind there was – as Hussein Qaddafi bin-Laden would be today.
When Ali was drafted and refused military induction because of his religious beliefs, he was branded a bum and a coward, stripped of his title and banned from boxing.  He went on a speaking tour of college campuses, where his stance against the Vietnam War endeared him to the young.  He was kept from his sport for three and a half prime years, returning to the ring in 1970, eight months before the U.S. Supreme Court overturned his conviction for draft evasion in a unanimous decision.  He was 29 when he faced off against Joe Frazier on that March night in 1971.
Frazier had emerged in Ali's absence as a singular power in the heavyweight ranks, tough and stubborn and relentlessly boring in, throwing left hooks with dangerous intent.   He bulled his way through every fighter put in front of him, and was 26-0 with 23 knockouts when at last Ali was free to fight him.
In the long buildup to the fight, the lighter-skinned man from a middle-class Louisville background declared himself the true representative of his people, while the darker man from an impoverished South Carolina family was portrayed as "the white man's champion."  More than a title belt was at stake; who you supported said a lot about who you were.  If your hair was over your collar or long enough to hold a pick, if your sideburns extended below your ear, you were probably rooting for Ali. As Bryant Gumbel told Thomas Hauser for the book Muhammad Ali: His Life and Times, "One was the very symbol of black pride, parading black feelings about black heritage, speaking out against racial injustice.  And the other guy was more like your parents were.  He just kind of went along."
The Garden that night was crackling with tension.  One official told Hauser it was "like a combination of New Year's Eve and the Easter Parade."  Five hundred police officers were on duty around and within the Garden.  Dustin Hoffman and Diana Ross were escorted from the press section; Frank Sinatra was permitted to stay at ringside, because he was photographing the fight for Life magazine.
With so much emotion riding on the outcome, the fight could easily have been a disappointment.  It was not.  Frazier, the puncher, came at Ali; Ali tried to dance, but his legs were not the same as they had been before his layoff.  In the eleventh round, Frazier hurt Ali, but Ali's instinctive clowning overreaction left Frazier uncertain that Ali was in trouble.  In the fifteenth and final round, Frazier hit Ali with a left hook that referee Arthur Mercante told Hauser was "as hard as a man can be hit."  Ali went down, the red tassels on his shoes flying as he fell – and he was back on his feet before the referee could pick up the count.  Both fighters were standing at the finish.  Frazier won by a unanimous decision.
The political winds have shifted in many directions since that time.  Muhammad Ali has become a beloved world figure, greeted everywhere he goes with warm smiles from people who probably exulted at his defeat in the Garden.  He has followed the path his mentor Malcolm X traveled, shifting from the more incendiary tenets of the Black Muslims to a more orthodox Islam.  He regained his title twice after losing it to Joe Frazier, and won their other two meetings, most notably in the Thrilla in Manila in 1975.  He fought too long, and received too many blows.
Forty years later, the two are inextricably linked, the proving ground for each other's greatness.  On one unforgettable night, they were more than boxers in an arena; they were symbolic warriors in the clash of cultures that echoed through the last four decades of the twentieth century.