There is, the apparel and sports-drink makers would have us believe, an athlete in all of us.
I put that proposition to a test on the final full Golf Road Warriors day at Casa de Campo, and I'm pleased to report that it's true, though he had a bit of a limp on the morning after.
The day began with a quick short-game primer from the Jim McLean Golf School instructors at the resort, a welcome if belated exercise for me.  I'd spent some of the first day playing Ping Pong across the putting surfaces of Teeth of the Dog, as the skulled wedge seemed to be my one repeating swing of the day.
My newly-refreshed pitching skills were immediately tested at La Romana Country Club, the private course within Casa de Campo's borders.  (The resort name may mean "house in the country," but it often seems more like a country of its own.)   On the East Nine, completed in 2007 to bring the 1990 facility up to 27 holes, most of the greens were pinched up above the fairway approach, with significant falloff to at least one side.  It's characteristic Dye, of course, and there's always the option to hit the actual putting surface in regulation — a tactic I considered but one my swing rejected.
The most interesting of the new holes for me was the second, a par-five with a fairway whose right side off the tee slopes down towards a large bunker while the left side is flat.  This orientation is reversed on the second shot, where the flat layup area is to the right and the left portion of the approach banks downward.  I love two-way holes – the fifth at Bethpage Black is a particular favorite – and this angles-on-steroids version was a nice variation on the theme.
Though La Romana CC is private, it is often possible to get access to it through the resort's concierge or its Director of Golf.  A letter from a home-club professional sent in advance doesn't hurt, and will reveal if the course is available on the day you'd like.
With clinic, round, and lunch under my belt, there was only a brief interval before my scheduled lesson at the hillside tennis center.  The Sporting Life never rests.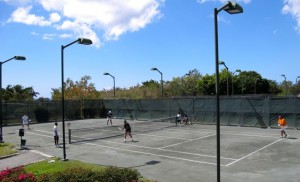 Up at La Terraza Tennis Center, a fifteen-minute cart ride from my room, Emilio Vásquez presides over thirteen Har-Tru courts, ten of which are lighted for play in the more temperate evenings.  Señor Vásquez has been at Casa de Campo for 32 years; once one of the top players in the Caribbean, he represented his country in international play from 1972 to 1988.
I was greeted by one of the Assistant Pros, Miguel Mercedes, who took me out to Court 7.  I've played a lot of tennis in my life, though nearly all of it was many years and pounds ago. My father loved the game, so I took lessons as a child and played on my high-school team.  I kept at it with friends through college and into my 20s, though living in New York City makes it a bit tough to find courts and time.  In the last twenty-five years I'd probably played a dozen times, if that.
Miguel stood at the net and hit to my forehand for a while, then my backhand.  Neurons all around my lizard brain activated suddenly, recognizing the once-familiar stimulus of a fuzzy ball heading my way.  I know what to do with this, they said, and they sent out instructions to the arms, legs, and feet.  Unfortunately, those distant actors had long since forgotten their lines, and it took them a while to blow the dust off their scripts and slog into action where snap was required.
Brain of a dormant 25-year-old, meet body of a 56er.  I hope you'll be very happy together.
With Miguel's prodding, I taught the neurons to send the messages a little earlier than they had in the past, to allow time for decoding and translation.  I began to move in ways that felt thrillingly familiar, getting my feet into position in time to turn sideways, take a stance as I brought the racket back, and step through the stroke without relying too much on the wrist for spin.  Some solid strokes resulted: firm, flat forehands down the middle or cross-court; backhands laced with the right touch of topspin.  Miguel had me come up to net, where he reminded me to step into the volley, and good things resulted.  Even my spinning serve reappeared, though the hard reverse-twist will have to wait for another day.
I should mention that Miguel and I were not alone.  We were accompanied by a youngster there to spare us the effort of picking up the balls from my side of the net and Miguel's back fence.   There is a strong and proud ballboy program at La Terraza.  Kids as young as ten years old can begin in it, earning money and learning tennis, working in time blocks staggered so they can also attend regular school.  While I was there, I saw two of the older ballboys playing sets with a pair of women residents.  Some rise to become teaching professionals or take the life skills they've acquired into other lines of work; one, Pedro Nolasco, was named to the Dominican Republic's Davis Cup team in January 2012.
When Emilio joined us, he continued the excavation project in search of my game.  There was enough unearthed in the course of the hour that I could imagine playing well again, something he assured me would happen fairly quickly if I could find time to play even once a week.
I left the courts exhilarated and exhausted.  It seems that athlete really is still in me.  And the body that encases him is really grateful for ibuprofen.