Power Spot – True North – Northern Michigan

– Where Heaven ends, Earth begins, & Dreams come True –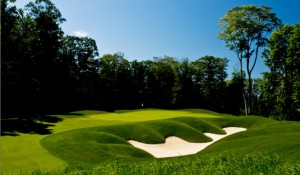 In 2008 I spent much of the summer in Michigan – the land of my birth – exploring dozens of her finest courses, and playing countless rounds of twilight golf at Palmer Park in Detroit, where I learned to play in my youth. In August, after the PGA Championship at Oakland Hills, I was invited on a media trip to play the finest golf courses in Northern Michigan. The highly regarded Arcadia Bluffs, Bay Harbor, and Treetops were spectacular, and Alister McKenzie's masterpiece Crystal Downs truly deserves its ranking as the one of the top ten courses in the world. But for me the high point of the trip and high point of the summer was the exquisite experience of playing True North.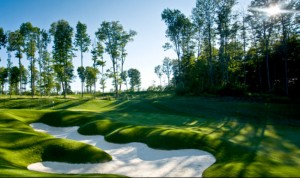 True North – the direction along the earth's surface towards the geographic North Pole – is marked in the skies by the position of Polaris,  the North Star. Taoist believe this North (Pole) Star – the one point in the sky around which the other constellations revolve – is the Gateway to Heaven. True North is also a true world-class golf club near Harbor Springs, Northern Michigan. Located at the nexus of 3 of the Great Lakes, this 18-hole masterpiece designed by Jim Engh, is 'breathtaking' & 'magical' – where Heaven ends and Earth begins.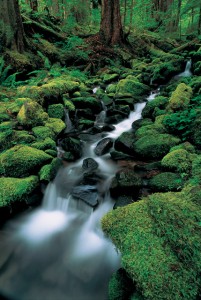 The ideogram for feng shui incorporates two radicals; 'wind' and 'water'. Interestingly enough, Northern Michigan finest courses ' Arcadia Bluffs, Bay Harbor, and Crystal Downs', are built on high bluffs close to Lake Michigan where these two elemental forces intersect. True North is located near an ancient Chippewah healing spot famed for its sparkling, crystal clear springs. The waters that come bubbling up from deep underground –  through quartz bearing rock which impart a distinctly pleasurable and life enhancing piezoelectric charge — tingles as you drink it! True North not only has has pure healing waters, pure air, fertile soil, lush terrain, tall trees, virgin forests, abundant wildlife, and spectacular design, True North has superb feng-shui, which is clearly evident as soon as you enter the property. The air literally tingles with energetic aliveness. The impeccably manicured golf course and pristine forests seem to sparkle and glisten as if suspended in crystal. The panoramic vistas enhance the depth of field as the course winds through scenic rolling hills, and virgin forests of hardwoods and mature pines.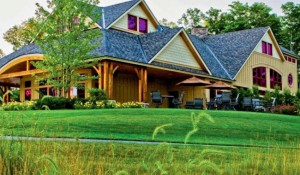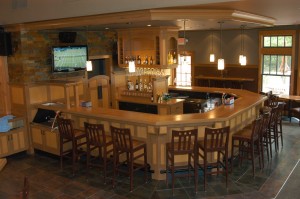 I found this entire facility unlike any I have ever encountered in the West. But once I met the owner, John Hover, whose bearing immediately reminded me of a old Taoist sage, it made perfect sense. The clubhouse – built of local timbers and river stones – incorporates a multitude of auspicious, classical Chinese feng-shui precepts. From its structural alignment to true North; to the shape, placement, and alignment of the wealth & health generating sectors (kitchen, restaurant, bar, and pro-shop) in relation to the bagua (octagon), the owner of True North nailed it. So its not surprising that True North is the only club in North America with reciprocal membership arrangements with Mission Hills in China.
True North is not only is a great golf club, it is a 'Power Spot'. Even more powerfully than a golf course built on a 'Power Spot', playing on a golf course that is a 'Power Spot' makes slipping into the Zone effortless. As I had arrived late in the day I only had enough time to played a few holes. I teed off an hour before sunset.  The Sun was low in the sky.. bathing the fairways in golden light, and casting lengthening shadows. I started on the par-3 tenth hole, and nearly aced my first shot, a 6-iron from 190 yards. I birdied the short downhill par-4 11th, then, eagled the par-5 12th, after hitting a magnificent 5-wood to 8 feet….a shot even Tiger would have been proud of.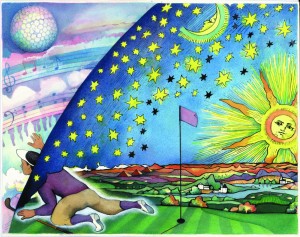 With the sun setting and the temperature beginning to drop , I drove past the 13th, 14th, 15th, 16, and 17th holes and merely surveyed their layout. As skies became tinged with lavender, I arrived at the tee of the par-5, 18th hole. A member of True North and his two teenage sons invited me to join them. As I stood on the tee and surveyed the hole, it presented the option of either taking the longer, safer route to the right which decended into a hollow and snaked between rows of towering pines – a sure three shot hole. Or I could play risk-reward and target the terraced, upper left fairway, which if successful would leave me a clear, short, second shot of 180 yards straight uphill to the green.
My 'Dragon Nature' compelled to take the riskier shot. I stung a 3-wood with a high draw that split the sky and came to rest just at the end of the fairway. It was full twilight as I approached my drive. As I looked up the fairway to survey my second shot, I had the numinous experience of simultaniety. Deja-vu. Looking through the avenue of trees towards the green – perfectly nestled in a catherdral of tall pines – around, behind and above it, I remembered having played this exact hole in a of lucid dream years earlier. I had thought this course was in my dream world….in some enchanted astral realm. I was stunned to be actually playing it here, in the physical world, in my physical body, on Earth, fully awake, alert, and alive.
I gathered myself, and saw the shot – a full bore 7-iron straight uphill to a pin tucked near the front right edge. I hit it flush. In the sweet spot. And as it soared into the gathering dusk, the skies now tinged purple, I felt totally in tune, on song, perfectly rooted, centered, and aligned – inside and out. It felt as if I had come home. I knew I had somehow found a magic place where Dreams of the Past met Reality in the Present, where East met West, and where Earth met Heaven… with golf at the Center.
I was in such an ecstastic state I neglected to hit my putt hard enough and left the putt for eagle on the lip. But I wasn't disappointed. After all, I'd still shot 5-under for four holes – a stretch of holes like the first time at age 14, at Palmer Park.. where I'd found the spiral in my swing and traversed the Zone at twilight.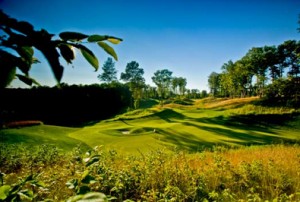 A few months later I was invited back by the owner for a three days of golf with my friend Janina Jacobs (who also writes for THE A POSITION) We both played great, totally recharged our batteries, made nightly runs into town to draw crystalline energy waters and fill our glass containers from the local spring. I had the time of my life. So I must give John and his fine staff, and especially his son Cody, a shout out. The hospitality, lodging, cuisine, and golf course are a cut above.  I have never been treated better. Ever.
This Audubon Sanctuary that practices safe environmental practices, was included in Golf Digests top 100 Public and Resort Courses, is ranked #33 in America, and #3 in Michigan. If you seek the best in golf look no further than this magically enchanting Power Spot… where Earth and Heaven meet… and your golfing dreams come true.