Total Golf Fitness – Wing Chun
'The Physics of Fighting'
Find your power and deliver it efficiently. It's not about size or strength, it's about focus.
We all have Qi, an inner spirit. Once you learn to focus it, there is nothing you cannot bend to your will.
Bruce Lee
Wing Chun — The Physics of Fighting — originated in the Shaolin temple nearly 400 years ago. After the collapse of the Ming Dynasty and the Manchu's took over China, the most knowledgeable martial artists developed a new fighting method to overcome all traditional fighting styles that were being used to suppress them.
Wing Chun ("Forever Springtime") expresses the renaissance of Shaolin martial arts.  This essence of 1,200 years of Shaolin Gong-fu is greater than the sum of its parts. Known as ''Lightening Hands" in Cantonese, this very aggressive, close-quarter, fighting style generates explosive power in a small space with very small movements. Because of its simplicity, economy, and practicality, it is renowned as a fighting science and ideal for training because it can be learned easily and rapidly. Until the 1960s, it was unknown except for a select group of Chinese.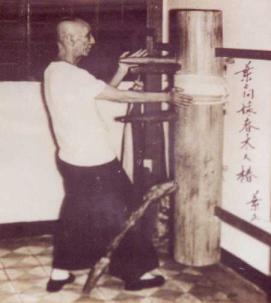 Grandmaster Yip Man was the first master to teach the martial art of Wing Chun openly. He had several students who later became martial arts teachers in their own right. One of them being Bruce Lee. Yip (Ip) Man's  legendary fighting, teaching skills and remarkable life were honored in the 2008 hit movies "Ip Man" and "Ip Man 2 in 2010. Yip Man brought this art to Hong Kong where he trained Bruce Lee in the 1950's. When Lee came to America in 1959 he based his innovative method of combat training on it.
Bruce Lee — whose Chinese name Li Xiao Long means "Little Dragon" — was the first Asian martial arts super-star. By training religiously in many disciplines, he transformed his body, and developed astonishing martial arts abilities. His most amazing skill, a "One-Inch Punch", enabled him to knock a grown man across a room with a punch of only one inch in length. According to Karate legend Ed Parker: "From the tips of his toes to the end of his fingertips, Bruce generated explosive speed and power that hit opponents like a high-speed bullet." Until he demonstrated it at Parker's Karate Exhibition at Long Beach, California in 1964 it had never been seen in the West. Of this skill, Lee said: "You've got to move the whole hip into it, and then snap it".
This explosive striking skill – this super "delayed hit" – which easily applies to golf – is clearly seen in Tiger's swing.
Wing Chun, just like Paul Bertholy's Neuro-Muscular Kinesthetic Conditioning 'Golf Swing Kata" teaches positions first. From the beginning of training the "Center", the "One Point" in the lower abdomen is identified as the source of power and isolated from other factors. Proper structure and rootedness are emphasized. The training is precise, gradually moving from small to smaller movements. Wing Chun reinforces speed, accuracy, and power by programming the body to perform skills automatically. Isotonic training creates body-synergy and length-strength.
Wing Chun training will help every golfer develop greater speed, economy of movement, and the ability to strike from their "Center" – rapidly, explosively, and powerfully. Wing Chun training develops comprehensive golf fitness enabling you to discover what you are truly capable of as an athlete/golfer.
Bruce Lee was the first Chinese martial arts master to break with tradition and teach martial arts to non-Chinese. It was through him and his disciples that elite Special Forces learned Wing Chun. Although Bruce Lee took the best in physical activities and adapted what worked from other systems to create his own style, Jeet Khun Do — The Way of the Intercepted Fist — his roots are in Wing Chun and Small-Circle Jujitsu … which we explore next.