Total Golf Fitness
– Fusing Golf & Martial Arts –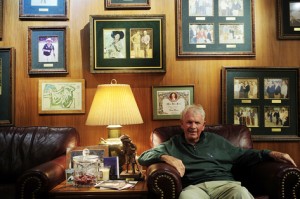 Paul Bertholy's use of kata training was the first example of a Western golf teacher fusing golf and martial arts. But Jackie Burke Jr. — one of America's greatest and most remarkable golf teachers — also has, for decades. At age 82, this Hall of Fame player with two major championships among his 17 PGA Tour victories still does daily martial arts exercises. Burke, who taught Judo while serving in the Marines and became a black belt in Tae Kwon Do at age 67, credits his extraordinary strength, flexibility, and striking skills — at an advanced age — to daily practice fusing golf and martial arts.
Phil Mickelson, a student of Burke, improved his strength, flexibility, distance, performance, and elevated his career after a dismal 2003 season, and went on to win 4 majors. His new fitness regimen in 2004, which included Tae Kwon Do, paid dividends with a 2005 P.G.A. Championship and three Master's victories. Annika Sorenstam's emphasis on fitness and focus is also widely known. According to L.P.G.A. teacher and Aikido master Jamie Zimron: "One of Annika's coaches has worked to instill in her martial arts principles. She is "all about center, focus, balance, and relaxed core power". Se Ri Pak of Korea credits martial arts training as the key to her resurgence and thrilling victory in the L.P.G.A. Championship in 2006. This latest win was her fifth major title and 23rd overall. She revived her career by training more than 12 hours a day and studying two martial arts — Muay Thai kickboxing and Tae Kwon Do. Pak credits daily training — punching, kicking and blocking blows from her martial arts instructor — in helping to build mental and physical strength.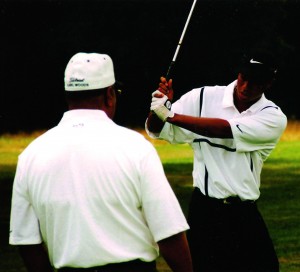 While many of the world's top golfers use martial arts to improve fitness and performance (found in books and articles by Gary Player and Johnny Miller), Tiger had a master warrior as his first model and teacher. Earl Woods Green Beret martial arts training formed the matrix of capabilities he fused into his swing. In his prime a 1 handicap, Earl hit the ball a long way; had a great short game; and was a wizard with trouble shots. His hand-to-hand combat training instilled balance, flexibility, agility, economy of movement, and an ability to move-spring-and-strike rapidly, explosively, and powerfully '- to "move like a cat and attack like a tiger". Weapon training taught "Qi extension", "speed is power", and "kinetic linkage of rhythm, timing and leverage to magnify striking power".
Earl conveyed all these skills and abilities to Tiger. Early exposure to Earl's dynamism, swing, and training activated in Tiger internal powers almost incomprehensible to Western golfers. "He has strength and club-head speed we've never seen before", said David Feherty. "He hits shots we've never seen before; majestic, soaring, long iron shots nobody else even attempts", said Jim Nance. And John Cook said: "Tiger's on the next level, whatever that is, and maybe the next level beyond that."
But that was then, this is now, as a new generation of golfers — raised to emulate Tiger – now integrate various martial arts training methods, techniques, and skills into their games to elevate their performance and awaken extraordinary abilities. And you can too. There are many martial arts systems and traditions to choose from. In the next few posts we will explore various martial arts and how they can benefit every aspiring golfer.