Total Golf Fitness – The Bertholy Method
– The Born Again Golfer –
Paul Bertholy was one of the greatest golf teachers of all-time. He had the #1-rated golf school in America from 1962-1992, trained thousands of champions from juniors to tour pros. Bertholy was the Teaching Editor Emeritus of Golf Magazine for 20+ years; was 5-Times a P.G.A. National Select Teacher, and conducted the first P.G.A. Teaching Seminar in the history of the U.S. P.G.A. He was also the first teacher in golf history to identify the anatomy, physiology, and biomechanics in the golf swing.
Paul Bertholy often said: "To play to your full potential, you need greater strength, flexibility, stamina, and endurance. You must rejuvenate, and be born again."
He said, "The typical adult golfer is not strong, or flexible enough in the related muscles, ligaments and tendons of the golf swing. One reason is that the aging process starts between the ages of 15 and 25, then accelerates rapidly as you get older. But there is a "Fountain of Youth", and that fountain is exercise." Bertholy concluded: " A daily exercise program is an excellent idea, so why not do an exercise program that also builds a fine golf swing?" In the West, Bertholy's physical approach to golf fitness — using isotonics, isometrics, and light weights to anchor precise swing mechanics into the golfers muscle memory — was the first Western teacher to integrate Eastern yogic and martial arts training methods into golf. His students learned golf swing positions before learning movements, then grooved movements in super-slow-motion before adding rhythm, speed, and power. A pioneer in the off-season physical conditioning via stretching, muscle specific weight training (including a deltoid strengthening with weights called 'The Golden Exercise'), Bertholy maintained his strength, flexibility, speed, power, and superb striking skills until his death.
Teaching position before teaching motion is a 5,000 year old classical Eastern method of internal training in yoga, dance, and martial arts. Asana in India, hsing shi in China, pomsee in Korea, or kata in Japan, all mean; "to shape, form, mold, or model", or "that which gives form and defines shape". Bertholy's system of teaching golf featured a 3-step method of kata training he called "Neuro-Muscular Kinesthetic Conditioning".
– 3 Step Kata Training –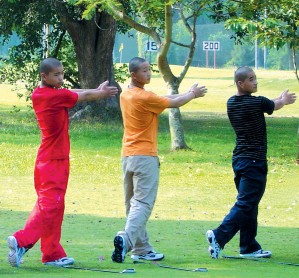 (1) In the first step is to focus on maintaining precise posture, alignment, positions, movements, and sequences done in super-slow motion — as a moving meditation — to improve flexibility, and replenish the organs, nervous and lymphatic systems.
(2) Kata are done slowly and deliberately as a progressive resistance exercise with light weights. Movements are initiated and guided by rhythmic breathing. As movements become easier the weight and resistance are increased to build strength and stamina.
(3) To gain and enhance golfing skills in striking at impact with power, speed and accuracy — vitally important in golf — kata are performed at a rapid pace without weights. Speed also strengthens the heart and circulation.
Over time, Bertholy's student's outer vision (mind) and inner feel (body) also became one. As their inside and outside became oneside and their golf swings became perfectly grooved and automatic. And your golf swing must be grooved, unconscious, and automatic to traverse the Zone's exalted heights.
– Tiger, Vijay and You –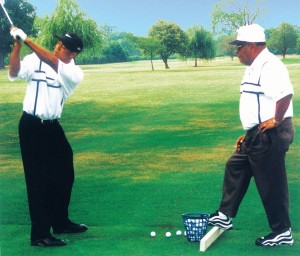 Earl used this method to train Tiger. As in any dojo (martial arts training hall) Tiger learned to take his swing apart position-by-position in slow-motion, and put it back together to ingrain the swing into his muscle memory. As with Bertholy's use of a "swing pipe", Earl's kata training taught Tiger how to make his hand-held weapon — the golf club — like a sword: an extension of his body.
Vijay Singh's 3-step kata training with static, slow-motion, and progressive resistance (a weighted driver) enhanced his power, precision and performance. As a result Vijay strengthened his body, transformed his game, and rejuvenated his professional career.
If you practice golf in a mirror using kata, and light weights in a 3-step progressive program, your growth and development are unlimited. Then, you too, can rejuvenate your body, golf swing and game to become, as Paul Bertholy advised, a "Born Again" golfer.