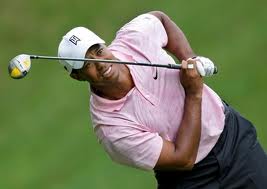 Were you lucky enough to watch the conclusion of the 38th Ryder Cup? It was absolutely thrilling.  I live in China, and CCTV 5 did not broadcast the finish. And due to slow internet speeds, online video coverage kept freezing. So, I listened to the superb online broadcast on Ryder Cup Radio and let their words vividly paint the action.
Europe won in extraordinarily dramatic fashion, with golfers on both sides going deep into the Zone. From Miguel Angel Jimenez turning back the clock, to Rickie Fowler finishing with 4 birdies to steal a half a point, every match was filled with excitement and stellar play. But most significantly, on the back 9 in his singles match, Tiger Woods rose to the occasion and showed the world the Tiger Woods we fondly remember – willing putts into the hole, holing irons for eagles from the fairway…
Richard Kaufman, Ryder Cup Radio announcer repeatedly said at the end of the broadcast: "Tiger's got his Mojo back". "Tiger's got his Mojo back". And I say to Richard: "Amen, brother. TIger, indeed has his Mojo back". " Tiger's play and Richard's remarks provide the perfect the conclusion to this series, and made this an easy post.
Earlier in the day, I had read and responded to an blog on Yahoo Sports by Martin Rogers titled 'Pavin Shows No Confidence in Woods'. Roger's wrote: "Woods' mindset, ripped apart by the murky and much-examined details of his private life, simply does not seem steady enough to withstand the kind of relentless pressure the Ryder Cup brings… Perhaps it is Woods' fragile mental state that has caused Pavin to treat his players with kid gloves, instead of using the kind of tough love enforced by Montgomerie." After reading this I wrote Mr. Rogers to ask him where he gets off writing such a thing, and what he based these comments on. I then informed him that Tiger, despite the turbulence he has recently gone through, "is a warrior's warrior, like his father", and that Tiger, as a legendary athlete, "doesn't do fragile".
I am pleased to see Tiger's spectacular play in the singles match today. And now, that he's back, I can turn my attention to explore other areas you may find of interest.