'How Tiger gets his Mojo Back'
Part Five:
– A Vision of the Future –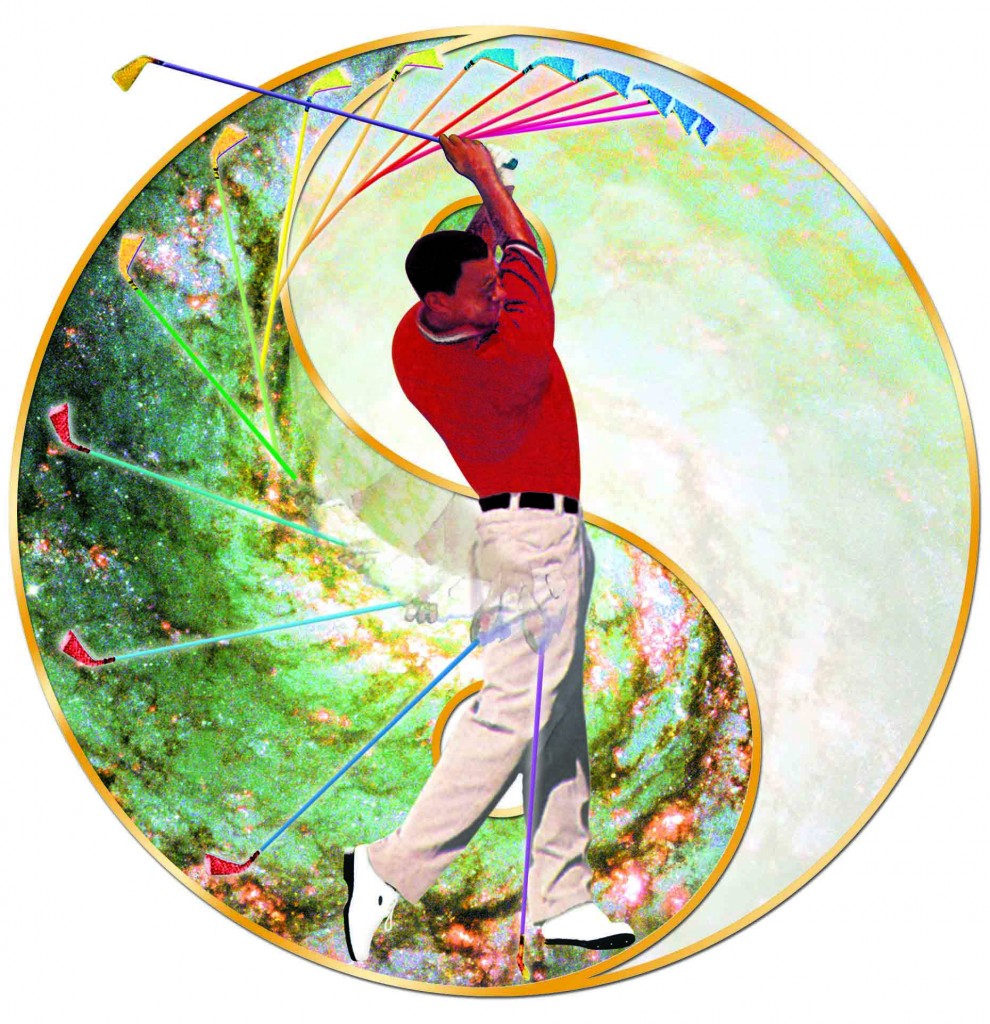 Tiger Woods is in another dimension.
Ernie Els
Tiger Woods is something supernatural.
Tom Watson
Tiger's on the next level, whatever that is.. and maybe the next level beyond that.
John Cook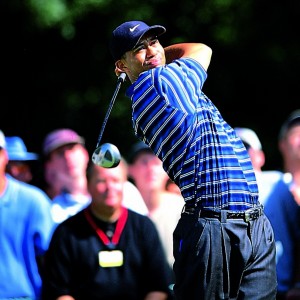 June 2000. Pebble Beach Golf Links. The sky is overcast. I'm on the front-9. Verdant lush green fairways meander along the Pacific Ocean. I'm walking inside the ropes only a few paces from Tiger with my friend, Pete McDaniel, who writes many of Tiger's books and instruction articles. The gallery is huge with tens of thousands of fans. The water is to our right. Mountains are to our left. The golf course slopes gently toward the sea.
Suddenly, a collective gasp from the multitudes sends chills down my spine. I look to my right toward Carmel Bay and behold a massive 100-foot tall tidal wave only a mile out to sea. It's barreling towards us. As I turn my head and pan the view from right to left, to finding the quickest path up the hillside to higher ground, I see Tigern – who is only a few paces away – turn and face the incoming danger. While the shocked crowd screams and starts to run away, Tiger, in super-slow motion, sizes up the incoming wave, then, deliberately strides towards it. He seems to move like a speed skater, and appears to be gliding just above the fairway.
As the tidal wave nears landfall, Tiger casts his club forward like a surfboard, alights upon it, spirals up the face of the giant wave, flies high overhead, and lands high on a hilltop to my left. The wave transforms from a cold, angry maelstrom into a warm, languid, iridescent, buoyancy that gently engulfs me and Pete, and lifts both of us upon the hilltop just below Tiger. It then recedes leaving us safe and completely dry. The sun suddenly breaks through the clouds, rays of heavenly light illuminate Tiger, and the multitude gives a thunderous cheer at his miraculous feat. Then, I awake. It's 4 am. I go back to sleep and have the same dream again – like an instant replay. When I awake for a second time, the sun is just rising over the Berkeley Hills. This is the first time in my life I'd ever had a 'power dream' re-run back-to-back, so I knew it's meaning is literal and significant.
I got up, brewed a pot of Oolong tea, sat down at my desk, started up my computer, and transcribed a letter to Earl. In it, I recounted my 'Power Dream' and my belief that it signified Tiger has "somehow managed to ascended to the next level up and stabilized himself there". I also wrote that this dream signified that he will do something extraordinary at Pebble Beach, and that this feat will herald the true beginning of his career. I also wrote that Tiger would go on to do things in golf that had never been seen before. I wrote: "I don't know the exact form that Tiger's achievements will take, but that they will astound the world".
After I finished this letter, I printed it out and mailed it to Earl with a Father's Day card. Two weeks later, through serendipity, I found myself walking the physical fairways of Pebble Beach along side Pete McDaniel witnessing Tiger's historic U.S. Open victory. During the weeks before the tournament and during the practice rounds, I told dozens of people – including Pete, Ann Liquori, and Jaime Diaz – about my Power Dream/ Vision and that it signified Tiger would do something astonishing. And just as I had foreseen, Tiger put on an extraordinary performance to win by 15, and began his historic run that culminated in his 'Tiger Slam' in 2001.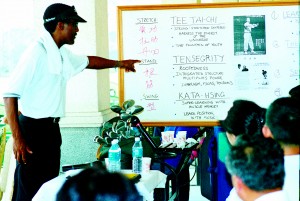 From 2000-2003, I diligently worked to complete my first book by teaching, researching, rewriting, and editing. Earl checked and signed each quote to confirm its accuracy and content, then handwrote a note of thanks for "the chance to correct the record before publication" and his hopes for its success. In 2004, 'The Secret of the Inner-Swing' was finally published. This hardcover, full-color, limited edition, explored the energetic martial arts dimensions that underlie Tiger's training, swing, and striking skills: Tiger's hardware. Its companion, 'Steel wrapped in Cotton', explored the energetic meditative and spiritual dimensions that underlie Tiger's exalted states of sustained performances — playing & living in the Zone — and his ability to focus his Qi power to will the ball in the hole: Tiger's softwear.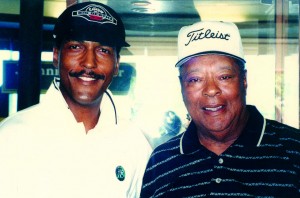 Through 2005, I make steady progress on Steel wrapped in Cotton. On May 3rd, 2006 Earl died. It hit me like a ton of bricks. Over the next year, as I reflected upon the tremendous impact Earl had upon my life, I came to realize I had erred in my understanding of his approach to golf, and the underlying premise in both my books. So I put printing an updated soft-cover version of 'The Secret of the Inner-Swing' on hold, and stopped work on the nearly completed 'Steel wrapped in Cotton'. In 2006 and 2007, I internally changed direction.
– Boom Boom –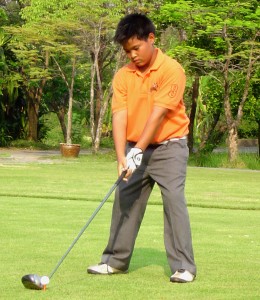 Then, on February 19th, 2008, I spent an unforgettable afternoon with an 11-year old Thai golf prodigy named Piyapoom Temrak. I first met Tiger when he was only 14, and over the past 17 years, I'd seen (and trained) many of Asia's rising stars. But the exhibition I witnessed this day was as mind-blowing as the first time I saw Tiger play back in 1991. The day began inauspiciously when Poom arrived at Thana City G.C. in Bangkok without his clubs. He was forced to rent a set sized for an adult. This set was cumbersome for someone of his short stature.
We began on the driving range where I observed and photographed his warm-up, practice habits, and golf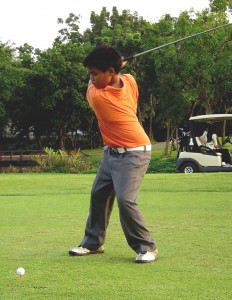 swing. It was immediately apparent this young man was very precise, logical and poised. Despite his ill-fitting equipment he hit shot after shot solid, straight, and far with an elegant, effortless swing. Practicing on both sides of Poom were lady professionals from Korea diligently preparing for the upcoming Thailand Women's Open. They had been there a while, practicing hard and working up a sweat. As Poom worked his way through the bag to the fairway wood he really started pounding the ball. In shot after shot. Boom! Boom! Boom! A powerful percussive explosive 'Boom' at impact. His nickname is Poom, but I had no choice but to call him 'Boom Boom'. At age 11 he was hitting it farther and straighter than the Korean pros on either side of him.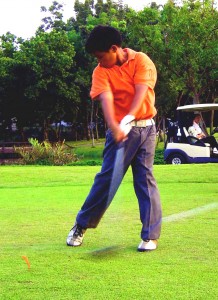 Because of a logjam on the first tee, we drove ahead and started on #2. Boom-Boom started off with a drive down the left side of the fairway leaving him a perfect angle to attack the flag with his second shot. Because his regular set had steel shafts and the rental set's were graphite he was unsure of how far his shots would fly. He asked me if he should hit a sand, or pitching wedge. He calmly chose to finesse a pitching wedge with a 3/4 swing. This level of acumen seemed quite sophisticated for an 11-year old whose only played four years. His shot landed 20 feet short of the hole. When the caddy handed him his putter we were all chagrined to discover the shaft was bent in a gentle arc, rather than straight as it should have been. Unperturbed, he made the necessary inner adjustments and nearly made the putt, as his ball just grazed the edge of the hole.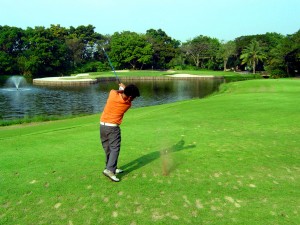 On the 3rd hole, a demanding, 500 yard, par-5, with a tiny green surrounded by water, I had Boom-Boom hit 4 balls off the tee. They ended up clustered in the middle of the fairway. After hitting his second shot strategically short of the water guarding the green, he finessed a delicate pitch shot of 50 yards close enough for an easy birdie. One under.
The 4th hole, a 148 yard par-3 to an island green intimidates most golfers. Boom-Boom assessed the challenge and confidently stroked his 7 iron to 15 feet. Putting again with the bowed putter, he again grazed the cup on his attempt. His score of par on this hole was very well done.
On the 5th hole, another par-5 with a green guarded by water, Boom-Boom crushed his drive so far down the middle of the fairway that he a choice of laying up short of the water guarding the green, or to take the riskier, more dangerous route and hit over the water to reach the green in two.
I watched with great interest as he pondered his choices. Showing maturity beyond his year, he said: "I've got a great short game". He then played his second shot 90 yards short of the water, then, hit his 3rd shot, a sand wedge to 3 feet for an easy birdie. Now he was 2 under.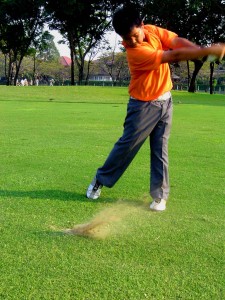 On the 6th hole, his drive came to rest in the middle of the fairway, but unfortunately it found a sand-filled divot. Not only was the lie very difficult for the average golfer to negotiate successfully, but in addition, there was a dollop of sand stuck on the back of the ball. When I told him to move his ball to a better lie, he refused saying; "I've got this shot!" I asked Poom how this clump of sand on the ball would effect his ball flight. He correctly deduced that since the sand was directly in line with the target the ball would fly straight. At address, he noticeably morphedand he took on the bearing of seasoned, fully mature tour professional. Poom settled over the shot, steeled himself,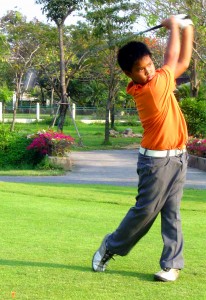 then, flawlessly executed the swing I luckily captured on film. His picked the ball perfectly clean. It bored through the wind, flew straight at the flag, landed 3 feet short of the hole, gouged a deep ball-mark due to the extreme backspin, and settled 6 feet away! Boom-Boom had nearly holed an extremely hard 150-yard iron shot out an exceptionally difficult lie!
Then, immediately afterward, he morphed back to a delightfully, exuberant 11-year old, totally enthralled in the magic of play. When I asked him where on Earth he learned how to hit that shot, he said: I taught myself. "I taught myself"? Now that's not something you hear from an 11-year old everyday. Once again, his attempted putt for a birdie with the bent shafted putter just grazed the edge of the cup.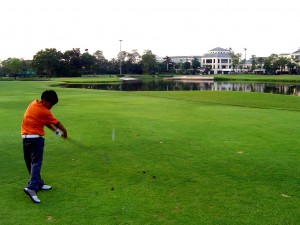 Undeterred, Boom-Boom pared the tough 219 yard, par-3, 7th hole, then shaped a breathtaking beautiful high fade into a flag tucked tight behind the sand trap guarding green on the 440 yard par-4, 8th.
On the 9th hole, a brutal 425 yard par-4, with a tiny green guarded on 3-sides by water, Boom-Boom saved his best for last by hitting the shot of the day. His drive left him with a 220 yard shot that required distance and pinpoint accuracy to carry the lake guarding the front and both sides of the green. This young virtuoso took dead aim. I will always remember the exquisite arc of his shot that started out on a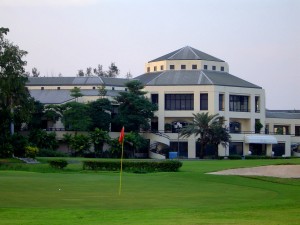 line about 5 yards to the right of the flag, then at the height of its arc, gently turned left, zeroed in on the flag like a laser as it fell. His shot landed near the flag and grazed the hole. It ended up 7 feet past. A shot any pro would be proud of.
Not to settle for anything less that the best, Boom-Boom, made peace with his crooked putter and stroked the ball into the middle of the cup for a final birdie 3. He finished 3 under par for 8 holes, playing a new course, with a rental set of clubs, and a bent putter. Super-Bad.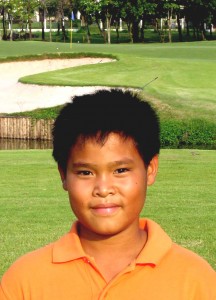 Hole-after-hole, shot-after-shot, Boom-Boom played on a level far beyond his years. After seeing him repeatedly hit spectacular shots with a rental set that didn't fit, it dawned on me that something far deeper was taking place. He demonstrated the same skill I'd seen Tiger wield that first day at A.S.U. – an energetic ability to control the ball with his mind. As we parted Boom-Boom  (who, like Tiger, has been practicing daily meditation since childhood) said: "Before each shot, I focus in the center of my belly to make me calm. It fills me with confidence, then I swing." Seeing an 11-year old demonstrate telekinetic power confirmed he is a star of the future, and that the power of the mind at standstill is without limit. It also confirmed that daily meditation inspires peak performance, activates extraordinary abilities, and is, without doubt, how Tiger can restore his balance, find his groove, and get his Mojo back.