The Way of the Peaceful Warrior
It was painful to watch. Brilliant shots followed by lipped out putts, and the 75th Masters slowly, inexorably, slipping through his fingers. Tiger at war with his putter. Death by a thousand cuts/putts. And so it went….. the clear, unmistakable signs that he has lost his "Tien Ming", or "Heaven Luck". Much like the Prince of Burma, Minchit Sra, who lost his Heaven Luck and was slain on his war elephant in a duel with the Great King Naresuan in the battle of Nong Sari, Siam in 1591.
The late Earl Woods said: "Tournament golf is a form of combat for which one must be strengthened and conditioned". As a Green Beret, Earl trained Tiger in mental warfare so he could dominate and succeed in the ultra-competitive Western golf arena. But the true game is not about mental warfare, aggression, negative emotions, or making the course a battleground.
Sunday was an example that will power and athletic skills are simply not enough. To win the Masters a golfer needs Heaven Luck — which Charl clearly had with his extraordinary chip in at #1, eagle from the fairway on #3, and four birdies on the last four holes. Charl stole Tiger's thunder. Some refer to this as "Energy Transference". Michael Murphy wrote about it in his"Golf in the Kingdom" and "In the Zone: the Psychic Side of Sports". But this energetic dynamic isn't just limited to golf.
Looking at the unfolding final round energetically,  Tiger opened a powerful vortex with his early charge up the leaderboard. Then he rode the waves to a five under par 31 with his clutch par save at #9. Then he short circuited. Tiger's inability to stay in the Zone enabled other players to step into the void and ride the waves he'd activated. While some were caught in the undertow (Rory McIlroy) others (Adam Scott, Jason Day, Jeff Ogilvy, and Luke Donald) elevated their games to unparalleled heights.
None did this better than Charl Schwartzel, who rightfully and richly deserves this win
If the long game reflects physical balance, iron play emotional poise, the short game mental clarity, and putting spiritual alignment, then Tiger regaining his putting and his Heaven Luck requires a spiritual remedy. Theravada Buddhist's believe its a matter of having sufficient Boon, or positive merit. And Boon is accumulated through philanthropy, virtue and meditation – bringing the mind to a standstill.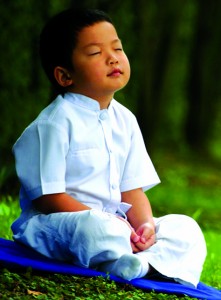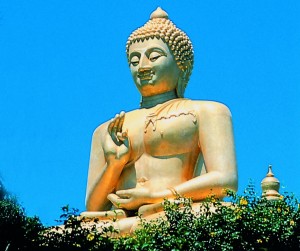 Cultivating Boon — the Way of the Peaceful Warrior — is an elegant way to uplift your life, create good fortune – to not only play in the Zone, but live in it, 24/7.
The 2011 Masters has come and gone. Tiger is rounding into form. The way for him to regain his great putting, and peak performance is not just external, swing mechanics, but internal, spiritual energetics. Approaching golf as a spiritual game — rather than a form of combat or psychic warfare — enables golfers to stair-step into higher levels, ride the ascending currents into the jet stream, then soar…  And isn't this really what golf, the Masters, and life are all about? Inspiring, uplifting, creating inner peace, and healing? None exemplify these qualities more than Charl Schwartzel, and the new breed of global golf champions who chased him to the stunning finish.
Read all of our great stories on by TheAPosition.com writers as we cover The Masters.