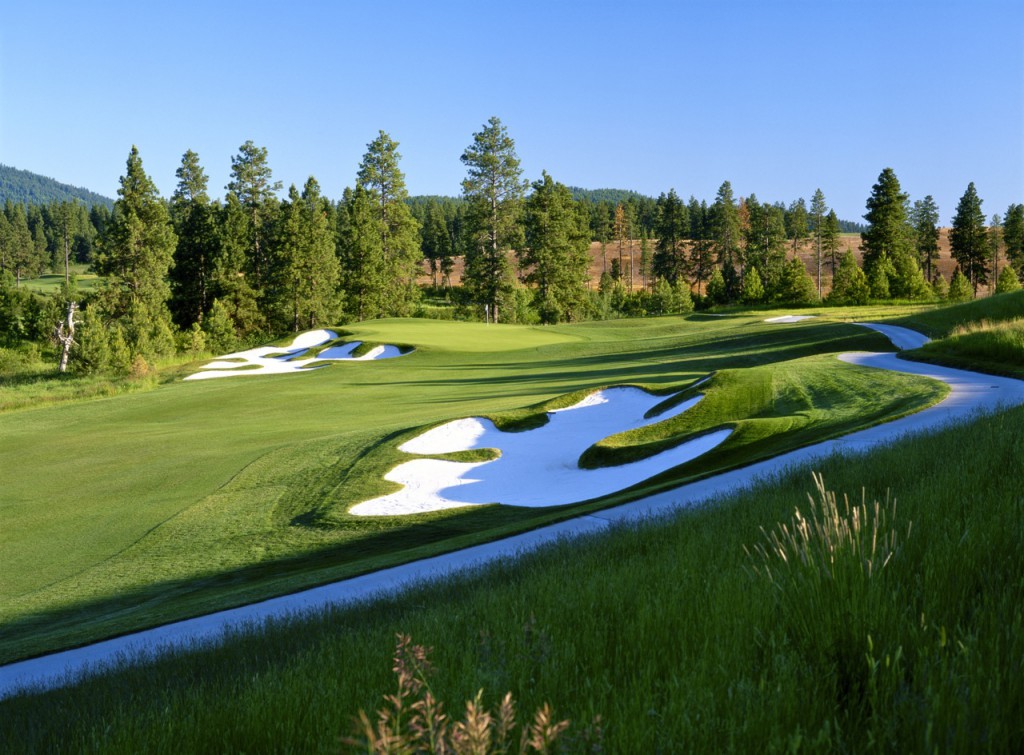 There are so many great holes at Circling Raven, but the par-five 12th is one of my favorites.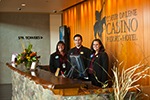 "Welcome Home," was one of the first comments I heard upon arriving at the Coeur d'Alene Casino Resort, home to the Circling Raven Golf Club. "That's an unusual greeting, oh I'm just visiting," I silently said to myself mirroring the warm smile that was extended to me. Or maybe I was home?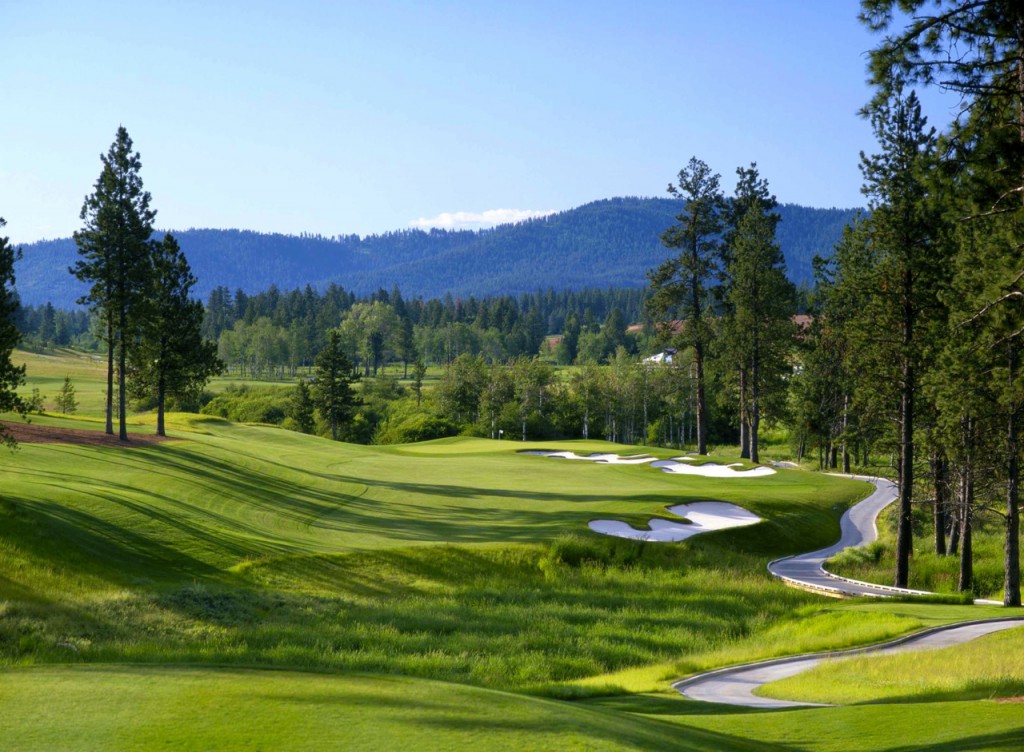 You'll want to pull out your camera in addition to your driver once you reach the tee of the 386-yard 8th at Circling Raven.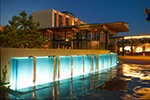 I travel all around America and speak to hundreds of knowledgeable golfers. Whenever the subject of great golf courses and particularly ones open to the public comes up, so does Idaho's Circling Raven. I typically get one of two responses. The first is, "What a great golf course! The second is, "It's my very favorite course anywhere!" Suffice it to say, that's heady praise that only a very few facilities ever get, but Circling Raven is getting even better.
I first played Circling Raven shortly after it opened in 2003 and was immensely impressed. Candidly I didn't stay there and can barely remember much other than the golf course. I just returned there and barely recognized the place. Truly classic golf courses improve with age and the expansive layout that really put its accomplished architect Gene Bates on the map is no exception. Playing Circling Raven was like reuniting with an old friend – you know precisely why you connected in the first place.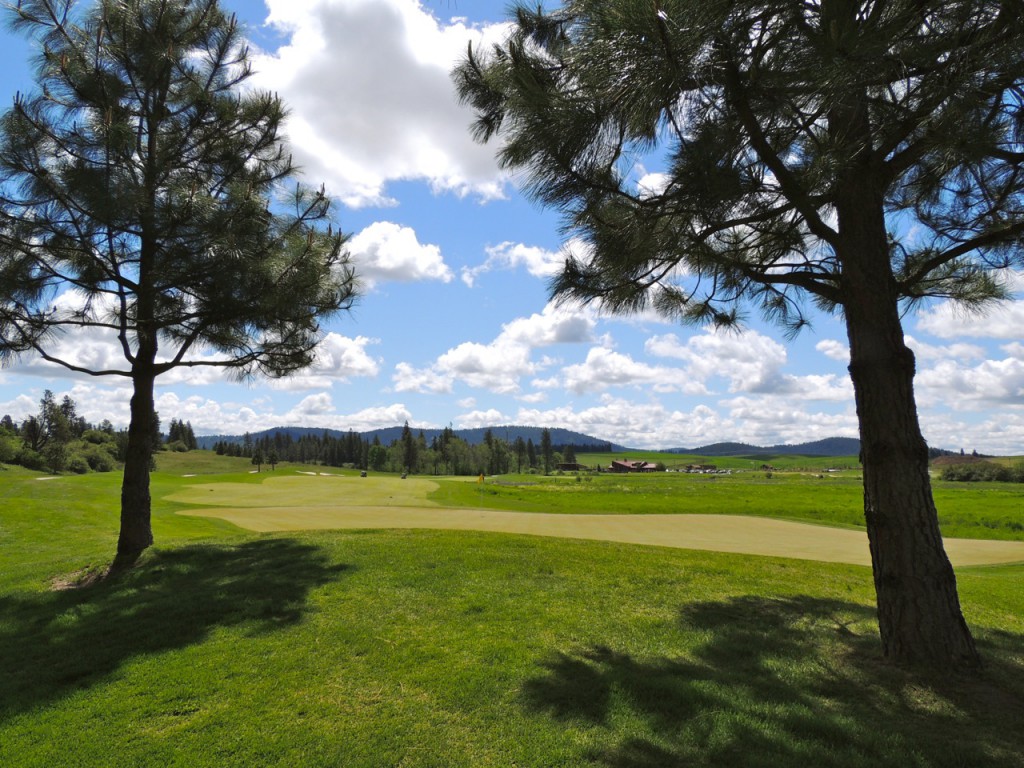 Looking back from behind the par-five 1st green, Circling Raven just keeps getting better and better. 
The surprise for me was that the golf course and its staff were not the only premium offerings, but now part of a polished and expanded jewel. A spectacular spa, award-winning food and beverage offerings, and 99 brand luxurious rooms/suites supplement the original 200-room resort offering I first viewed. Circling Raven has certainly arrived as a world-class offering in one of America's quietly special getaways.
Checking into my spacious 1,200 square foot suite, I was immediately impressed not only by the luxurious comfort, but also the floor-to-ceiling glass walls that separated me from the pristine outdoors. No matter the weather, I could immediately sense that my reunion with Circling Raven was going to be a special one. Not only did I have one and half baths and a Jacuzzi tub, but a 3-headed shower, and a fireplace to enjoy in both my bed and living rooms.
Obviously this was a different resort than the folksy little one I had remembered, and it takes more than a superb golf course to make a special place; it takes people and a plan. The Coeur d'Alene Tribe that owns and operates this gaming resort recognized that great golf-alone would not long sustain its investment. They attracted top spa and food and beverage folks to compliment an exceptional golf staff. They added 99 new luxury rooms, expanded their gaming area, and built a world-class spa with all of the amenities. And the best news is that the fare for all this is a fraction of what you might expect to pay. Golf fees are always in the double-digit range, which is pretty amazing and the spa rates are typically roughly half what I have seen at comparable facilities!
The secret ingredient to this recipe for resort success is its beautiful location. Located on 680 acres about an hour from the Spokane, Washington Airport and 35 minutes south of Coeur d'Alene, this rural rolling countryside is free of interruption, traffic, housing, or any other distractions that usually come with many high-profile resorts. Even the highway that once saddled the entire 18th hole now has been located about a mile away from the resort. There are no auto traffic or flight patterns, but you might spy deer, elk, moose, or perhaps a bear or coyote, but no poisonous snakes.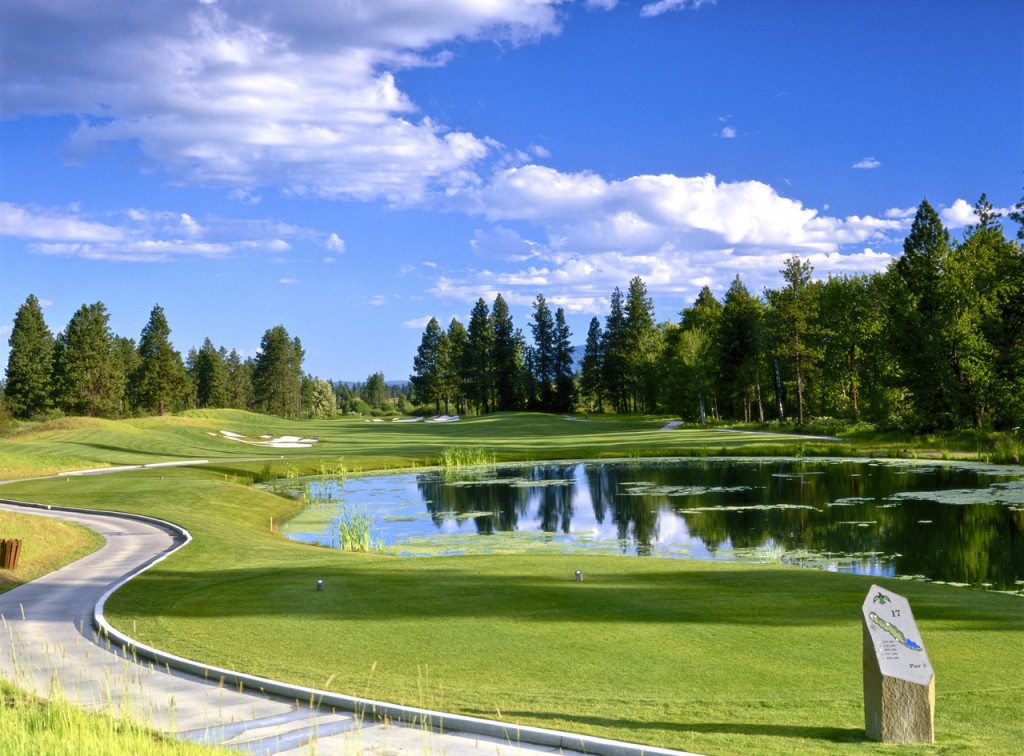 Even the few flat holes at Circling Raven are captivating. Shown above is the 559-yard 17th.
 A ride around the golf course will reveal an unusual expansiveness seldom seen in resorts, or anywhere for that matter; 110 irrigated, manicured acres wind their way around the 650-acre plot devoted exclusively to the golf. Though a substantial amount of earth was moved in a few sections of the golf course, you'd never know where – the land just seems to spill into the surrounding fields and hillsides. The layout also includes a foray into the forests that include ponds and wetlands. Otherwise, you will find ribbons of manicured green punctuated with big bold dazzling white bunkering that features earthen tongues that further define the look and challenge.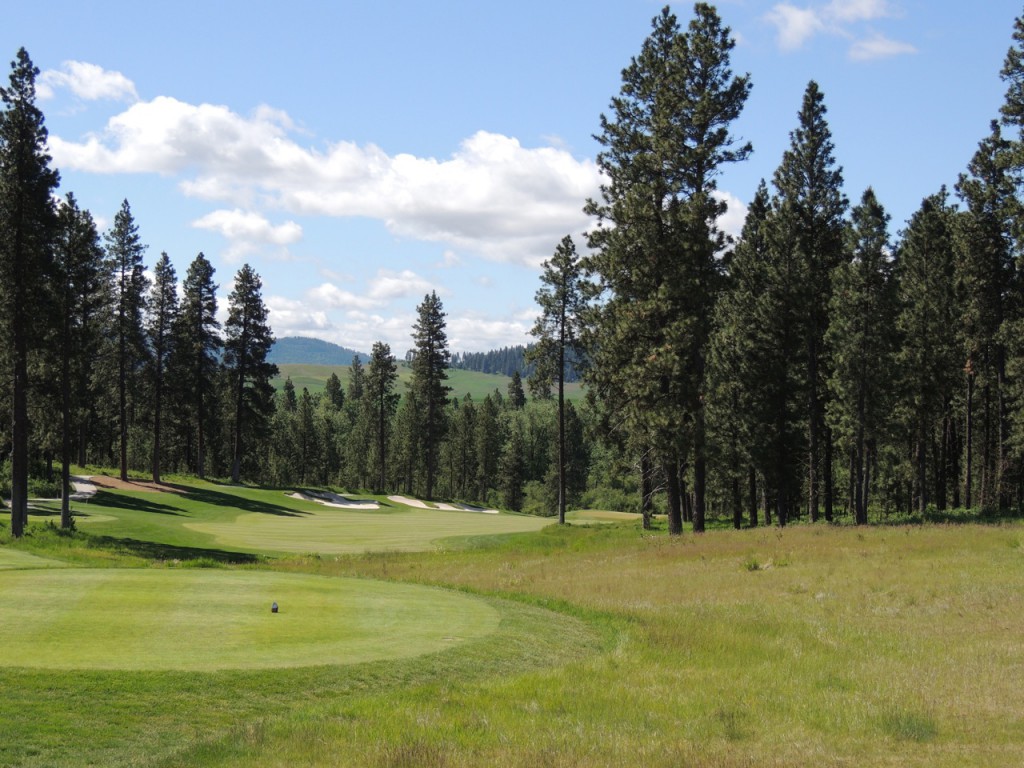 The downhill 15th hole is such a gorgeous driving hole.
 Speak to ten golfers about their favorite Circling Raven holes and you're bound to get 6-7 different answers. The Director of Golf, Tom Davidson, points to the short par-fours as one of his favorite aspects of the course. Depending upon the tee placement and the conditions, anyone of four or five par-fours might be drivable. That said, they are teasers and playing for a par might yield a birdie, but playing for a birdie might yield a double bogey or worse. I liked the 11th through 13th holes in particular, but then found myself adding to that stretch in both directions. There are no disappointing holes and many spots such as the 2nd green or 8th tee that may have you reaching for your camera or wishing you had brought one. In fact, Circling Raven is one big photo opportunity.
An aerial view of the par-five 5th hole begins to reveal the wonderful expansiveness of the property.
The driving areas are mostly very generous, but err to the sides and you can immediately count a lost ball. The putting surfaces are typically firm, fast, smooth, and feature lots of movement without being exaggerated. The term "playable" is often overused, but versatility really comes to the forefront at Circling Raven. There is nothing anemic with the 7,189 yards of slope/rating of 144/74.0 from the tips, but more importantly, the forward tees are a docile 4,708 yards with barely a forced carry. The rough is manageably groomed and the sand is impeccable.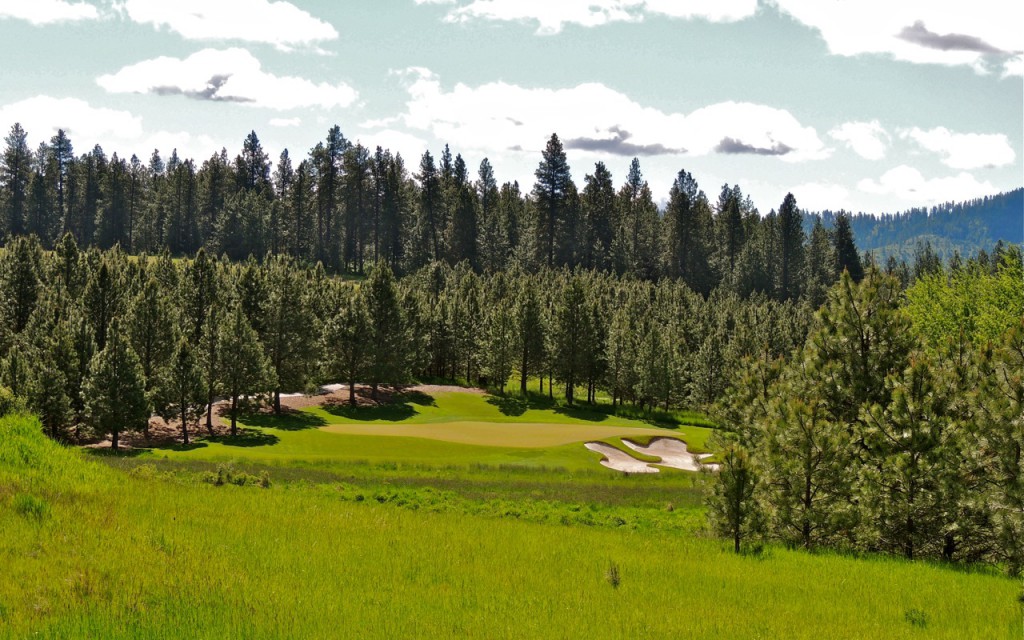 Perhaps the toughest forced carry for everyone is found on the par-3 13th that can range from 135 to 275 yards! Shown above from the rear tee and below from behind the green looking back.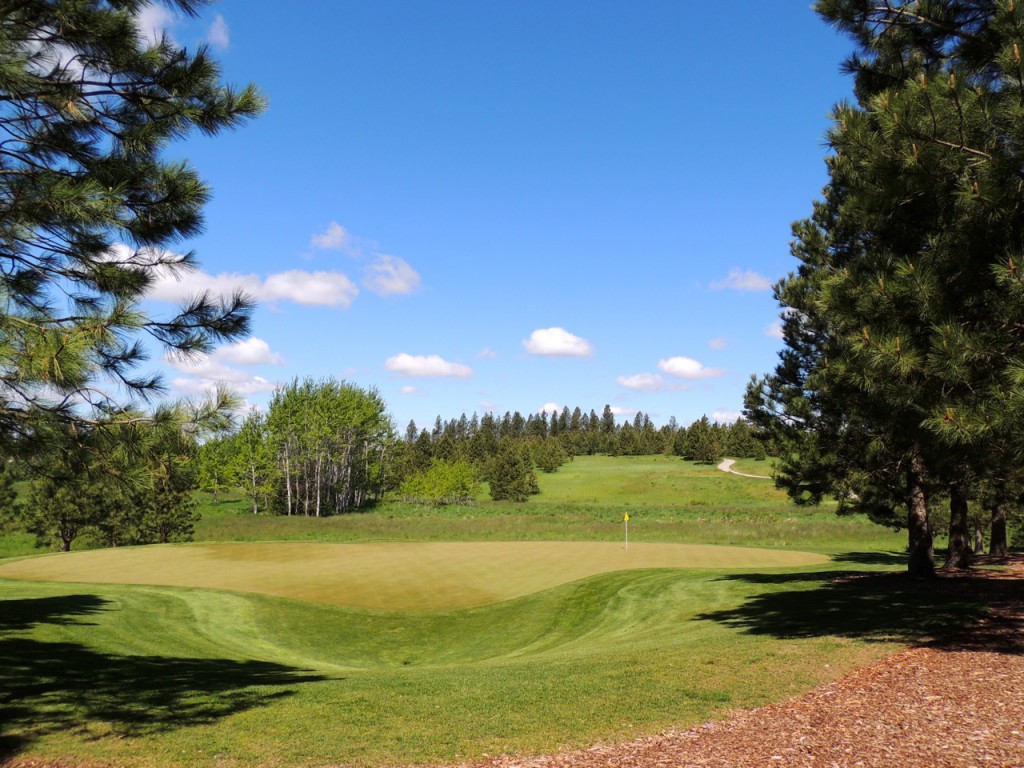 The aspect that so impressed me with Circling Raven is the magnificent piece of property it occupies. Whether playing in the forests or the high meadow, the ambiance is so peaceful and one with nature. You can thank the Coeur d'Alene Tribe for that. The Resort is but a 660-yard stroll or shuttle from the Clubhouse, and only the ninth hole gives any evidence that there is any activity other than golf nearby. As you gaze out in any direction from the golf course, there is nary a home or building in sight, only the Palouse. The Tribe loves their land and there are no plans to ever change the distant vistas. They love and respect their land and it shows.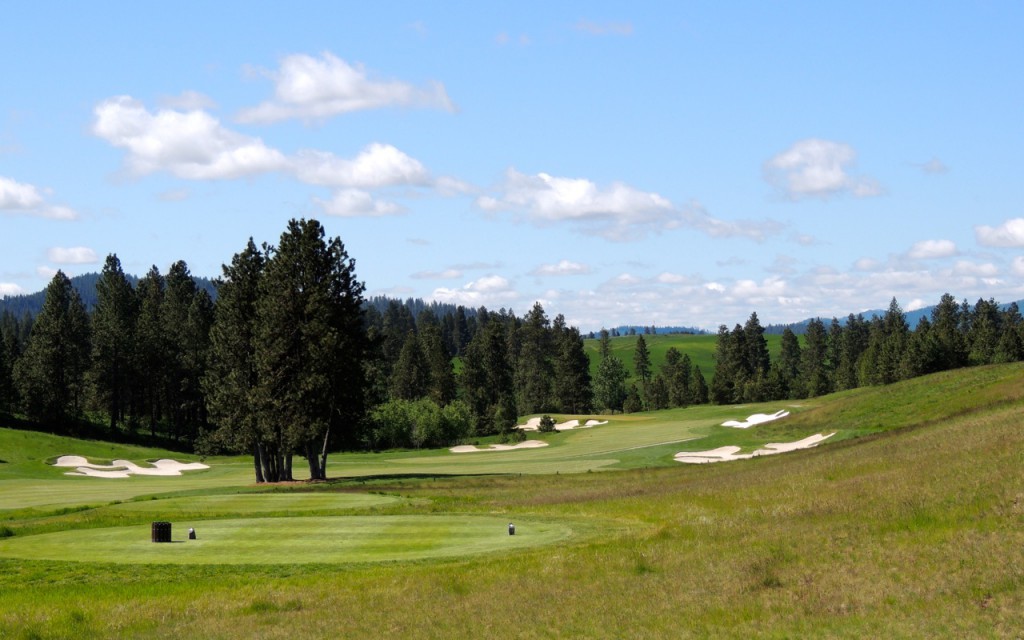 Trees split the par-five 12th landing area forcing you to pick your strategy.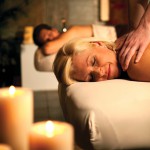 Now you will agree with me that no one lives by golf alone, and this is where the adjacent Coeur d'Alene Casino Resort Hotel now really shines. Not only are the accommodations absolutely first class, you will enjoy fine dining at the Chinook Steakhouse with outstanding Executive Chef Adam Hegsted or their sports bar, the Red Tail Bar & Grill. What's more, in 2011 they added a world-class Spa Ssakwa'q'n that is oriented to golfers – yes golfers! In addition to gaming there are A-List concerts, space for corporate retreats, and four other bars/eateries. From the golf to the dining to the spa and lodging, you will be pleasantly surprised just what a tremendous value this resort offers.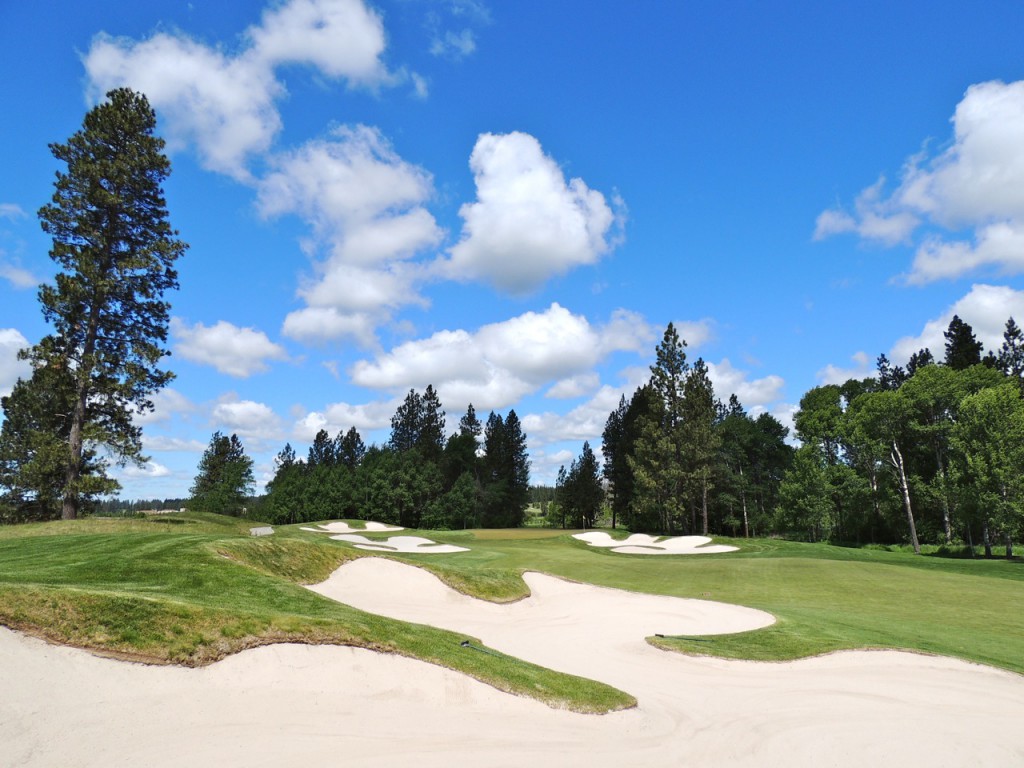 The 435-yard finishing hole at Circling Raven features lots of sand and trouble on both sides! 
 Now avid golfers are known for often wanting to play more than one course on a trip. The Coeur d'Alene Resort Hotel is the perfect place to make your home base. To the north in Coeur d'Alene is the separate Coeur d'Alene Golf & Spa Resort. Situated immediately lakeside, its 18-hole golf course is a fabulous, high-end resort-style layout and well worth the 35-minute trip. To the south about an hour is the highly regarded Washington State University golf course called Palouse Ridge. Additionally there are many other fun, affordable options, but Circling Raven will likely be your favorite.
Not only does Circling Raven feature outstanding golf, but the golf operation headed by Director of Golf, Tom Davidson has garnered many awards. In 2010, Davidson and Circling Raven were honored as the premier Resort Merchandiser in America by the PGA of America. It doesn't get any better than that. Whether for the merchandising, tasty food, adjacent special events building, extensive practice facilities or the outstanding friendly service, the Circling Raven golf facility is at the top of the golf food chain.
My only complaint with my stay at Coeur d'Alene's Resort Hotel and the Circling Raven Golf Club was that it ended way too soon. In just a handful of days, I did honestly feel as if the place was home. I saw dozens of other happy golfing faces there as well. Circling Raven, your home away from home is waiting for you. Yes, those early inviting comments rang so true. And when you count the best resort courses in America and the best values for the premier resorts, I count Circling Raven and the Coeur d'Alene Resort Hotel among the very best!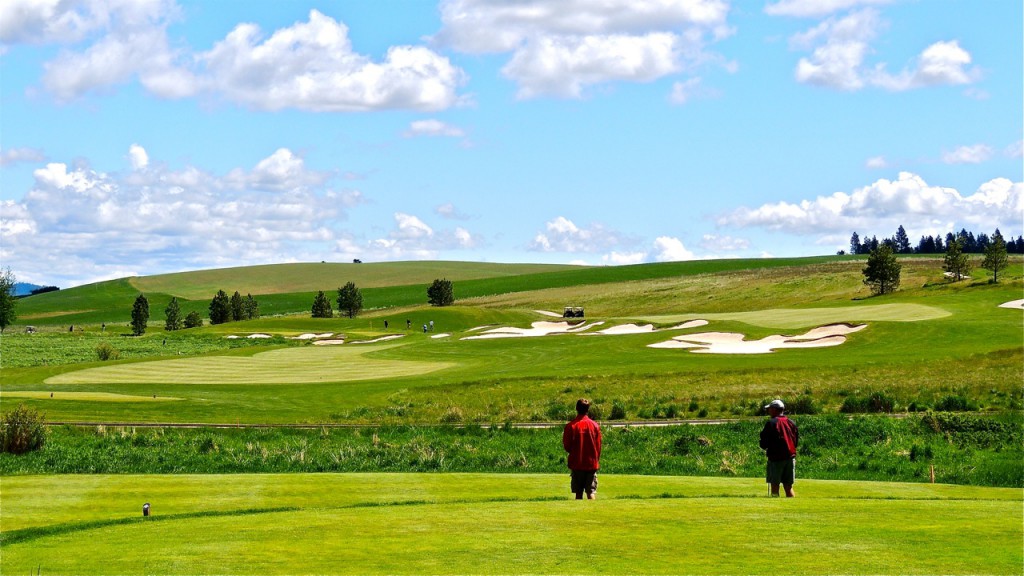 A series of fairway bunkers splits the par-four 4th fairway into two. Will you take the high road or the low?