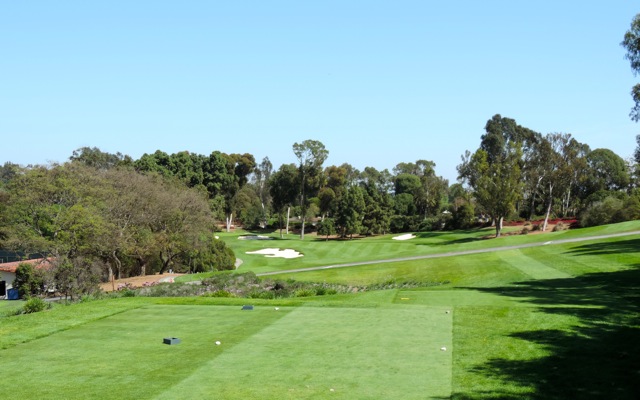 My first glimpse of Palos Verdes was this view of the par-four 1oth. Reportedly A.W. Tillinghast briefly visited the Club and had them move the green from the right of the right fairway bunker in the distance to its present location on the left.  (Photo by Robert S. Fagan)
I am always on the lookout to experience the lesser recognized or unknown great golf courses, the so-called "Hidden Gems." Having played the Top 200 Courses in America and more than 2,700 courses in all, you can begin to appreciate that the pool of new "candidates" has gotten smaller and smaller. Just when I believe that I've played all the great old courses, one comes along to prove me dead wrong. In this case, that would be the "renovated" Palos Verdes Golf Club south of Los Angeles.
Situated just off the coast high on a hillside, Palos Verdes has long been on my radar screen for its 1924 William Bell architectural pedigree with influence from George Thomas, but the references heretofore had been lukewarm and what pictures I saw left me with the impression that this was a solid, though somewhat unimaginative looking layout. Open to very limited outside play, it always seemed that my schedule never quite coincided with being able to play there. Finally it happened, a beautiful sunny warm March day would be my opportunity. Little did I realize that Todd Eckenrode of Origins Golf Design had just performed a 2013 extensive tee, bunker, and green surrounds renovation, plus a much needed tree management program.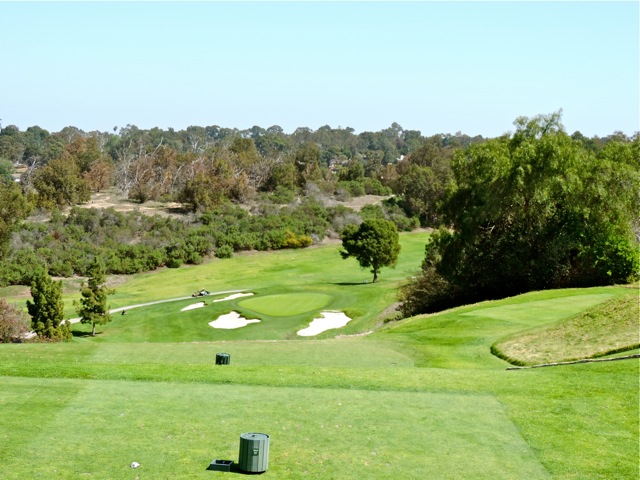 The putting surface far below the tee on the 226-yard 4th hole looks more like a postage stamp.  (Photo by Robert S. Fagan)
My first impression was so positive as I passed a worker and a golfer on my way from the parking lot, both wearing big smiles. "That's a good sign," I thought. Rounding the corner into the golf shop staging area became an "Oh Wow!" moment as I spotted a sunny meadow and practice putting green spilling down from the clubhouse to the first tee. "This is much better than I thought, really pretty good." Less than 90 seconds after checking in, I was on my way to join another single (a member) on the first tee. Looking out on this relatively benign starting hole, there was plenty of room to drive the ball, but stay away from those deep fairway bunkers, and the smallish green sitting just above the fairway was amply protected as well by some artistically shaped bunkers, not the nondescript "kitty-litter" ones I had seen in pictures. Anyway after a good drive, my approach was a bit long and after my pitch grabbed up short and barely made it to the putting surface, it dawned on me that I was playing on sticky Kikuyu grass. Unless I would hit my approach shots on the mark, there would not be any routine pars here at Palo Verdes.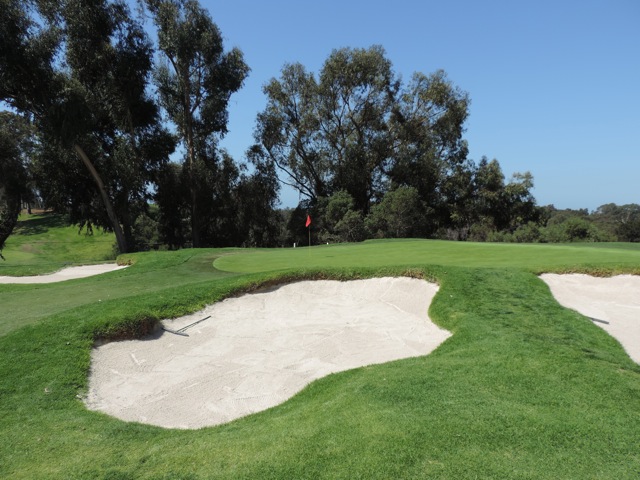 Small, well-protected greens with run-off areas leading to thick Kikuyu grass puts a premium on accurate approaches.  (Photo by Robert S. Fagan)
A short walk to the 203-yard second hole quickly sold me. Trees encircling the green had recently been removed and this remarkable vista of the green and bunker complex with a backdrop of the Pacific just unfolded in front of me. And next was a 412-yard dogleg right par-four again heading toward the Ocean. I count this third hole beauty as one of the best ocean-view holes of any private course in Southern California. Next heading in the opposite direction was this dramatic 226-yard drop-shot par-three with Mt. Baldy as a distant backdrop. Could it get any better? Well, no it didn't get better, but it stayed just as good, which is saying a lot. With the thoughtful removal of many trees, the recently restored magnificent vistas continually teased and allured me with anticipation. The quartet of one-shotters was superb as they vary in length, look, and direction.The short par-fours were all captivating. It was interesting to learn that A.W. Tillinghast visited the Club and had them move the 10th green to the left, which worked admirably, while the little 283-yard 12th hole gives the word "precision" real meaning.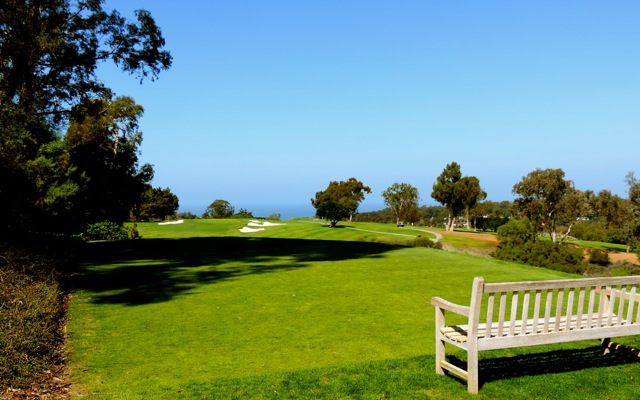 I was hooked on my love affair with Palos Verdes as I caught this glimpse of the 203-yard 2nd with the Pacific in the background. Previously to the 2013 restoration, trees and surrounded the putting surface and blocked this magnificent vista.  (Photo by Robert S. Fagan)
As for its challenge, there was nothing easy about Palos Verde. Its par-70 6,430 yard frame proved much more robust as many holes or putting surfaces were uphill while the ball would not roll much due to the thick, spongy Kikuyu fairways. Thoughtfully, this grass was removed from immediately around many of the putting surfaces so instead of automatically stopping errant shots and dictating a flop pitch, the ball would roll further from the hole and you now have a variety of greenside options. How interesting! Between the smallish contoured, well-protected greens that are firm and fast, the hills that tumble about the property, and some narrow landing areas, Palos Verdes is a "wolf in sheep's clothing." If you can score here, your game will travel well anywhere.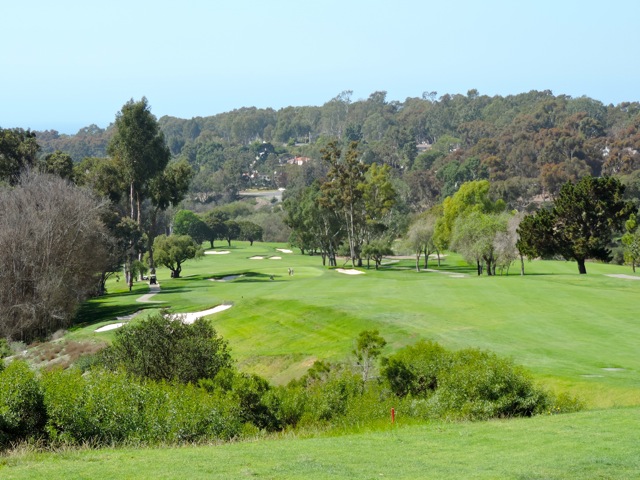 Two magnificent back-to-back downhill par-fours at 13 and 14 make for your last trek toward the Pacific and usually play into a prevailing breeze.  (Photo by Robert S. Fagan)
Another signal of affection for my newfound "hidden gem" of a course is that I didn't play particularly well that day. When you can so thoroughly enjoy a course and struggle while playing, it is a certain signal of excellence. I will share that I enjoyed the marvelous company of my playing companion and that everyone was so nice and hospitable. Anyway, once again I was proved wrong in prejudging a golf course; there are some really special golf clubs that don't get the notoriety they deserve. If I lived in the area, I would make efforts to join Palos Verdes in a heartbeat. Members also enjoy a completely refurbished clubhouse, an excellent staff with outstanding instructors, and both extensive full and short-game areas. Finally, I learned that Palos Verdes sits on the very edge of a little "Banana Belt" and when there is fog, it often intrudes only to the edge of the 15th tee. How nice!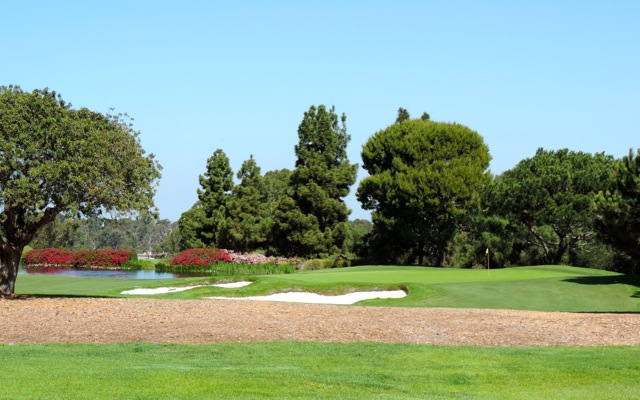 I caught this glimpse of the beautiful par-five 7th green that was repositioned by Ted Robinson as I left the first tee.  (Photo by Robert S. Fagan)
When well-traveled golfers talk about the best golf courses in the greater Los Angeles area, names such as Riviera, LA North, Bel-Air, and The Valley Club of Montecito first roll off people's lips. With this 2013 renovation, anyone will now be remiss not to include the Palos Verdes Golf Club in that mix – a "genuine Southern California gem."
With the Pacific as a backdrop and a premium on shotmaking, I call the 412-yard dogleg-right 3rd hole one of the best par-fours in Southern California!  (Photo by Robert S. Fagan)