This panoramic view of the short, but testy 9th hole at Laguna Lang Co affords the only glimpse of the South China Sea, but the course is nonetheless spectacular throughout! (Photo by Robert S. Fagan)
While in the Central Coast of Vietnam, if you are so fortunate to play Denang's Danang Golf Club and Montgomerie Links, you may be inclined to skip Nick Faldo's (in collaboration with golf course architect Paul Jansen) Laguna Lang Co Golf Club. That would be a huge mistake. Situated about 90 minutes on the opposite side north of Denang, this secluded layout defines the often over-used term, but what anyone would term a "shotmaker's golf course." Situated on property that is someday planned for more hotels and residential development, the course is currently just a short stroll from the Angsana Lang Co Hotel. This exquisitely routed and shaped layout is the perfect championship golf complement to the beautiful hotel with its world-class beach.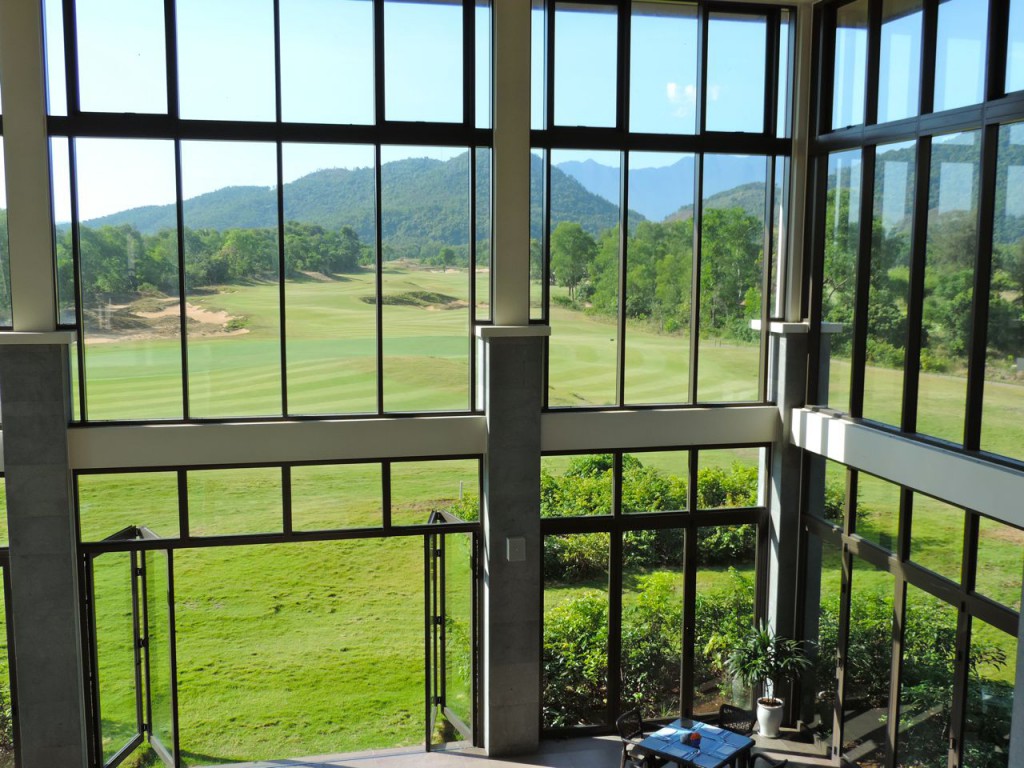 My pulse quickened as I entered the Laguna Lang Co clubhouse and gazed upon the spectacular vista beyond! (Photo by Robert S. Fagan)
The famous Black Course at Bethpage State Park in New York State has a sign as you approach the first tee. "Warning – The Black Course Is An Extremely Difficult Course Which We Recommend Only For Highly Skilled Golfers." Well, the folks at this Central Vietnam Coast layout might adopt the same language for Laguna Lang Co. That aside, like Bethpage Black, this is a spectacular layout that everyone should want to play.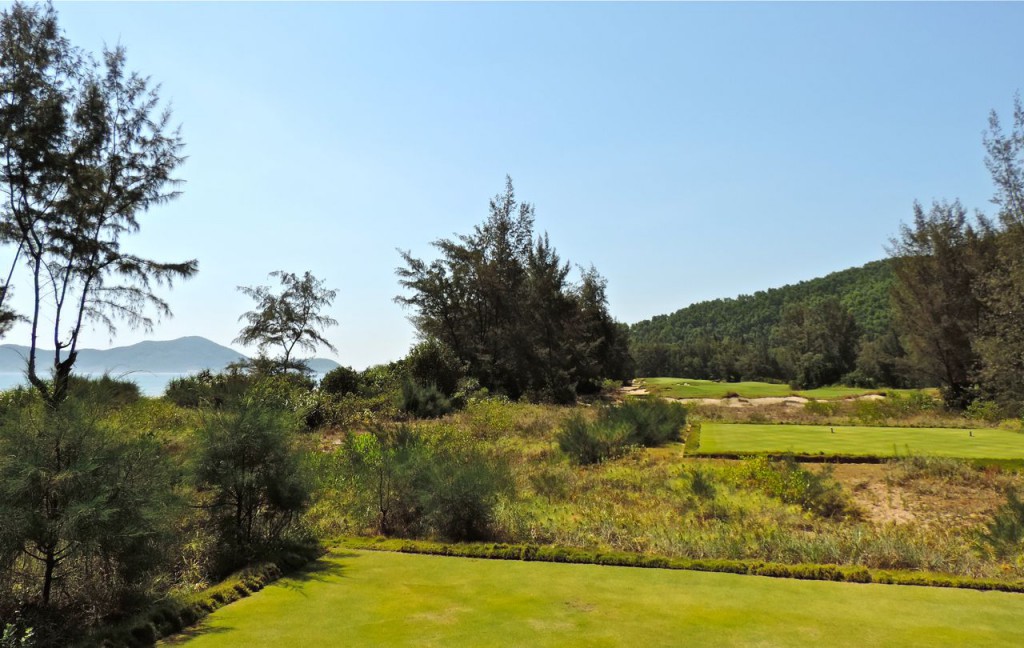 Another view of the gorgeous 9th hole. (Photo by Robert S. Fagan)
I was a bit surprised to discover that the first three holes at Laguna Lang Co a bit more testing than many (including me) may be used to with water lurking on both tee and approach shots. Think that's tough, it gets tougher. Boy, was I in for a surprise! Nasty deep, rugged bunkers and native waste areas populate most every landing area with thick jungle beyond  that. And not only do you have to maneuver your left-right accuracy, but your distance is a critical factor as well. Careless strikes will result in double-bogeys and typically far worse, while the putting surfaces have lots of wild undulations. Opening in March, 2013, the greens are still a bit immature and slow, but should only improve with time.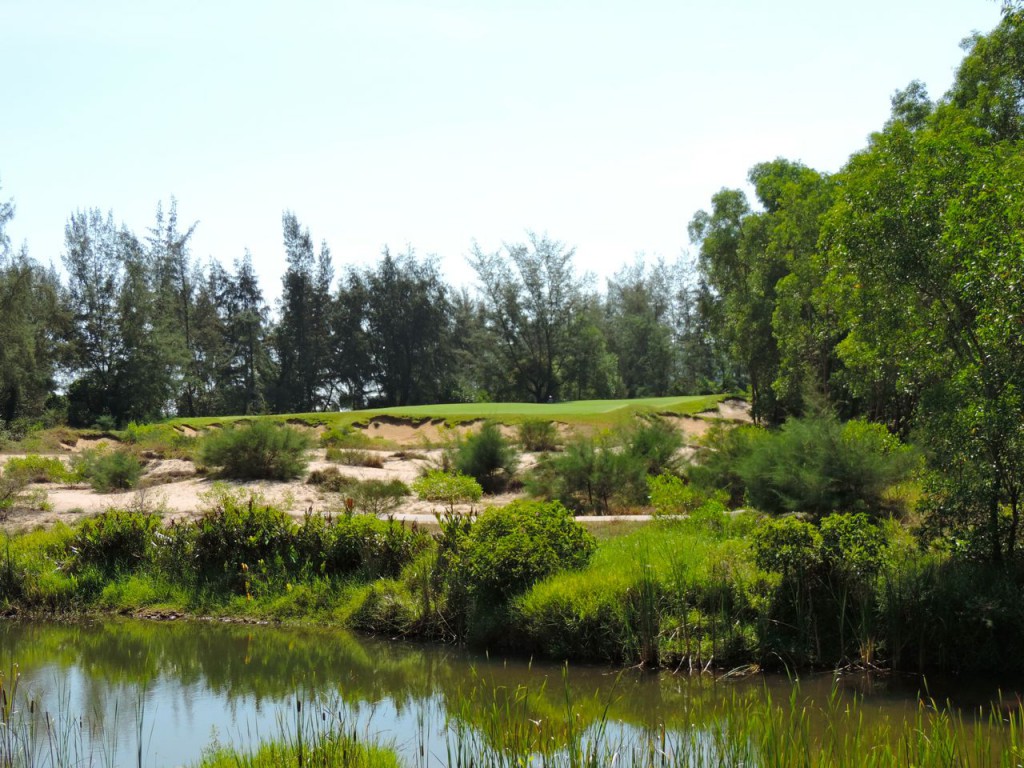 Above is the 162-yard 8th. It looks like it was taken straight from the Pine Valley Golf Club – it is that difficult. Its plateaued putting surface is huge, but shallow and built on a diagonal with severe undulations. Yes, I've not played any holes more difficult for its length including the 12th at Augusta National. Below is a greenside bunker on the par-five 15th that is typical of those at Laguna Lang Co. (Photos by Robert S. Fagan)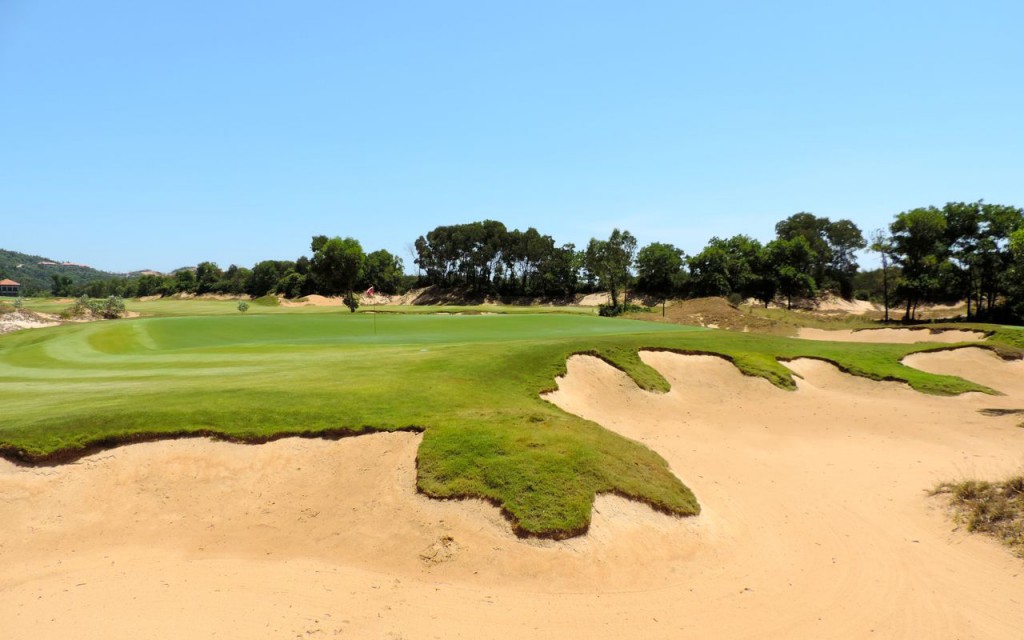 There are so many outstanding holes at Laguna Lang Co from the short par-fours at the 7th, and again at the 9th where you can catch a distant view of the sea (sadly that land is reserved for future non-golf development), but the most unusually splendid hole was the bunkerless par-three 11th with its elongated topsy turvy narrow green surrounded by rocks in the rear and jungle to the left. Talk to others and they may favor other holes. As far as a challenge it concerned, it compares to the Ocean Course at Kiawah, Tobacco Road, Spyglass Hill, or the like – tough as nails! And like Spyglass Hill, the total yardage is under 7,000 (par 71). It was only until I reached the long par-four 17th and par-five 18th holes, where I encountered expansively wide fairways, but those holes were the #1 and #3 ranked hole in difficulty on the incoming nine!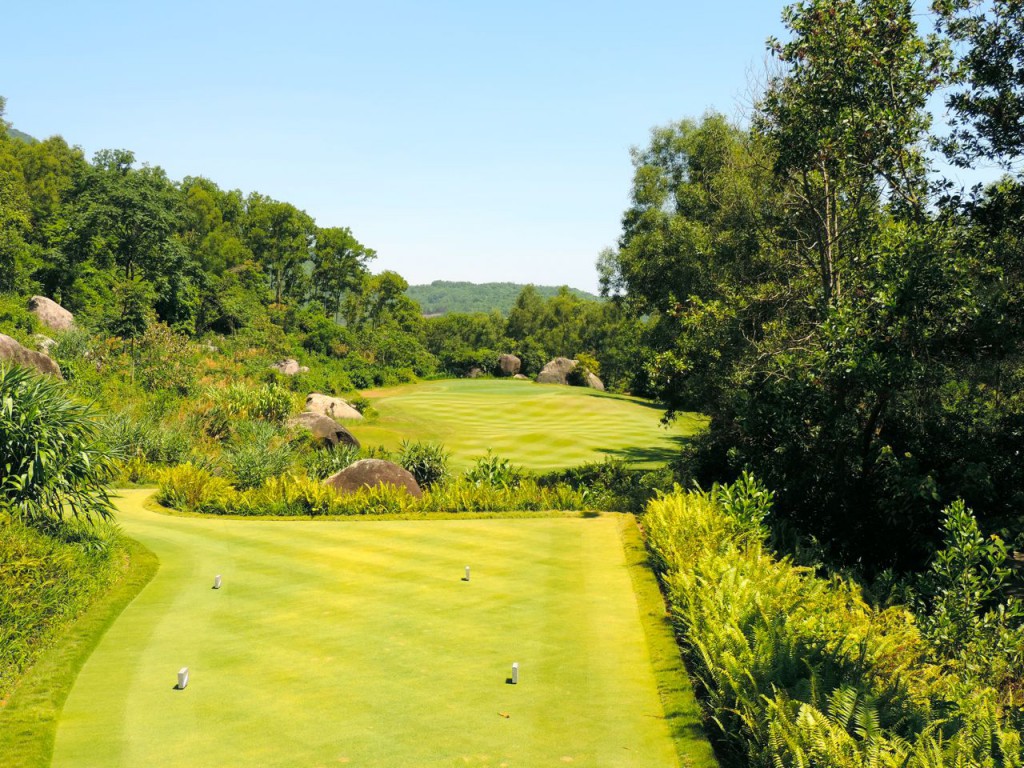 I do not hesitate to call the bunkerless 167-yard par-three 11th one of the one-shotters anywhere. From and elevated tee box, it's long narrow, topsy turvy putting surface surrounded by rocks and jungle is special! (Photo by Robert S. Fagan) The picture below begins to reveal the character built into this putting surface.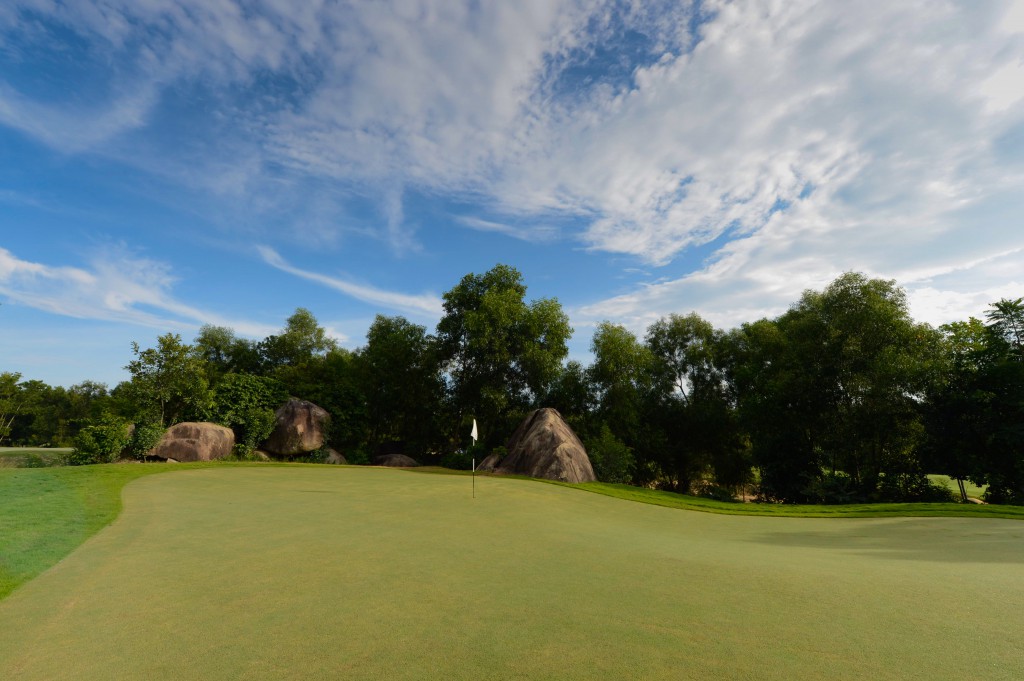 One of the intriguing aspects of Languna Lang Co is that not only must you place your ball accurately from within left to right parameters, but there are really nasty pot bunkers, water hazards, trees, and knee-high native rough to also ruin your prospects if you do not hit the correct distance off each tee. I cannot recall a golf course in recent memory was demanding in that manner. Lay-ups are often required, if some of the narrow hitting corridors don't already have you reaching for a more accurate club.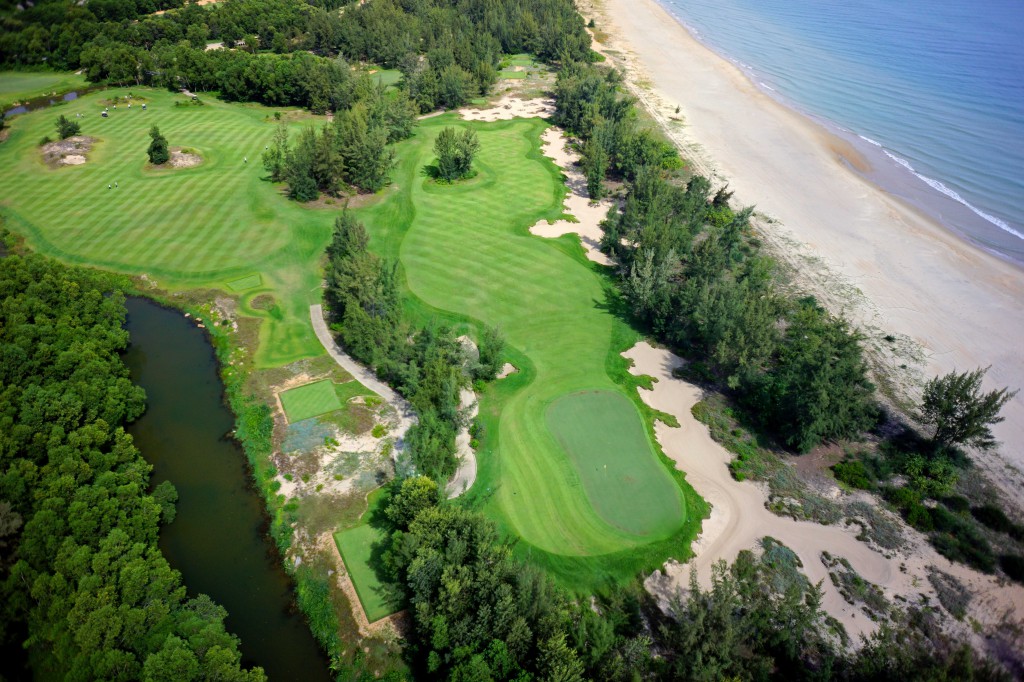 The left hand side shows the 446-yard 11th hole where sizable treed mounds really play havoc with a tee shot. Though I skirted the one on the right and had but a wedge into the green, I am still not sure what the correct play is as the mounding obscures a view of the putting surface if you lay up short and also obscures it even from the right side of the fairway. To the right side of the picture is the picturesque 9th that you simply want to be in play off of the tee.
One hole that is a bit controversial is the par-three fifth because it features several expensive-to-maintain and highly penal "chococate-drop" or cone-shaped mounds around the green. This also happens to be Nick Faldo's only unique design contribution as essentially Paul Jansen did most of the work. Sir Faldo reportedly flat out insisted that those cone-shaped affairs be placed around the putting surface. I haven't seen anything like them since Jack Nicklaus's ill-fated similar ones were introduced at Loxahatchee, Grand Cypress, and Mayacoo Lakes back in the 80s or the ones Tom Watson produced at Kiawah Island. A nightmare to maintain almost impossible to play a good shot from with their intensely wire-like rough, I thought that I had seen my last, but they don't look too bad here, except that they are out of place with the remainder of the layout. Anyway, Sir Faldo was not to be denied.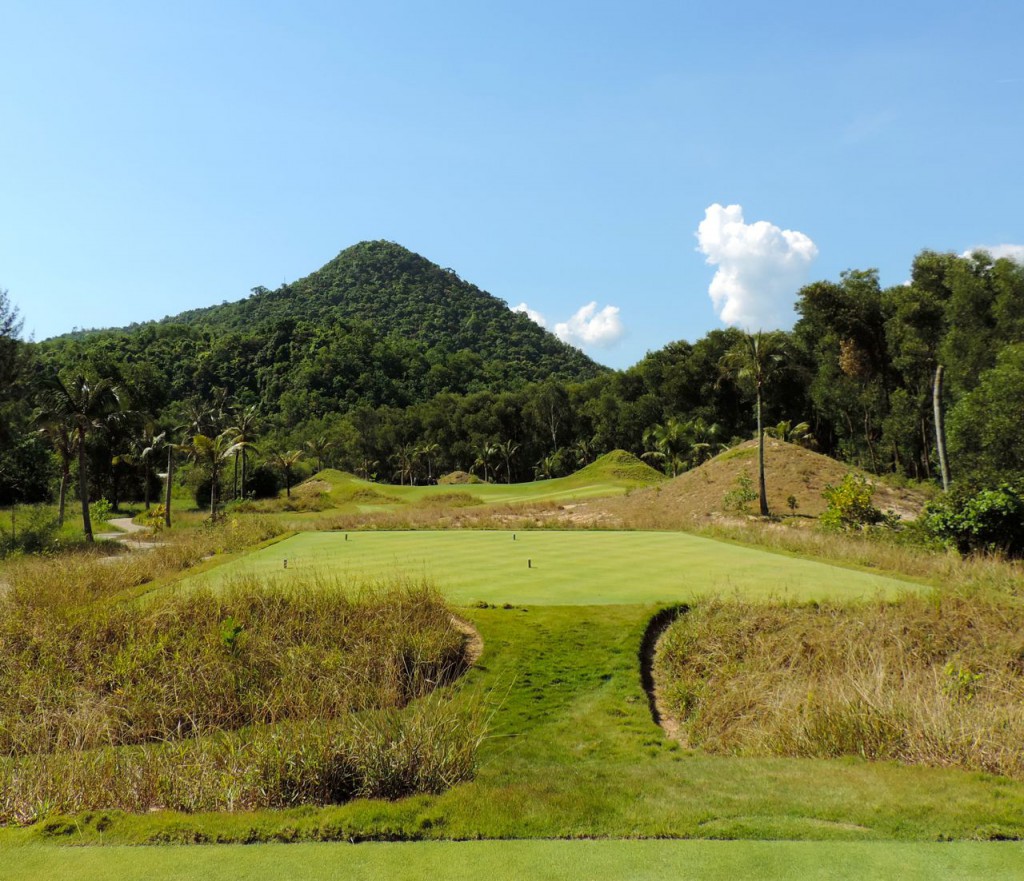 There was no denying Sir Nick who insisted on the cone-shaped mounds on the par-three 5th. Though they don't relate to the rest of the golf course, they do seem to fit here as they complement the lines of the mountain backdrop beyond the green. (Photo by Robert S. Fagan)
As a critical and engaging test of golf, Laguna Lang Co is fabulous must-play destination course with its strategy and demanding shotmaking requirements, but that becomes a double-edged sword. For the newer or less accomplished player, it is simply too much course. Either way, you will want to bring your camera and lots of golf balls. With the nearby hotel and beach, this is one special place!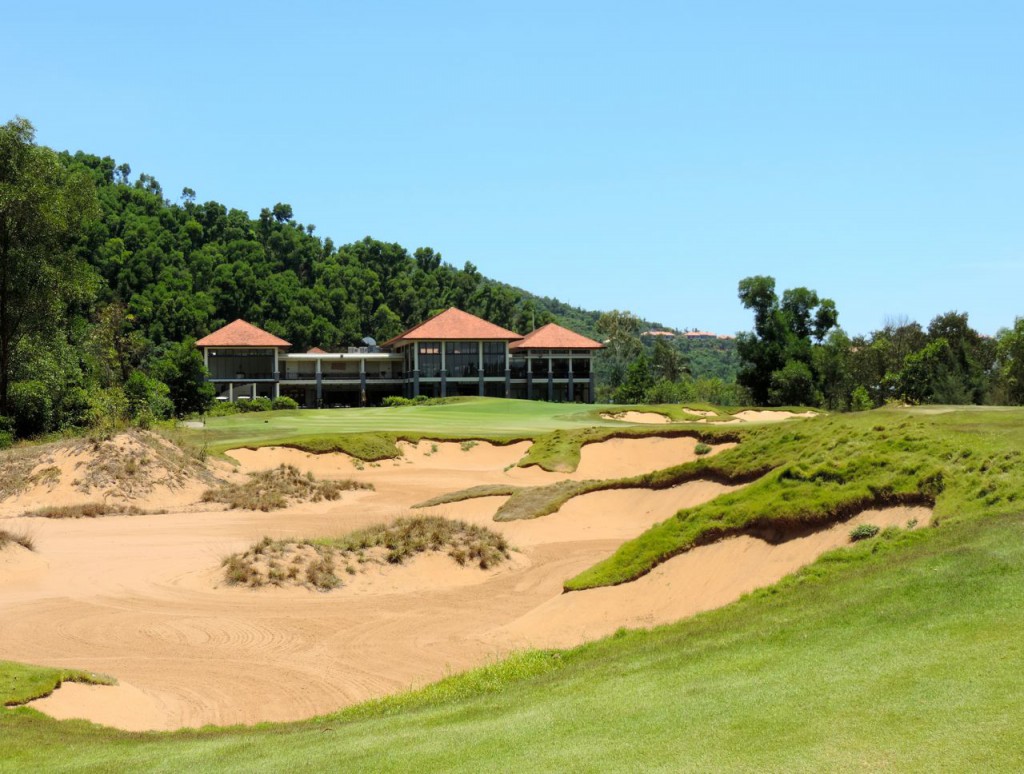 Here is the glorious finish at the amply bunkered 621-yard 18th hole that finishes in front of the very comfortable clubhouse. (Photo by Robert S. Fagan)
Arrangements for me in the Danang area were made for me by GolfAsian Vietnam and I highly recommend them. Check out:  www.golfasian.com. The Laguna Lan Co Golf Club is also part of the Vietnam Golf Coast consortium and to find out more, go to www.golfcoastvietnam.com.
Below is the tee shot on the par-four 7th. The bunkers on the right are penal enough, but is the two in the middle of the fairway that you had really better watch out for! (Photo by Robert S. Fagan)