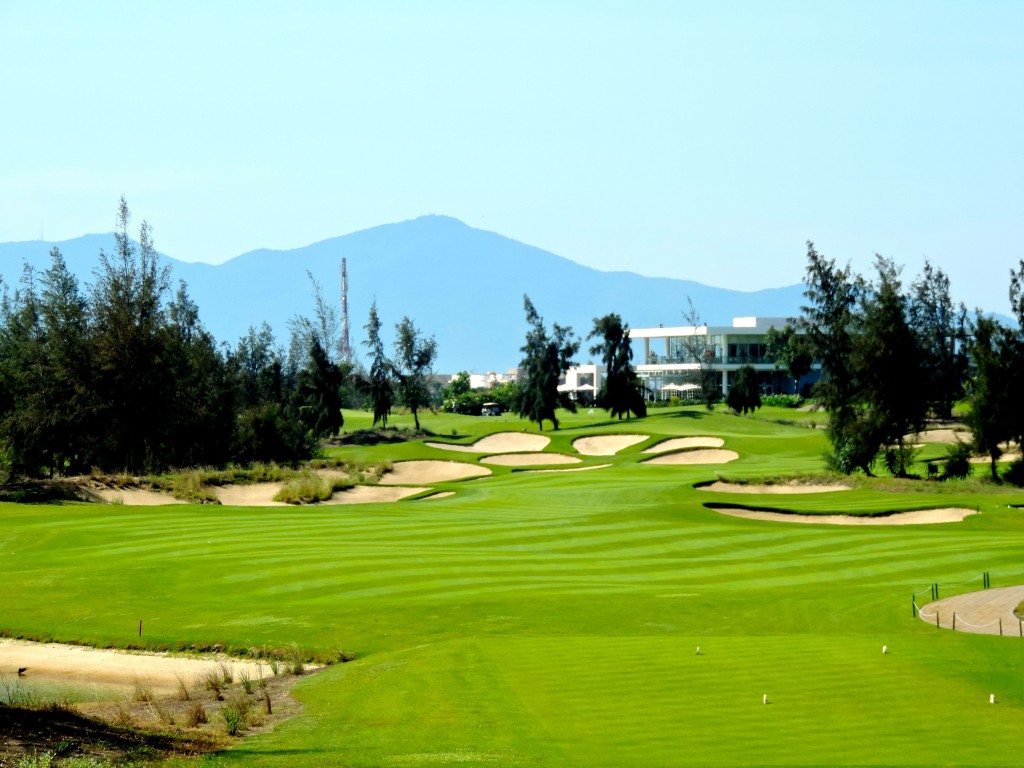 The par-five 12th is a reachable par-five, but with water to the left, bunkers galore, and a very undulating, elevated putting putting surface, you had better keep your attention focused! (Photo by Robert S. Fagan)
The Montgomerie Links is another of the three fabulous golf course in Denang that are worth the trip to play. That said, it is not a links layout, but rather a parkland one with lots of water, trees, and lush green grass. Located adjacent to the Danang Golf Club, the course is hardly a copy-cat of Norman's design, but IMG in-house architect Brit Stenson with input from Colin Montgomerie has created a course that is exceedingly picturesque and maybe even a shot or two more difficult than its neighbor.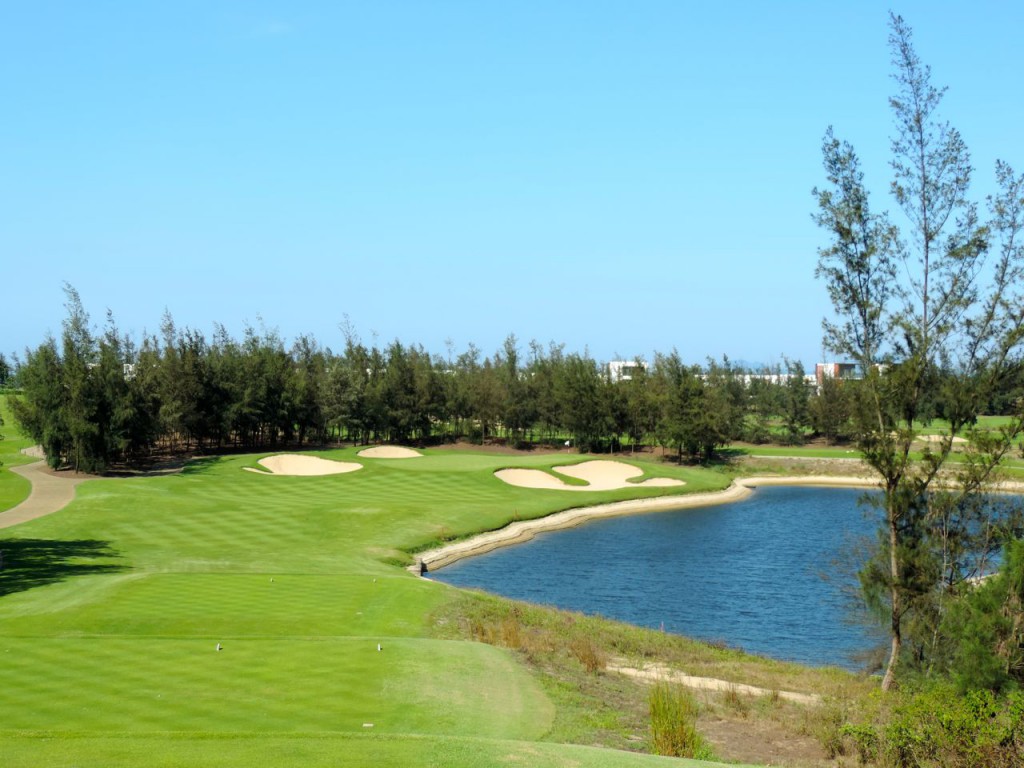 From the elevated tee, the 220-yard 14th is a mighty par-three against the wind, especially with the hole tucked to the extreme right as indicated in the picture above. (Photo by Robert S. Fagan)
From the first tee through the 18th green, the challenge is as bold as the ever-present bright white bunkering. Trees and water also play a formidable role in a layout that is more reminiscent of a lush tropical layout in the American tradition of aerial golf. Accordingly the fairways give up less roll and the paspalum putting surfaces putt a bit slower than its neighbor Danang Golf Club, but they are hardly slow. Stenson has built lots of contour into the greens so hitting them in regulation is no guarantee of par. I count local knowledge more critical here than on most courses. Should the operators choose to grow in the rough and hide the flagsticks, this layout can be a real monster as evidenced by the difficult of the stretch from the 7th hole on. It is hard to pick a favorite hole on this photogenic layout!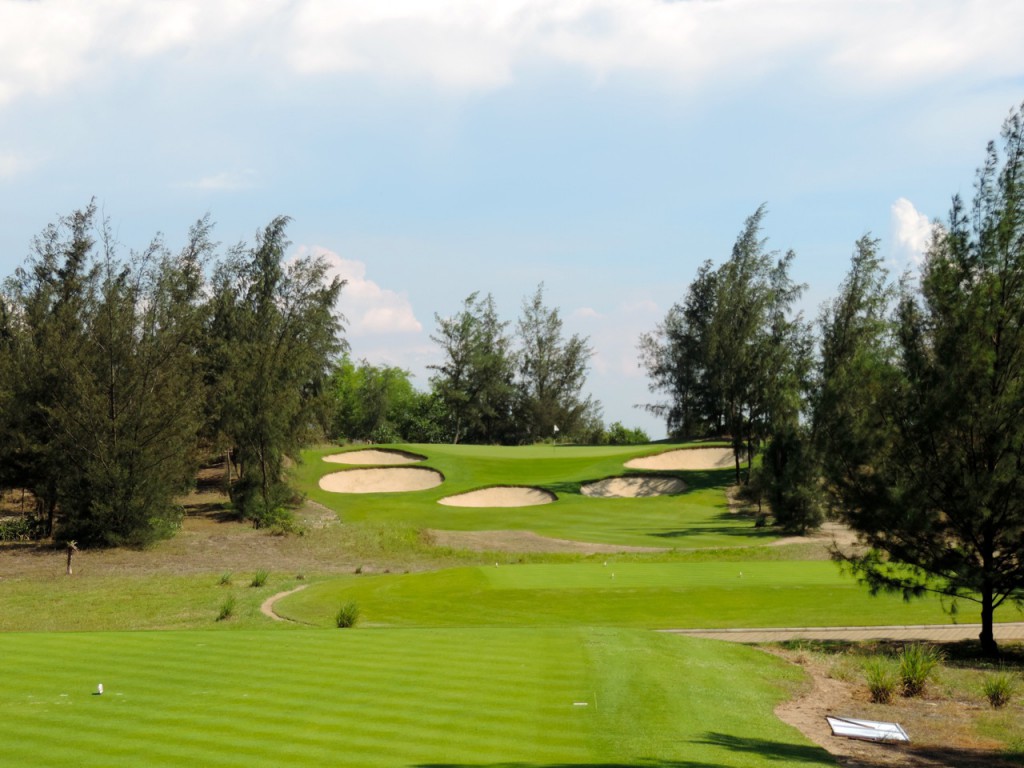 The elevated green on the par-three 11th hole features a dastardly steep false front to it so you had better play enough club! (Photo by Robert S. Fagan)
Arrangements for me in the Danang area were made for me by GolfAsian Vietnam and I highly recommend them. Check out:  www.golfasian.com. The Montgomerie Links is also part of the Vietnam Golf Coast consortium and to find out more, go to www.golfcoastvietnam.com.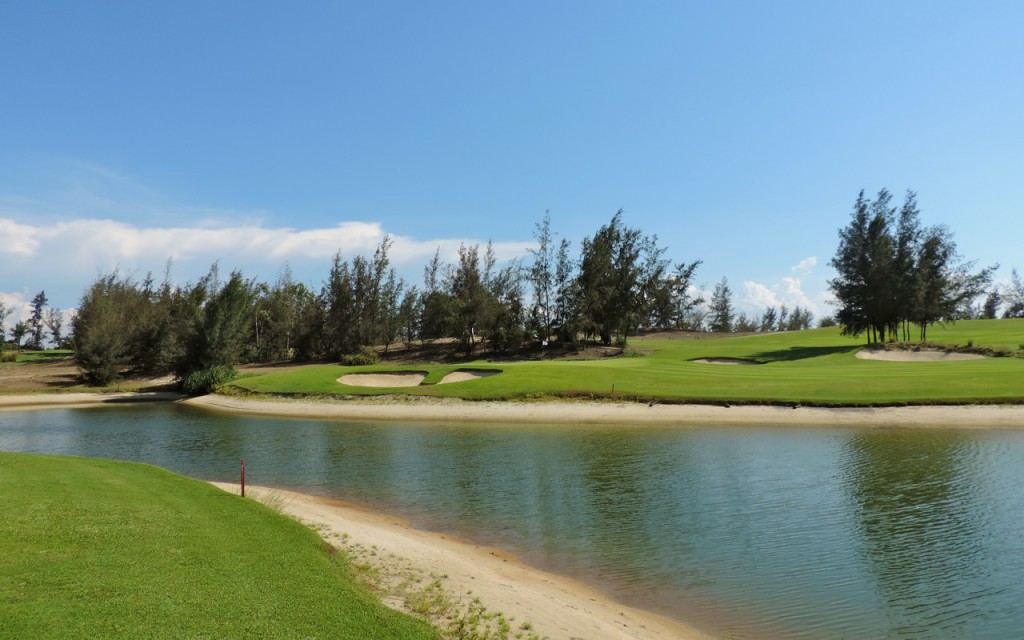 The views are so attractive at the Montgomerie Links. Here is looking over at the 15th green from the 12th fairway. (Photo by Robert S. Fagan)
Below, the author Bob Fagan points a seven-iron from the American-made bunker to the right of the par-five 5th hole. Denang was where the Americans first landed in Vietnam and saw quite a bit of combat.