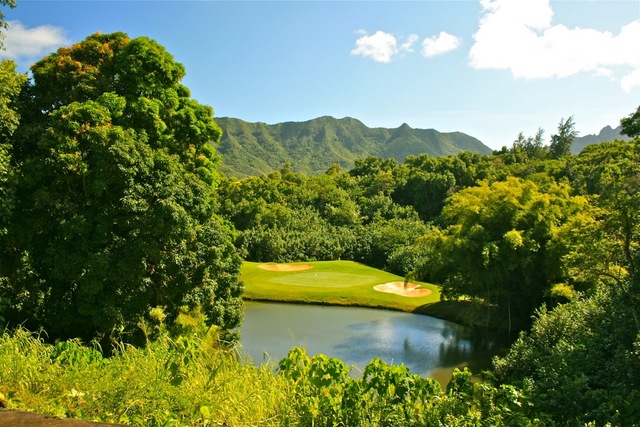 The par-three 6th is as scary and beautiful a hole as you will find!
Kauai has several fantastic upscale golf courses, but how about a "gem" that is a far more affordable, yet has many fantastic views, great holes, and excellent service and comfortable ambiance? Search no further than the Puakea Golf Course in Lihue. While you won't find valet services or a fancy clubhouse, you will find really good food, an expansive practice range, great service, and yes, an inspiring golf course.
The course has an interesting history as it began as a 10-hole layout that actually lay dormant for five years until the 18 holes were thankfully completed in 2003 thanks to an infusion of cash from AOL Co-Founder Steve Case. Conveniently located only minutes from the airport, this is more blue-collar golf with a large trailer serving as the clubhouse. With Puakea, however, you'd be wise not to judge a book by its cover, or even its first hole or two.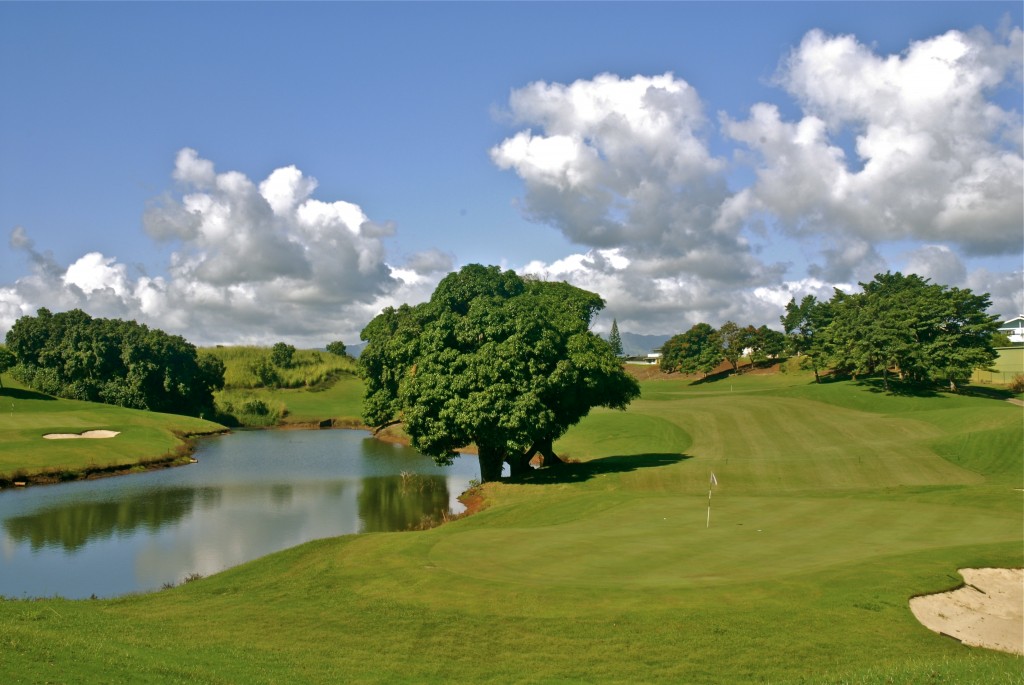 The adjoining greens of the par-three 12th (left) and par-four 11th (right foreground) compose one of the best sections of the course furthest from the clubhouse.
As you step to the first tee with the back end of a Costco Warehouse and a Home Depot in sight, you may question my recommendation, but stick with me. The second hole, quite frankly won't get your blood moving either, but stay patient.  The 407-yard par-four third hole and the 359-yard 5th both with water to the left will begin to get your attention, but as you step to the 6th tee, you will begin to understand my recommendation.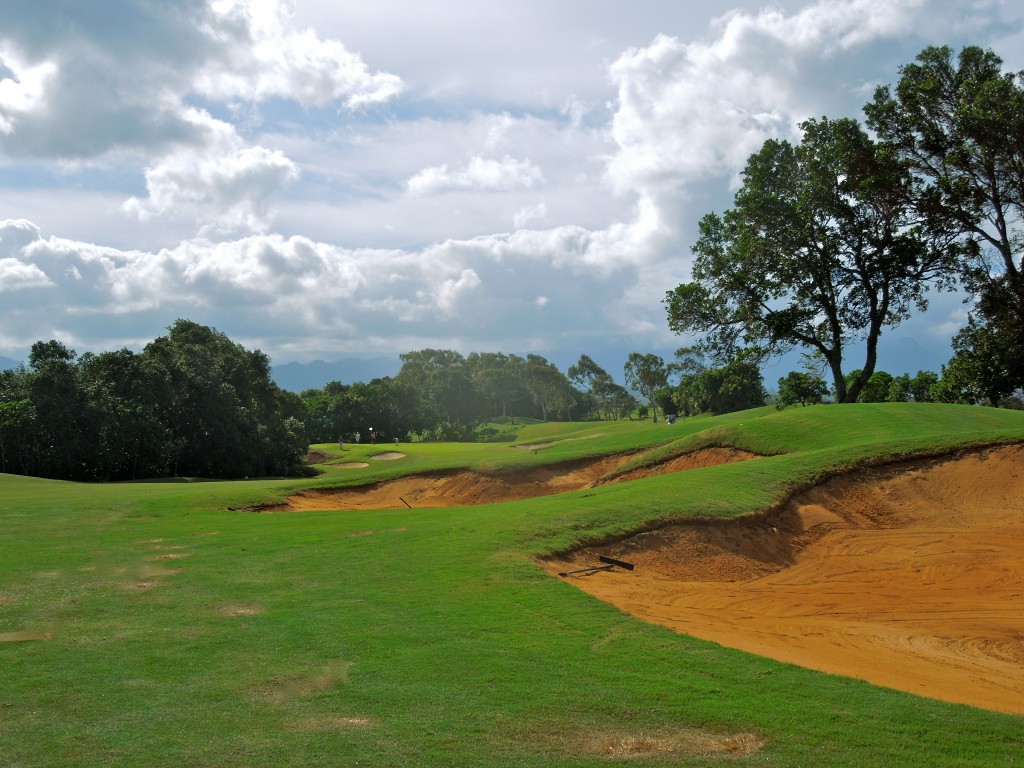 The long par-four 15th gets my vote as the toughest two-shotter at Puakea.
The 176-yard drop-shot sixth hole is one of the prettiest and scariest little holes in Hawaii – or beyond. From its highly elevated tee box, you hit down over a little pond to a green far below you framed by a jungle and serrated mountain backdrop known as the Hapuna Ridge that is world-class vista! In fact, the background mountains were used as the backdrop for scenes in the movie Jurassic Park. Anyway, choosing the correct club, especially the first time around, will definitely give you pause on this hole.
The course meanders well enough along until you encounter the eleventh hole. From that moment on, Puakea steps up its game especially from a scenic perspective. For me, the 397-yard par-four 12th and the 228-yard 13th make for one of the best tandems on Kauai, and the strong two-shotters with the 446-yard 15th and the 455-yard 17th look and play as well as any in Hawaii. And if favor any other holes in this stretch, you'd get no argument from me for all are fun and scenic.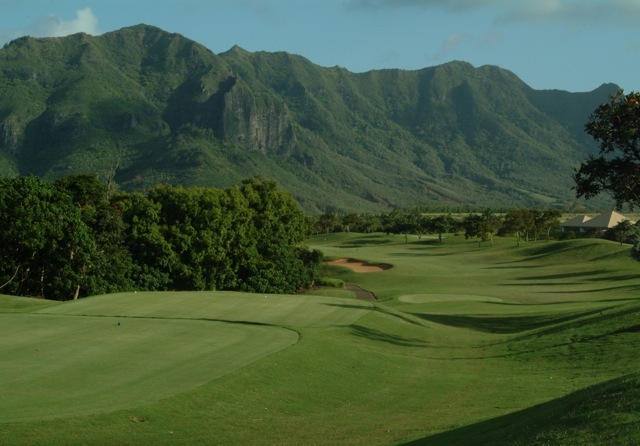 A view of the beautiful par-four 17th that naturally sweeps along the terrain to the left.
As you finish your round and return to the confines of the friendly, but modest clubhouse area, you no doubt will agree with me. Bob Fagan was right after all; Puakea is one friendly gem of a golf course that gets better as you progress – a really enjoyable golf experience, and a bargain that you want to share with others!