Morning casts some shadows on Falcon Ridge's par-four 15th hole. (Photo courtesy of Brian Oar)
If you've been to Mesquite, Nevada recently, you will instantly identify with this title. If you haven't been, Mesquite is a one of those rare pockets of really high quality golf that you simply must experience!
Mesquite, Nevada (which for golf-purposes also includes nearby St. George, Utah) is located an easy 80-minute drive north from Las Vegas up Interstate 15. Here you will find amazing open vistas of rugged desert, massive mesas, and serrated mountains that distinguish this beautiful Mojave Desert landscape. (I must admit that my camera was just as busy as my golf clubs in my recent third visit to the area.)
The Wolf Creek Golf Course originally put Mesquite on the golf map. I call it one of the two or three "most visually stunning inland golf courses in the world." Set in the hills with spectacular vistas, it can also be a very difficult and penal layout, not to mention an expensive one.  (Its 154-slope rating establishes it as one of the most difficult in America.) In subsequent visits playing all the other area golf courses, I have come to the conclusion that Wolf Creek has some very formidable competition, easily as stunning, perhaps more playable, and definitely a better value.
Yes, the depth of quality golf in the Mesquite-St. George area is the real story. You can play three or four of most any of the golf courses and walk away truly thrilled with the quality and value of the experience not to mention the convenience. From the Eureka Resort Casino in Mesquite where I most recently stayed, there are no less then seven courses within a mere five minutes and more than 14 within an easy 45-minute drive!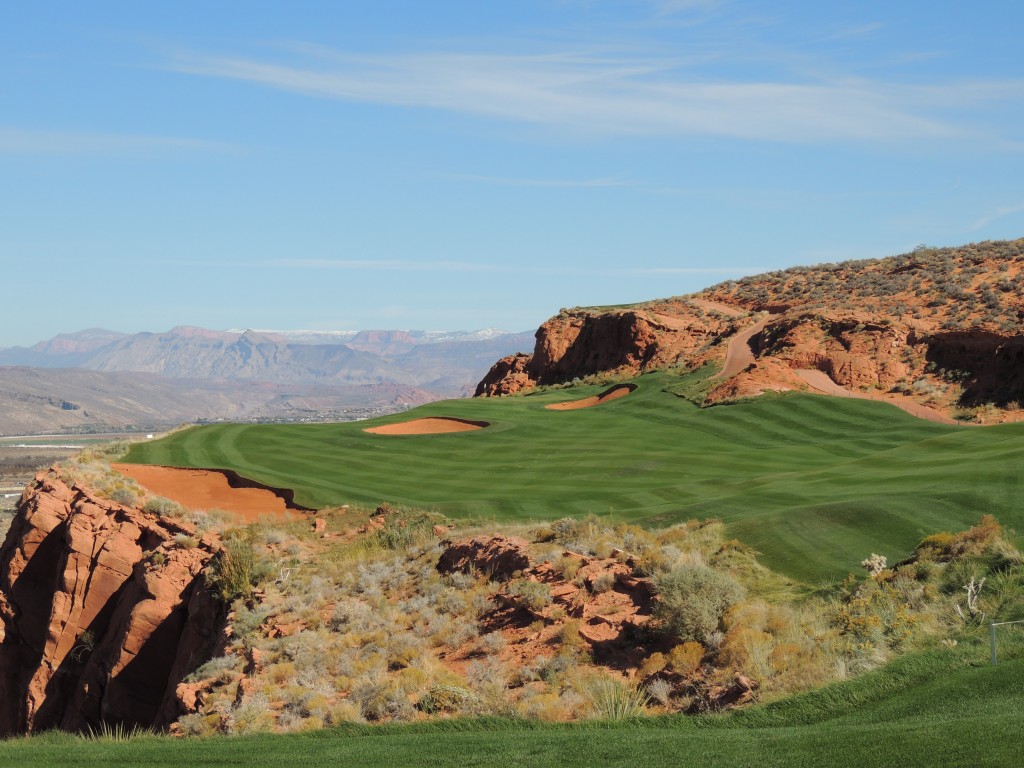 The theme of spectacular "Wow Golf" is repeated many times in the Mesquite-St. George area, but none more so than the back nine at Sand Hollow's original eighteen. Shown above is the 320-yard 13th with cliffs that drop off more than 300 feet!
While there are a few wooded parkland courses in St. George, the prevalent look is one of unconfined, expansive vistas, desert foliage, and mountains, often with dramatic elevation changes. Several courses are built as amenities for real estate developments so you can often feel the presence of housing, but it is not overly intrusive.
In Mesquite, the Conestoga Golf Club, Falcon Ridge, and the Palmer and Canyon Courses at The Oasis Golf Club most closely approximate the look and feel of the Wolf Creek, but at a fraction of the cost. You will experience spectacular vistas, elevated tee shots, water, bold bunkering, and most of all, the desert at each of them. The Palms and CasaBlanca Golf Clubs feature more of a parkland setting albeit with desert surrounds.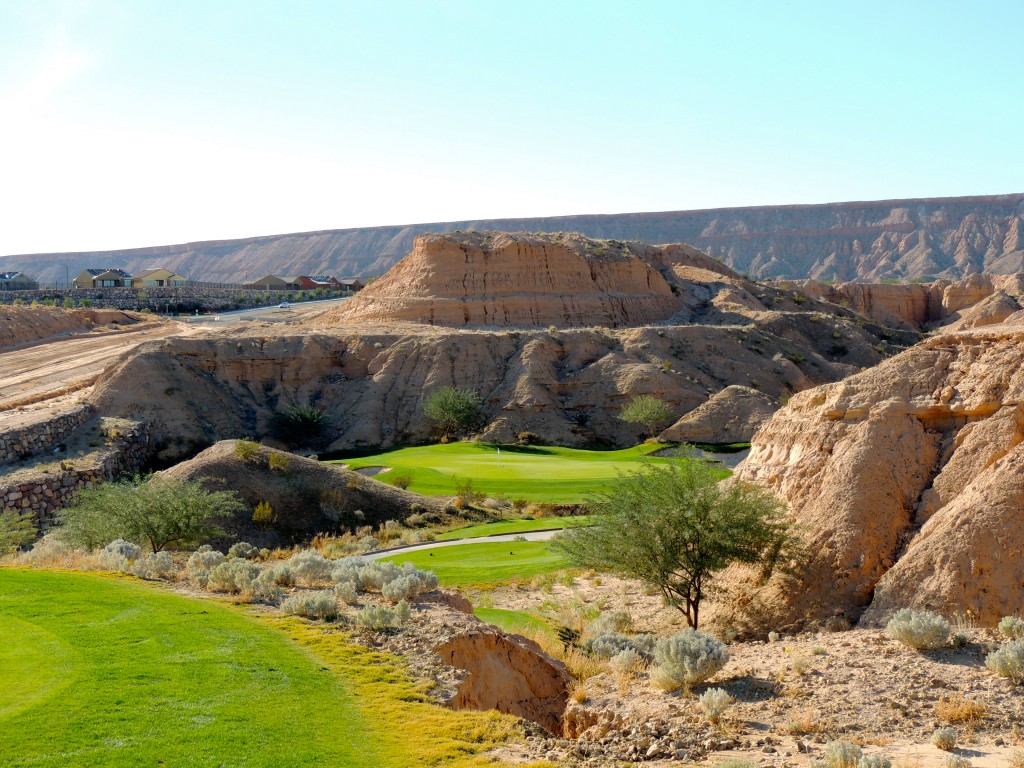 I rate the quartet of par-threes at Conestoga among the most fun and scenic of the more than 2,500 American courses I've played. Shown above is the 208-yard 5th hole. 
Forty-five minutes southwest of Mesquite is the highly acclaimed Coyote Springs Golf Club. Manufactured over largely flat desert terrain, this Jack Nicklaus layout is anything, but dull. It sits totally isolated in a remote location of what is still planned to be a city of more than 100,000 in the future and well worth the trip. The course was originally planned as the flagship layout for the western home of the PGA of America, but they have long withdrawn. That said, Nicklaus crafted a remarkable layout that any serious golfer will want to include in their itinerary.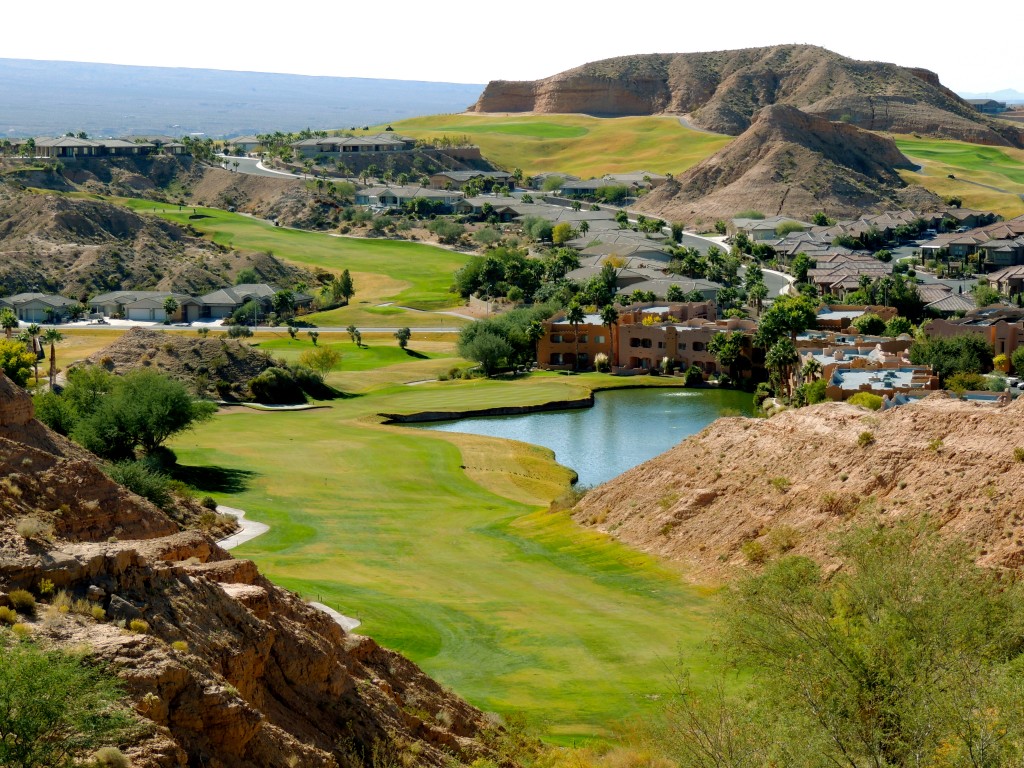 The 36-hole Oasis Golf Club has no shortage of spectacular elevated tee shots as demonstrated by the par-five 8th hole on the Palmer Course.
The town of St. George, Utah is an easy and truly spectacular drive thirty minute north and forms the other major portion of the Mesquite consortium. Forty-five minutes will get you to any of the courses in that area, but first more about the drive. It is such a beautiful trek up through canyons, that you will want to have your camera ready and stop by the roadside to savor the views.
St. George also offers more dining and shopping options, but the game remains golf. Pine Valley Mountain occupies a dominant spot in the landscape and courses such as Sand Hollow (27 holes), Coral Canyon, Sky Mountain, Sunbrook, and The Ledges are courses I have certainly enjoyed and well worth the short trip.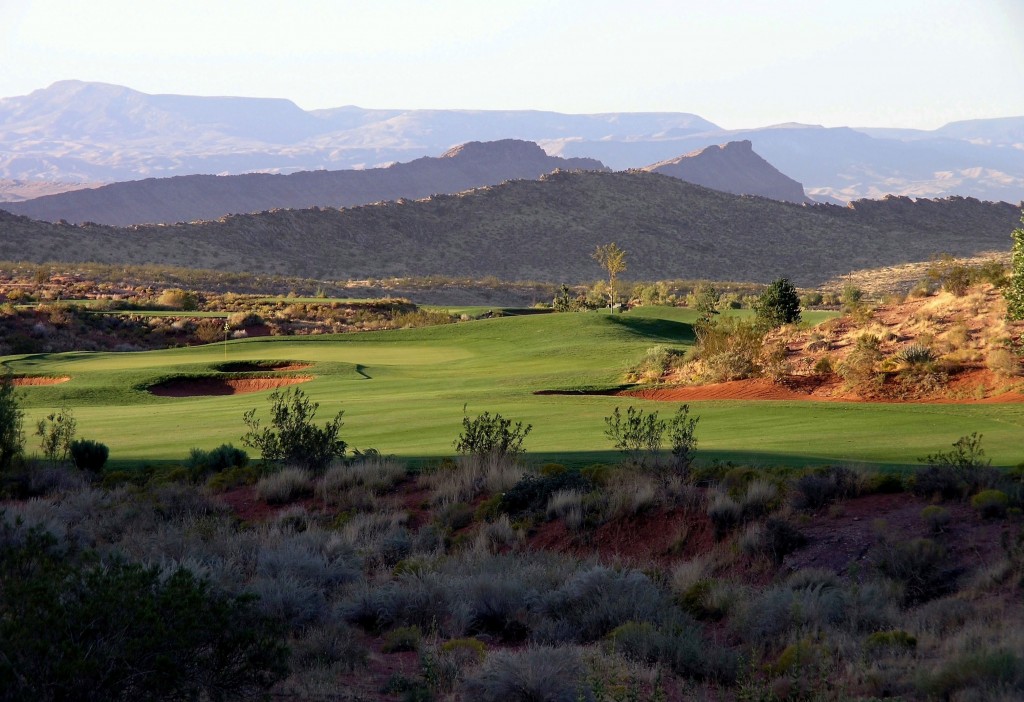 Coral Canyon is a splendid yet playable traditional high desert course with spectacular backdrops in every direction. 
One of the really special aspects of golf in the Mesquite region is the friendly service you will encounter and ease of planning and orchestrating your golf trip. I heartily recommend that you refer to http://www.golfmesquitenevada.com or call them at 866-720-7111 to speak with a golf vacation consultant to help you arrange your golf trip. You can book or get a quote at most any course within an hour (including St. George, Utah and Las Vegas). Not only can they fit the right courses to your game and schedule them at a great discounted price, but they can also suggest lodging and dining options for parties of just one or large groups. My experience with them makes them the perfect partner to plan your entire golf vacation and side trips to this most beautiful, yet relatively undiscovered part of America.
Skilled golfers will definitely want to experience the golfing oasis that Jack Nicklaus has produced at Coyote Springs.