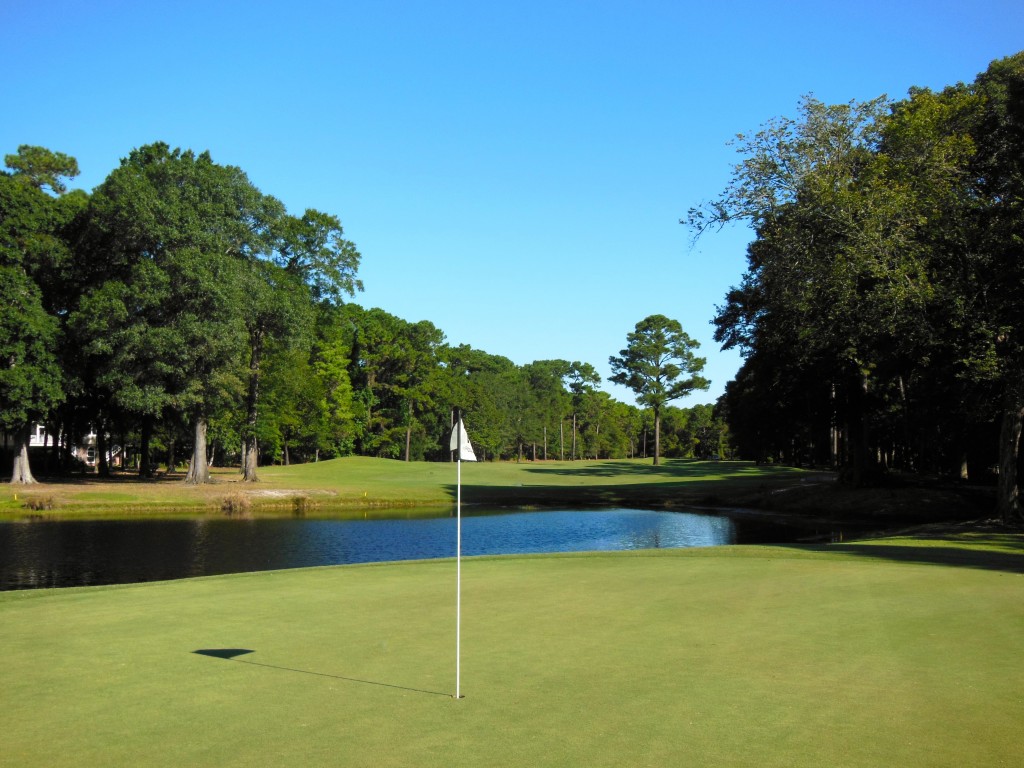 This is a view of the gorgeous par-four 5th hole at Pawleys Plantation looking back at the fairway from the putting surface.
Any golf course that Jack Nicklaus designs is newsworthy in and of itself. I was warned that Pawleys Plantation is the toughest golf course in The Grand Strand region of Myrtle Beach. That is an assessment justified by its slope/rating of 146/75.3 on its more than 7,000-yard frame. Considering that he designed the layout in the mid-80s was enough to give me pause. It was that era that not only Nicklaus, but many other golf course architects outdid themselves in building terribly difficult golf courses for the one-tenth of one percent of the golfing public, namely authentic low single-digit handicap golfers. Just the previous week, I played the challenging Long Bay Golf Club, the only other Nicklaus design in the area and it was tough!
So how was Pawleys Plantation? It is a no doubt a substantial challenge, but surprisingly I did not find an absurdly difficult one. Differing from its Nicklaus cousin to the north, Long Bay, Pawleys Plantation is much more benign around the greens and not as manufactured tee-to-green. Its challenge is that it is more demanding off the tee for the most part, particularly for the longer hitters. With the exception of the par-five 4th and the narrow par-three 7th, I found that Nicklaus and his team showed considerably more restraint than at Long Bay. Part of that may be the surrounding terrain. Long Bay has some wide open flat spaces and he used extensive mounding and bunkering to spruce it up. As part of a residential development, it is a more aesthetically pleasing site and the housing at Pawleys Plantation never intrudes upon the playing ambiance. The moss-draped oaks, coastal palmettos, and salt marshes combine for an unspoiled natural environment complete with an abundance of wildlife that includes red fox, alligators, and white-tail deer.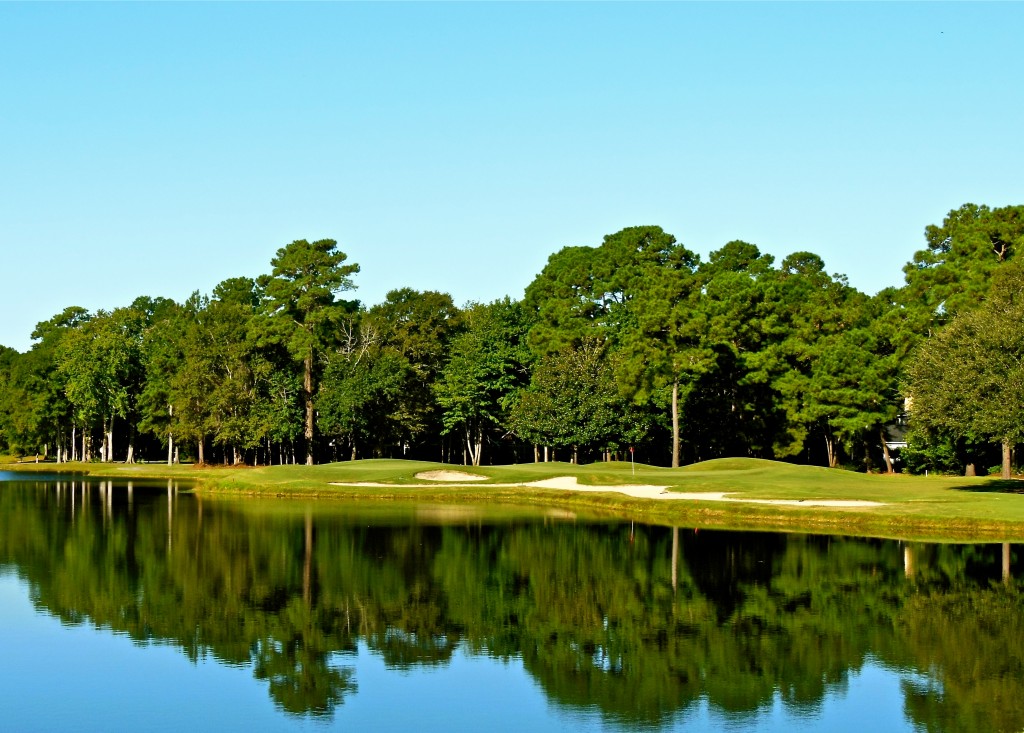 The 194-yard 3rd hole is the first of a very engaging and very demanding quartet of one-shotters.
Jack Nicklaus agreed to build the golf course just before his historic 1986 Masters victory and the layout was competed in 1988. It typifies many Low Country courses with its outgoing nine entrenched in the forest with several ponds. After beginning with a short rather easy par-five opening hole, you may wonder what all the "challenge fuss" is about, but the challenge begins right away with the stout 461-yard second hole that often plays into the westerly breeze. Water guards the left front area of the putting surface and par is a coveted score. There is nothing routine about your tee shots that follow. Throughout a round, golfers will be asked to negotiate a dogleg or to navigate around trees, bunkers, lakes, and swamps. With a few exceptions, it doesn't appear that Nicklaus moved as much dirt in the landing areas. Thankfully missing are the plethora of mounding and penal bunkers that punctuate many of his other productions of that time. Rather Pawleys Plantation represents a more minimalist restrained effort in the shaping and design strategy.
There are some exceptions. The par-five dogleg left fourth hole features a contoured fairway split by bunkers right in the middle. As you drive your cart down the cart path within the last 150 yards or so of the green you can't see any parts of the fairway, which is a feature I don't like. Furthermore, the green is guarded in large part by frontal bunkering to a relatively shallow section whose slope and grain falls away from the golfer's approach. Even though this is a par-five, in my opinion this hole is contrived and plays a bit too difficult for the recreational player. The long narrow green at the 172-yard 7th is a mere sliver and extremely difficult whenever there is a head or cross wind – too much so in my opinion though the site is otherwise aesthetically appealing. Other than that, that's where my criticism ends. Yes, there are a few other forced carries over water into greens, but for the most part, the putting surfaces and surrounds are not overworked in any form – a nice surprise.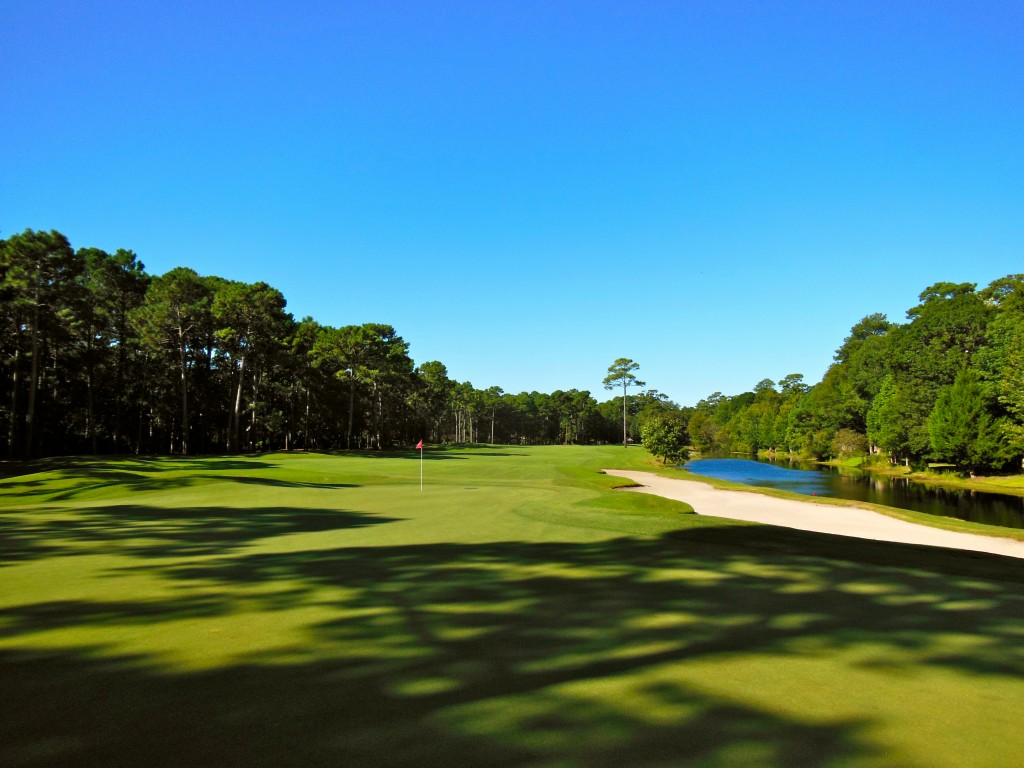 The par-four 6th hole is the first of three consecutive green complexes that are very deep, but narrow.
Nicklaus also offers some pleasant pacing with some easier holes. After a fairly demanding stretch from the 5th through 9th holes, there is a breather at the 10th, and as you switch direction with the 11th and head toward the marsh your attentions is heightened. You ask, "Are we about to see the expanses of marsh?" After a diabolical 563-yard 11th in which you have to negotiate two large oak usually for your third shot, you again get another change of pace with the shortish par-four 12th. It's a delightful introduction to the salt marshes and barrier island in the distance beyond. With that, you are suddenly out in the salt marsh with the 13th, a really testy 150-yard target that is virtually a peninsula. Totally exposed to the elements, wind will offer an invisible defense and club selection is at a premium as long, short, or left spells a quick double-bogey.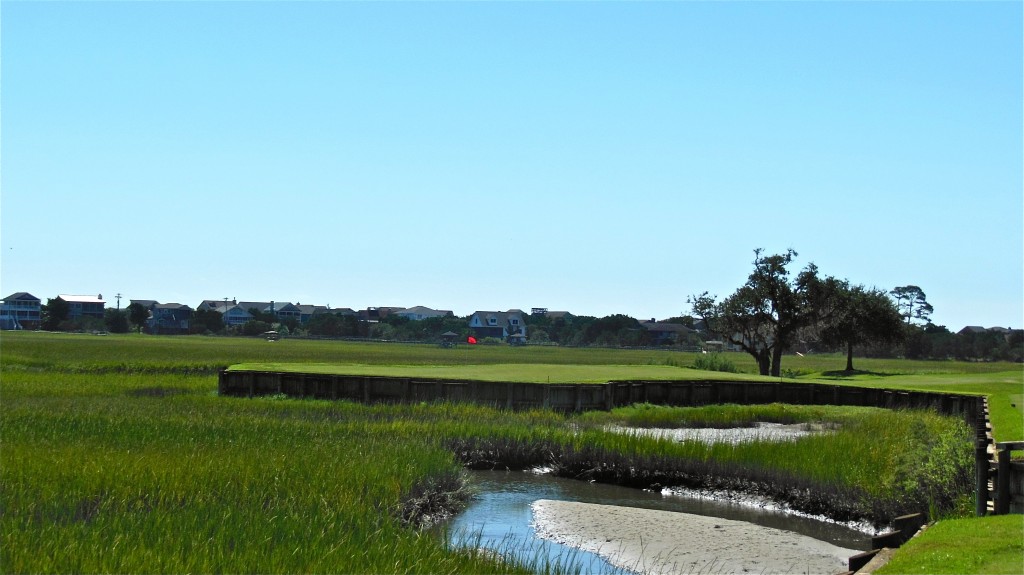 This is the bold challenge and stunning vista from the tee of the 13th tee (taken at about 125 yards).
The 525-yard risk-and-reward 14th is another favorite for me, but it might be better if the marsh vegetation was trimmed and you could see your target, but be that as it may, it's an exciting hole as you head inland for a quick turn. With the 444-yard 16th  you again venture toward the area of the marshes adjacent to the 13th hole. It not only makes for a memorable view, but the challenge will fully grab your attention. Your day has one more marsh carry with the 201-yard 17th and concludes strongly with the 443-yard finisher that features a 7-acre lake to the left of the green that serves as a rookery for several features of waterfowl.
This aerial view shows the 444-yard 16th hole and green with the 13th green adjacent left to it.
An attractive clubhouse, first-rate service, and excellent practice facilities including the acclaimed Phil Ritson – Mel Sole Golf School provides a wonderful place to enjoy a truly first-class golf experience. Onsite villa packages are available as are many motel options available in the area. The antebellum style clubhouse features a 6,000 square foot conference center and a ballroom that can easily seat over 300. Also available are two swimming pools, two lighted tennis courts, and a well-equipped fitness center. It all combines for a quiet genteel charm and upscale environment to accompany your golf.
Pawleys Plantation is a excellent examination of golf though it largely is devoid of the mounding, severe greens, and the deep bunkering that characterized many of Nicklaus' other period pieces. That is a compliment. It should prove a more sustainable layout and one that requires a round or two to learn where to attack and where to play more conservatively. All in all, this is one of the Grand Strand's "must play" golf experiences particularly for accomplished and discriminating players.
Below is the attractive and demanding 443-yard finishing par-four at Pawleys Plantation.