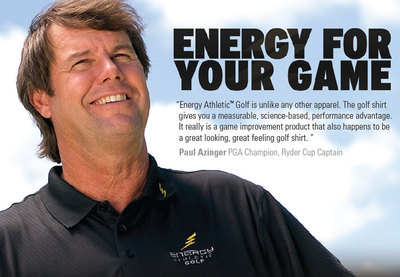 There are a host of devices that claim to enhance your strength and energy.  You can even wear bracelets and necklaces that promise to help you.  So far I have only heard of one piece of clothing that does this and that's the Energy Athletic Golf shirt powered by IonX.  Perhaps you have seen former PGA Champ and Ryder Cup Captain Paul Azinger touting these (shown above).
The secret behind the new technology with the Energy Athletic shirt is that negative ions are embedded in the fabric of the apparel.  If you happen to have a Rothschild Static-Volmeter you can actually see for yourself the much elevated level of these negative ions.  (Regular shirts don't register any.)
So what are negative ions and why might you want them?  In nature there exists both positively (poisons) and negatively charged oxygen ions that very much impact our health.  Contrary to its name, the negative ions are the good ones that help clean the air and are found after a rain storm or lightning strike – even in a household shower.  In contrast, positive ions are associated with airborne pollution and can inhibit our body's ability to cleanse the respiratory tract leaving us fatigued, irritable, or even depressed.  Can you begin to see that with a decreased respiratory rate, reduced blood pressure, and lower skin temperature, etc., the abundance of negative ions in a golf shirt could also help you enjoy your golf more?
While I am not an expert on these matters, I have worn the shirt and felt fine, maybe even loose, alert, and energized throughout my round.  What I am sure of is that the 91% Polyester 9% Spandex blend looks great and is so light that it feels as if you are wearing nothing at all.  It also launders well though you are not to add bleach, fabric softener sheets, or dry clean it.  And no, you can't wash the IonX Coating out of the shirt as it is not actually a coating, but rather is embedded in the fabric.
The shirts come in either a short or long sleeve model and can be purchased through the www.wearenergy.com website.  A single long sleeve shirt costs $79.90 and a short sleeve one $69.90, and that amount is discounted if you buy more than one.
One thing for sure is that the Athletic Golf Shirt passed the "Fagan Test" and I suggest you try them for yourself.   You just be wearing the apparel of the future!