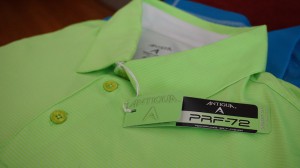 It used to be that a shirt was just a shirt. You either liked the style and color or you didn't. Today, it is as much about performance in the way of comfort, wicking moisture, quality materials, and great looks that hold up during a round of golf. And when you add in value, Antigua emerges a winner.
Antigua has been making shirts for more than thirty-five years with a rather conservative style, but their more recent models are not your Father's shirts, but rather hip designs. Bright and slim, but not overly so, they fit the bill for golfers both on and off the course. Speaking of their 2014 line, "It's bright and bold – really colorful," says Ron McPherson, president and CEO of Antigua. "Golf has always been a colorful business and this year just a little bit more intense. The consumer is really wearing bright colors right now and having fun with it."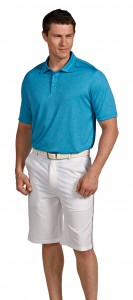 Antigua's Spring '14 Performance 72 Golf Collection for men includes 17 shirt models, 12 outerwear tops, two shorts and seven hats – as well as their proprietary Desert Dry and Desert Dry Xtra-Lite moisture management technology that wicks away moisture.
I was fortunate to try out their Desert Dry and Desert Dry Xtra-Lite moisture-wicking fabrics, which help keep golfers cool and dry on even the hottest days. These are thin, light shirt synthetics (no cotton) that really perform on hot, sweaty day, looking nearly as fresh when you finish, as when you start – and very comfortable. They also won't stick or bind on a really humid day. Bring on the heat and humidity for they be the coolest shirts in more ways than one – almost like wearing nothing at all!
Just as important is that fact that these shirts are well-made and seem to hold up well with washing – no fading and the collar is durable.
And Antigua is not just for men. They were the official apparel golf licensee for the 2013 Solheim Cup and have long been popular with the women.
At $50-$65, these Antigua shirts are offered in a wide selection of styles and colors making them a must-see or should I say "must-wear" offering within the mid-range price area. They can be purchased on the company's website, www.shop.antigua.com and at thousands of golf facilities and retailers.