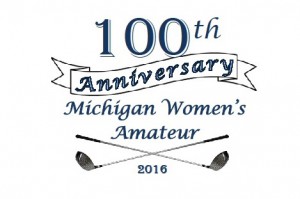 One hundred years old, and simply beautiful.
The centennial celebration of the Michigan Women's Amateur Championship, Aug. 8-12, will be something special. In addition to the statewide tournament, which runs that Monday through Friday at Spring Meadows Country Club in Linden, Mich., a commemorative golf scramble at Tyrone Hills Golf Club, and reception and dinner at Spring Meadows, honoring past champions, is planned for Monday, Aug. 8.
The 100th anniversary celebration golf scramble will begin with breakfast at 8 a.m. at nearby Tyrone Hills in Fenton, while the field of state championship contenders begins its first rounds of play at Spring Meadows. The program then will move to Spring Meadows CC for the reception, starting at 5 p.m. and dinner, which will welcome tournament revelers, players and past champions, starting at 6 p.m.
Among past champions planning to attend are several who will part of the celebration dinner program. Representing 18 championships between them, these include: Joan Garety ('97, '82), Patti Shook Boice ('67, '71, '73, 1976-79), Mary Jane Anderson Hiestand ('90, '95 and 2002), Stacy Slobodnik-Stoll ('96, '98), Allyson Geer (2015), Shirley Spork ('49) and Joyce Kazmierski ('66,'68).
Each of these women, and many other past champions, have had a significant impact in women's golf.
Michigan native and Eastern Michigan University alumna, Shirley Spork was one of the co-founders of the LPGA in 1950, founded its Teaching Division and her own golf school for women and continues to be a legendary figure in professional golf. Stacy Slobodnik-Stoll is women's golf coach at Michigan State University.
Former University of Michigan Women's Golf Coach Sue LeClair won in 1960 and '62. Former Futures and LPGA Tour Professional Debbie Williams Hoak ('93, '94) is now an LPGA Teaching Pro and Golf Coach for boys and girls at Saline High School in southeast Michigan.
"The most notable champions that turned professional are Shirley Spork and Meg Mallon ('83)," said 100th Anniversary Celebration Chair Sara Wold. "Joyce Kazmierski, Elaine Crosby ('81) and Becky Iverson ('87) also won LPGA Championships."
Other champions who became LPGA, Futures or other Mini-Tour Professionals include: Sharon Miller ('64, '65), Bonnie Lauer ('70, '72), Lisa Marino ('84, '85, '86), Kelly Holland ('88) and Suzy Green ('89).
Mary Jane Hiestand and Joan Garety continue to win senior championships at the state and national level. Christine Meier ('11 and '13) now plays on the Symetra Tour.
Early tournament winners, Violet Hanley ('24, '27, '30, and '34) and Dorothy Higbie ('25, '26, '31, '32, and '33), were among USGA's notables, and both were part of teams that played internationally. Hanley, chair of the USGA Women's Committee in 1930, managed and played on the U.S. team that traveled to England that year, marking the first women's international competition in history. Higbie, who qualified for the U.S. Women's Amateur Championship 10 times, was a member of the first U.S. Curtis Cup team that followed in 1932.
For Defending Champion Allyson Geer, the Michigan Women's Amateur Championship already has had an impact.
"It was definitely a humbling experience being able to add my name to a list of so many amazing female players in Michigan, including my future Michigan State coach (Stacy Slobodnik-Stoll)," Geer said. "I'm really looking forward to playing in the 100th anniversary tournament and feel so blessed for the opportunities golf has given me throughout the years." 
Honoring the centennial Michigan Women's Amateur Championship in a special way was a natural for Tom Bollinger, Michigan Women's Am chairman, GAM president emeritus and member at Spring Meadows CC. Bollinger has worked as a GAM rules official at every women's state am since 2006.
"About three years ago we started to secure this event for Spring Meadows," Bollinger said. "We had hosted the 2009 men's amateur and felt the club would be the ideal location for the women's 100th.
In addition, Bollinger said the added celebration was a must. "I sold the idea to the GAM officer team when I was president," he said. "It was included so more people would become familiar with the history of the Michigan Women's Amateur; the people, the host sites and the organizations who made the event what is today. We wanted to recognize and thank them for their efforts."
"For the past 100 years, the Michigan Women's Amateur has been the premier amateur women's golf championship in Michigan," Wold added. "Every year the best female golfers test their skills to determine if they have what it takes to be the champion and compete nationally at the college level and professionally in the LPGA.
"I'm excited that we are honoring the champions, participants, host clubs, and the women who conducted the Championships since 1914." The annual tournament has run consecutively except for a three-year break during World War II.
For more information on the tournament, visit www.gam.org
To register for the 100th Anniversary Celebration golf scramble and/or dinner, or for sponsorship opportunities, visit the Michigan Women's Golf Association website at: mwgolf.org/100th-michigan-womens-amateur-registration