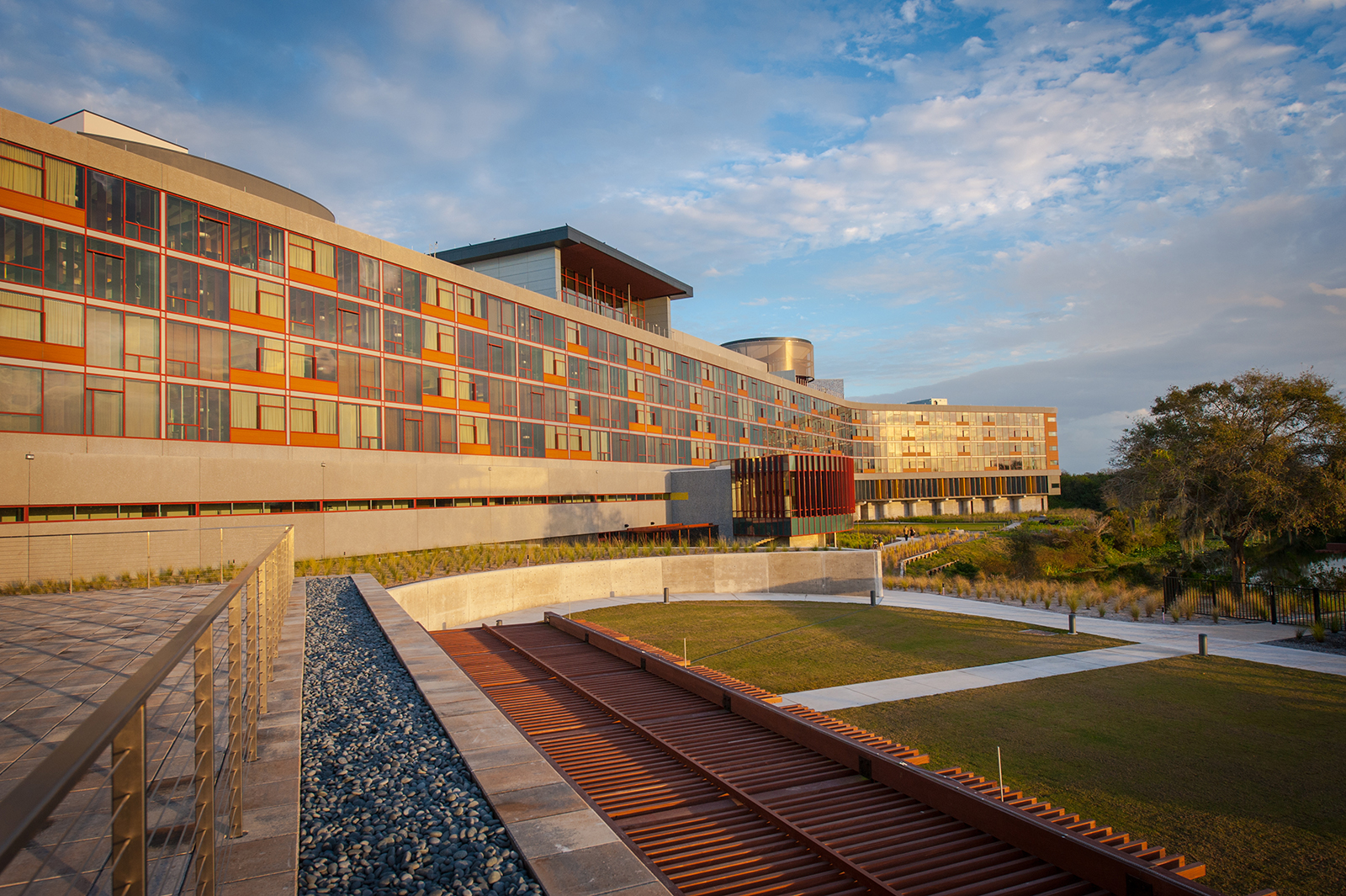 (Bowling Green, Fla.) It's been said imitation is the best form of flattery. In the case of Streamsong, it's already being favorably compared to Bandon Dunes, that wildly successful golf destination on the Oregon coast. Yet from the very beginning, the pioneers behind this remote and highly touted resort in north central Florida always wanted to go in a different direction, eschewing imitation particularly when it came to its upscale lodging and spa.
"We're flattered at the comparison but we're not trying to be Bandon Dunes when it comes to lodging," said Tom Sunnarborg, Vice-President of Land Development for Mosaic Company, the enterprise behind the resort. "Otherwise, we'd have villas here. We're breaking the mold not only for golf course accommodations but for hotel and lodging in general."
"Breaking the mold" is an understatement. In over thirty years covering golf, I've never encountered such a singularly thematic design, accommodations, amenities and attention-to-detail all tied together so well. Streamsong is so different (in a good way) and in many cases so lavishly understated, I can see where at first glance the resort—with its contemporary-designed, five-story, 216-room hotel—may be greeted with some head-scratching and "what's going on here?" mumbling.
But if one steps back a moment, takes a deep Zen-like breath, and looks around with a keen eye, it will become apparent that Streamsong is an exceptionally conceived, designed, constructed and managed property. The jury may still be out on the question of whether or not the marketplace will patronize this upscale, pricey resort in profitable numbers. But one must give Streamsong its due if not a standing ovation for the courage of its convictions—namely that top-shelf quality and design, luxurious rooms, diversions and service will always command a following.  Besides, such an approach has never been a problem for elite hotels in major cities so why not for Bowling Green, Fla. (pop. 2900), only an hour's drive from a little destination called DisneyWorld?
And Streamsong is more than a golfer's quiet retreat and respite between rounds. "We're seeking a diverse target audience," said Sunnaborg. "We're seeking the avid and the alpha customer—whether it be someone putting together a golf buddy's or gal's getaway or a CEO or meeting planner looking for an executive meeting."  Sunnaborg is not shy about voicing Streamsong's standard for excellence. "Along with the best golf, we're providing the best food, the best rooms, the best meeting space and the best service." There are four restaurants on the property, three at the main lodge and one at the golf clubhouse (a mile away), offering both casual and fine dining. Along with 13,500 square feet of meeting space, the lodge also features a full-service, grotto-style spa, fitness center, lakeside pool, hiking paths, sporting clays, tennis and guided bass fishing. So although the resort is in an isolated, sparsely populated area, there's a wealth of activities here.
The magic starts with the lodging's contemporary, sleek design by Tampa-based architect Alberto Alfonso (who previously designed the equally cool and urbane golf course clubhouse).  The Mosaic Company gave Alfonso the freedom and funds to create something unique and bold. The result is an edifice built around a design theme of a tree with a dash of minimalism. Concrete columns at the base are the "roots" of the tree and its branches and leaves rise up through the lobby and the floors. Moving up vertically, building materials go from concrete to steel to wood. At the top of the tree's "canopy" there's a rooftop bar and restaurant—Fragmentary Blue (named after a Robert Frost poem)—with wonderful views of the surroundings and the open sky. It was there I had a delightful dinner and a most tasty Pleiades cocktail (named fittingly for a star cluster) while exchanging golf and life stories with a fellow golfer from Toronto who was visiting Streamsong for the third time. And yes, he's sold on the place.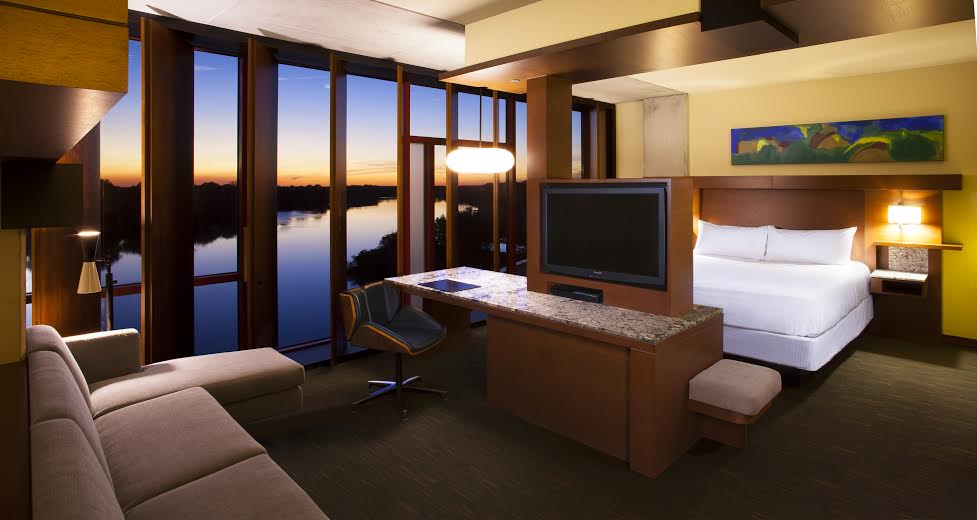 The guest rooms, all meticulously designed and furnished by Alfonso, carry out the arboreal theme and are equally impressive. Decorated in soft earth tones and with lots of wood, ample light and natural materials, each room contains an original painting by Alfonso (this guy was busy!). Instead of curtains for the expansive windows, the Cuban native designer cleverly opted for three-foot wide, floor to ceiling walnut louvers that protect and hide the room like leaves on a tree. There are two-sided HD TVs—where one can watch programs from either the bed or from a sofa— and a smartly designed and appointed desk and work area where guests are issued complimentary New York Times and Wall Street Journal digital access. The bathroom is large and boasts a dreamy walk-in shower. And every room has a spectacular, uncluttered view of the lake or the golf course dunes.
An obsessive attention to detail is best seen in the books selected for each room. On a bookshelf over the sofa, are such carefully chosen classics as: Huckleberry Finn, The Catcher in the Rye, Moby-Dick, To Kill a Mockingbird, A Separate Peace, Invisible Man, and my personal favorite (harking back to my college days), Light in August. In its own separate nook and again gracing each room is A Land Remembered by Patrick Smith. It's a best-selling novel published in 1984 that is set in pioneer Florida and covers a century of the state's history. A few nitpickers may say this literary touch is a bit pretentious but I admired the care and thinking behind it. It certainly demonstrates how Streamsong dares to take a different path for its pampered guests.
I can't explain why—other than an appreciation for design that fits holistically throughout the lodge—a simple accessory found on the room's desk was the most thought-provoking. Painted bright red, it was a thick #6 pencil by Charles Leonard, Inc., a leading office and school supply company. Feeling just right in my hand, its graphite imparted clean, dark marks and letters on the white notepad. Somehow it conjured up a famous Imagist poem (not found in the room) by William Carlos Williams titled The Red Wheelbarrow.
You see, that's what a restorative stay at Streamsong will do: it gets you pondering long-forgotten lines of poetry that still resonate, still offering surprise and serenity in a noisy world.
On second thought, maybe it was just the cocktail.
For more information, visit www.streamsongresort.com