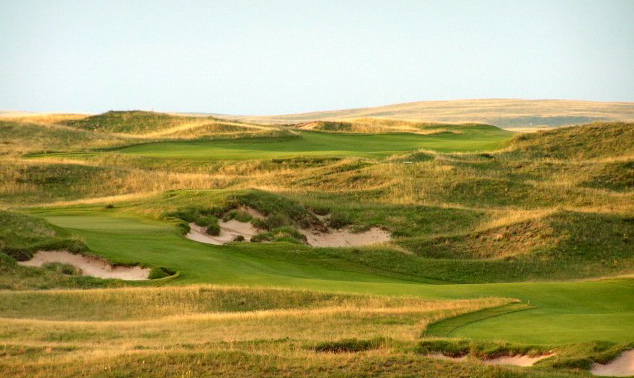 The first and second at The Sand Hills Club
On America's High Plains, towns announce themselves as clusters of silvery skyscrapers rising above the flatness, and only with diminishing distance do the great towers resolve themselves into grain elevators.  After awhile I knew that the towns were much alike.  Along with the elevators would be a railroad grade crossing, a convenience store for gas and Coke, the remains of what once was the center of town, and then more road, much more road.
I have always wanted to see that kind of vastness, grand and unpeopled, always known that I'd never tasted it in the east.  When I had a chance to satisfy that craving, along with my more or less permanent desire to play really good golf courses in places that are really hard to get to, I jumped.
The golf was promising: Ballyneal, Tom Doak's stroll through the Chop Hills in the northeast corner of Colorado; the Sand Hills Club, the Bill Coore and Ben Crenshaw overnight sensation in the Nebraska panhandle, and finally, along the Missouri River, the Links of North Dakota.
I wanted to get from place to place with my feet on the ground, absent the familiarities that have dulled away the tang of travel, blunted  the edgy strangeness of new places.  I made the concession of flying to Denver, then applied three strictures: no interstates, no name-brand lodgings, no brand-name restaurants.  It's come to this: we Americans like to be on the go, but we want to feel like we're home while we're on the road.  We want to put pushpins on the map, but keep the experience antiseptic.  From sea to shining sea, we can use the same overhead bins, roll over the same pavement, read the same green road signs, check in and check out of motels where we can find the light switches in the dark.
That arrangement wouldn't answer the question of what vastness looked and felt like, and it would cut the heart out of these golf courses, these gems whose attraction lays partly in the fact that they are far from beaten paths.  I let the golf dictate my route: northeast to Holyoke, up into the Nebraska panhandle, doubling back to nearly the Wyoming line, and then north almost to Canada.  Five days, 1300 miles.
Suburban Denver was slow going, and I was late to my first stop, Holyoke.  The terrain had changed as I drove north, growing sandy and dry, developing washes and rises, and eventually gathering itself into a rhythmic pattern of tightly spaced swells and drops running in long parallels.  By Holyoke they had a perfect name: the Chop Hills, and in Doak, a perfect architect to shape them for golf.
Among course architects, Doak is the prototypical minimalist, a man who loves to find good land, create green complexes that invite a variety of tactical approaches, and otherwise let things alone.  How he found his way to such a style is mystifying, because he started his career working for Pete Dye, who has done things like run a conga line of sand-filled dump trucks to the shores of Lake Michigan in order to transform a barren coastline into Whistling Straits.
Doak told me Harbour Town, the relatively short, small-greened gem we see each year as part of the Tour rota, is the Dye course in which his approach is rooted, because it rewards precision off the tees and the ability to play a variety of shots.
I got out onto Ballyneal quickly and quit at dusk, the only player out, when I couldn't find a ball I felt I'd hit into the fairway.  Ballyneal is textbook Doak, a reflection of its terrain.  It sluices through the Chop Hills and their 50 (count 'em 50) kinds of grasses, all of which help hold the hills in place. It creates in the player the sense of a world unto itself, and it is fun, because it is really quite eager to reward.  It asks for patience, creativity, and favors accuracy over length.  It allows players to discover how well they can play jack-of-all-trades style golf.
When I left the clubhouse I'd marked a radio tower as a good line back in–I've learned that a links course without a reference point can turn you around.  In the failing light I made for the pulsing red light of the tower, following the fairways as best I could and bushwhacking the rest, not a plant among the 50 varieties failing to get a piece of my ankles.
The club pro, Eric Petersen, met me outside his shop, arms crossed, taking in the sunset.  He told me he had worked in California prior to coming to Ballyneal.  "You smile here and you get smiles back," he said.  "Different than California.  I feel like I'm in heaven."
I thought of Doak's luck in having the Chop Hills to work with when I assessed The Links of North Dakota, the last course I played on that trip.  The Links sits on an all but flat piece of land set along Lake Sacajawea, which until a dam went in was far more slender; part of the Missouri River.
A perfect spot for a picnic, not as prime for a golf course.  It so lacked lift, and without lift, depth perception becomes a real problem.  Call it drama, or character, it's hard to find on dull ground.  Stephen Kay, a designer who has done most of his work in the New York and New Jersey region, must have had the devil's own time putting it together.  It pops up on 100 Best of this or that lists, but that may have more to do with getting North Dakota onto those rosters than anything else.  Golf, however, is as Doak points out, meant to be fun.  And playing a round in North Dakota, with its flavor of obscurity, was fun.
Between my first round and my third, there was ground to cover, about 1000 miles worth.  When I struggled back into the pro shop at Ballyneal, a pack of coyotes was howling.  Somewhere far to the west, silent lightning flickered from cloud to towering cloud, delineating their edges with lavender light.  Petersen gave me directions back into town.  Turns on unmarked roads, no lights, no houses.  Holyoke seemed a long way away, let alone Mullen, across the Nebraska state line, where I'd spend the night and get to one of our generation's gems, The Sand Hills Club, next day.
I found Holyoke, gassed up for the run to Mullen, and within a hundred yards was stuck at a grade crossing.  Gates down, signals flashing, bell ringing, hopper cars not budging.  After fifteen minutes passed it dawned: They call them freight trains because they take on freight. Long train may mean long wait.
Stalled.  Hungry. Sandy. Sweaty.  I felt like a used up Lawrence of Arabia. But I'd made the rules.  No grade crossing-free roads, or familiar neon-announced demi-foods, or bellowing green exit signs promising motels I'd heard the names of before.  Have a Coke, for the caffeine.  I went back to the gas station.
There lounged a young local.  He was smoking in that sublimely comfortable way that suggests his entire being had been organized around his cigarette.  Red hair, red beard stubble, freckles, skinny.  A rusty razor blade of a fellow.  He listened and sent me up past the grain elevator, beyond the head car.  I crossed, boxed my way back to my road, and was on the way to Mullen.  Self-designed travel has no middle ground.  Elation and despair live side by side. Have the trip you're having.
I called Patty Glidden, proprietress of the Sand Hills Motel, to say I'd be running a touch late.  She yawned. "Ring the desk bell when you get in."  I could tell it wasn't the first time she'd taken a call like mine.
The road to Mullen was runway straight, illuminated exactly as far as my headlights could throw a beam, and I picked up some time.  The Sand Hills, burlier by the mile, spooky creatures less seen than felt by night, funneled me along.
The motel was a little the worse for wear.  It was interesting the way nothing–chairs, sink, bed, carpet– smelled particularly savory, but no two of them smelled alike.  I turned on the air conditioner to help flatten out the mélange.
Reds-Café, the place to breakfast in Mullen, sits right alongside Route 2, the main east-west stem across southern Nebraska, but the crowd was strictly local.  It was a place where you kept your cowboy hat on and any customer who wanted coffee went behind the counter for the pot and said things like Anybody here got dust in their throat?  I was told a good Nebraska story: Red, the now deceased owner of Reds-Cafe, served breakfast to a lady who asked for her toast light and got it served up burnt.  She made a remark.  As did Red, pointing to her butter knife and suggesting she scrape at her toast until she got it to the shade she liked.
Dick Youngscap, the man who bet that a golf course hundreds of miles from a city of any size would stand up if it was very, very good, and had purchased a great many acres of Sand Hills real estate to back it up, was the portal to my getting out for a round at The Sand Hills.  (The club is far from public, but the opportunities in that special landscape are now well-understood.  Dismal River, not far down the line and open to all, is said to be well-worth looking into.)  He gave me the mile marker to watch for on the side road leading south from Mullen to the club entrance and warned me to watch carefully because it was so small.  Youngscap is a languid-sounding man of few words, but his accomplishments speak clearly.  Highly-regarded Firethorn (designed by a somewhat kinder, gentler Pete Dye) on the other side of Nebraska, in Lincoln, is also a Youngscap brainchild, though he'd never bring something like that up.  "We don't wear our boots too high around here," he told me, in one of his longer sentences.
From the parking lot to the first tee it's a long cart ride up into the dunes.  On the rise, the golf course slowly takes on its shape, flag by flag, green and tan runs of prairie grasses separated by slightly greener fairways, and shaggy-edged  explosions of intensely white sand called blowouts.  It has the one attribute great courses of every stripe must: character.  It just feels so well-executed, so complete, consistent without repetition, and it imparts a can't-wait-to-see the next hole feeling.  Crenshaw and Coore, who are philosophical brothers-in-arms with Doak, created a blend of very generous fairways and greens that slip and slide so much a caddie is well worth the hiring.  Getting to the greens isn't terribly hard unless the wind is running, which it certainly will do in the High Plains, but without a very fine touch and deft reads, the putting can be a terror on any day.  I liked it too for its we-don't-care-what others think eccentricities.  It has, for example, no tee markers, just boxes in which to peg it as you please.
After I played at The Sand Hills Club, I headed back through the hills themselves, towards South Dakota and the run up through Hot Springs and into North Dakota.  The hills are exhilarating, so long-running that the word forever popped into my mind.  Smooth-topped, big-chested, they loafed along beside me mile after by mile.                                    That was the beginning of a long ride, more than 800 or so two lane miles of roads not many people use any more.  On Route 85 north through the Dakotas, the miles fled by, yet I seemed never to advance.  Fifty miles of telephone poles carrying a single wire ran in perfect tandem with barbed wire confining – if that's the word – range cattle zip codes from their barns.  Clouds billowed to 50,000 feet, the hot wind throbbed, and I was all the time reining the car back down from 90 because 90 seemed, if anything, a little slow.  Another vehicle was an event.  Occasionally, 18-wheelers appeared, mirage-like, quivering in the road heat, closing no distance at all until in a trice they blew past and left me in their backdraft.
I stopped the car once in awhile, because I was curious about the sound of such hard, profoundly lonely land.  It was silent, enormously still, devoid not only of sound and movement, but even the possibility that that could change.  By then I thought I had nailed down the idea of vastness.  It was a spaciousness beyond comfort, a deep loneliness with nothing to offer but a strange, abiding beauty.
In Watford City, N.D., I pulled onto Main St., parked, and walked.  Sun-cooked, unmoving, dominated by a grain elevator along the railroad tracks, Watford City seemed to have pretty much closed up shop.  Most of the storefronts, and there were few, had blinds snugged down, fending off the heat or suffering the last years of their near-barren irrelevance.
I turned a corner and there gleamed, as improbably as spats at an Iowa church picnic, a spiffy limousine.  It sat outside of a bar.  Out of the bar came music and chatter.  I walked in; it was cool and dark and alive, there was a white cake on the bar, people of every age were laughing and drinking, and the bride, luminous against the good cool gloom in her white dress, was dancing.  I was welcomed.  A visitor from another world was just fine.  The beer was cold, and I regretted having to move on.
I wished afterwards that I had asked where that limo was headed.  Back down Route 85 to a small resort in Hot Springs, South Dakota?  Or maybe an airport and a flight to New York.  I pulled for New York, I suppose because the best places are the ones you haven't gotten to yet.  As for me,  I can only tell you that when in Mullen, eat at Reds.  Good coffee, friendly, and word has it no bad place for a chicken-fried steak if that's your mood.  And while Belle Fourche, Buffalo, and Bowman may have their points, I recommend a stop in Watford City.  You'll probably have a bunch of miles under your belt and a bit of High Plains dust in your throat, and the folks in Watford City will see to it that you don't leave on that next long leg of your trip without getting rid of that dust.