Change can be hard. Even when we know it's inevitable, even when we know it's ultimately for the good, we often don't like it while it's happening.
Golf has been undergoing a changing of the guard for approximately 20 months now, dating roughly to the 2009 PGA Championship where Y.E. Yang surprisingly throat-choked Tiger Woods into submission, eviscerating the aura of Woods as an invincible final round front-runner and showing everyone else on Tour you don't have to be Phil or Vijay or even Padraig to take out the Champ–not that any of them were really doing it either.
Yang walked right beside Woods and not only beat him straight up but beat him down, using the same bad medicine Tiger usually doses out to his own withering patients. Three months later Woods was dosing something else—including punishment to Windermere city property with his SUV—and we all know what's happened since.
It's been a free-for-all, with players of every make and model gobbling up victories like frenzied trout in a feeding pond. We've witnessed an utterly un-memorizable list of debut winners, International one-timers hoisting major championship trophies, Nationwide players staking out high perches on the PGA money list, favorites vanishing into witness protection programs and idols slinking quietly into the fading twilight.
At the middle of this chaos is a conspicuous hole with Tiger free-falling in the world rankings, surpassed by Mickelson and five other players with a combined 2 majors and 6 stateside wins on their resumes (please explain how this happens).
Meanwhile, a television, media and magazine nation turns its lonely eyes to a group of promising but yet-to-be decorated young players including Dustin Johnson (4 wins), Nick Watney (3), Rory McIlroy (1), Ricky Fowler (0), Ryo Ishikawa (0) and a handful of others, desperately imploring them to do something—anything!—to shake us out of our winter (and spring…and summer) of discontent and make us forget that Woods is no longer the golfer nor the man we thought he was.
And so it goes. The metamorphosis, it appears, may culminate at the 2011 Masters.
Which could therefore make it one of the worst ever. Or at least one of the least satisfying.
There's always some novel appeal watching potential first-time major winners battle it out (Shaun Micheel and Chad Campbell notwithstanding), but it's not what fires ratings or makes dads fist pump.
Last August's PGA Championship may be talked about for years to come, but not because Johnson, Watney, Bubba Watson and eventual winner Martin Kaymer were all jostling to be first in line to have their cherry popped atop Pete Dye's amorphously augmented Lady on the Lake. Their play did not make for must-see viewing even before Johnson's T.C. Chen moment, and no one outside those players' families didn't wish a Tiger, Phil, Jim, Ernie or any other OG weren't behind them bringing the heat.
Generational turnover must come at some point, but how does a six-way duel between Ryan Palmer, Heath Slocum, Ben Crane, Ross Fisher, Tim Clark and Bill Haas taste, just as a way of, you know, kicking it off? Based on the smell of the last 20 months, there's a good chance that, or something a lot like it, is what the community kitchen has cooking.
At the very least, odds are there will be another first time winner. The number one player in the world, after all, is a 37-year-old with no majors and two wins on the PGA TOUR. NFL GM's searching for starting QB's think this field is diluted.
In fact, among the current top 50 players in the world rankings only 13 have won a major, and all have a combined to win 36 total majors, including Tiger's 14. That's 22 majors spread out among the next 49.
Compare that to the week heading into the 1986 Masters, when the top 50 players held a combined 55 major wins. Even taking away Jack Nicklaus' then-17 majors, the rest of the field still held an impressive 38 major victories.
A decade later the field was even more stacked. At the dawn of the 1996 Masters, 21 different players in the world's top 50 had previously had their names etched on major trophies, and those 50 combined for 42 major victories with no Nicklaus or Woods to pad the stats.
The numbers five years ago, before the 2006 Masters, were roughly the same as they are now: the top 50 players had combined for 32 majors, with Tiger leading the way with 10 of them. The difference was, Tiger was rounding into top form, other marquee players were relevant and winning, and nobody was counting on a group of 20-somethings–some who look like they aren't even shaving yet–to suddenly be superstars.
If this year's Masters indeed leaves us feeling a little lonely and pining for the comfortable, sage shadows of Norman, Faldo, Love, Olazabal, Els and Couples, not to mention Tiger and Phil, it's nothing to fret long about. These are necessary growing pains and it's only a matter of time before this movement of young, talented players begins amassing not just wins but majors. We hope. But the end of the beginning of the new beginning is near, and the sooner it happens, even of it has to be this Masters, the better it will be for the next time around.
Then again there's always hope we could delay the inevitable, just a little. Maybe one of the twilight idols has a tear-jerking, historic run in them like Ben Crenshaw in 1995, or Nicklaus in 1986. (Although we should remember that, while the myth is that Nicklaus escaped the retirement home to win at age 46, he was still ranked 25th in the world. Today that person is Miguel Angel Jimenez).
Perhaps Tiger will not just play well but play well down the stretch, something he's hasn't actually done since his 2002 win.
Maybe it will be Mickelson again, who will always be a threat to win at Augusta no matter his form. As caddy Bones MacKay mentioned following last year's victory, they view the course as Phil's personal playground. So much so that until last week's victory at Houston, it appeared that he had forgotten how to play—or lost interest in playing— anywhere else.
Or maybe the green acres of Augusta will be recast as the All England Club as Lee Westwood, Paul Casey, Luke Donald and Ian Poulter partake of a proper British duel, but with plaid trousers accepted.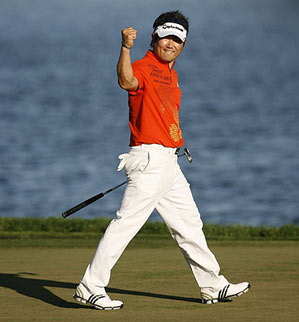 My bet? I'll take the guy who started this whole hairshirt of a turnover procedure, the one player who can neatly circle the square, the one player we know can punch: Y.E. Yang. It's the least he could do.
Read all of our great stories on by TheAPosition.com writers as we cover The Masters.