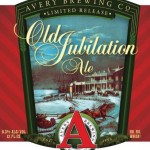 1. Avery "Old Jubilation," Colorado (Winter/Old Ale, 8.3% ABV)–Superb combination of citric hops, sweet malts and finishing spices.
2. Scaldis "Noel," Belgium (Winter Amber/Strong Dark Ale, 12%)–For many, the ultimate Belgian Christmas beer. Count me in.
3. Goose Island "Sofie," Illinois (Saison, 6.5 ABV)–Though it's slightly out of season, I had this gorgeously floral saison recently on draught at Gramercy Tavern and cannot get it out of my mind.
4. Anchor "Our Special Ale" 2011, California (Winter Ale, 5.5% ABV)–Though the recipe changes each year, this year's ale shows a refreshingly clean malt canvas painted with piney, Antico Carpano-like spicy infusions.
5. Sweetwater "Fresh Sticky Nubs" Dank Tank Series, Georgia (Red/Imperial Red Ale, 8% ABV)– The 130 IBU's are woven seamlessly into this beautifully balanced big beer, with sweet malts coddling the fragrant Nugget hops.