If you'll allow us this conceit, the Checklist's entire purpose is to make you better on the course, whatever you already are. All right, maybe not a better player, but at least better equipped. Better presented. More in tune with the world around you. We can't help your ball-striking (well, maybe if you do this more often), but we hope make you look like you know what you're doing when trying. Trusting you will trust us, we offer perspectives and recommendations to elevate not only your appearance but your entire persona on the golf course
Given that, 'twas a time the Checklist would have been all over what kind of putter you should wield. Yes, the putter is the most personal and subjective club in the bag but, unswayed, we might have urged you toward a particular aesthetic, something pure and elegant like the classic Acushnet Bullseye, say, or Ben Crenshaw's Wilson 8802 blade. If we had our druthers the old Checklist would have had you in a vintage Ping Anser, a weapon that perfectly balances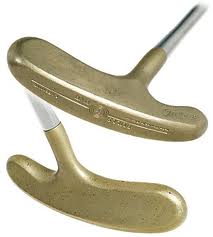 technological break-through with a legendary look that redefined putters the same way the Volkswagon Rabbit influenced every compact car that came after it.
But the truth is, we can't even settle on the right putter for our own game. Since we have nowhere near the feel and rhythm of Crenshaw, we're actually inept with that old Wilson in our hands. As much as we admire simplicity and clean silhouettes, we the point is to sink putts. The Checklist even

tinkered with a Scotty Cameron Phantom Futura a few years back. Hey, it was rolling true! Classicists when it comes to putters we are not.
The putter is the most personal of clubs. Bobby Jones named his, for Christ's sake. And since it's an extension of your personality, so to speak, it has to feel right. This is after all, what you use to operate with, to sculpt, to take money. It has to be personal. You can be an absolute clod on the fairways but a heartbreaker on the moss if you love your flatstick. Because chipping well gets you respect; putting well gets you famous. Even if you're terrible on the greens your putter can be your foil, your arch nemesis, and there's a story in that, heroic tragedy even.
We can tell you what putter to carry as much as we can tell you how to sign your name. You will choose it based on how it looks to you and how it gets the job done. Everything else matters not. So when it comes to putters the Checklist has just one thing to say: whatever works.