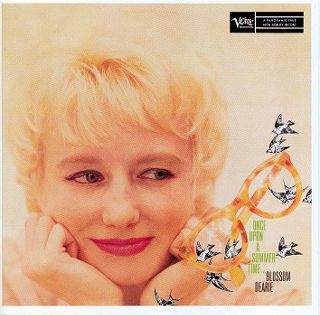 Long before Van Halen made all-too literal the male archetypal fantasy of the nice but naughty teacher–ruined it, with bad music, some would say–the Checklist was doing just fine with Blossom Dearie, no pole dancing required.
In the late 1950's and 1960's, Dearie's effervescent, coquettish voice was an unmistakable signature teasing intoxicating, girly suggestiveness out of a range of standard and original jazz and show tunes. The juxtaposition of her playful lyrics and presumed innocence–an image enhanced by her curled and bobbed blond hair, is-she-homely-or-is-she-beautiful looks and signature thick-framed spectacles–was, and is, uniquely seductive. Dearie was at once vulnerable and teasing, a swallow-voiced siren who looked like a librarian but sang unabashed of both conquests and heartbreaks. Always, beneath the sound and those glasses, was an insistence that she was far more the devil than demure.
She never much played to the wholesome image in her songs. "I'm Hip" and "Blossom's Blues" are essentially anthems of virility, joyful gauntlets thrown at the feet of competitors and prey alike. Elsewhere she's breezy ("When In Rome"; "Teach Me Tonight"), gleeful ("Moonlight Saving Time"; "If I Were A Bell") and emotionally pitch perfect, rendering classics like "Once Upon A Summertime," "It Amazes Me," and "I'll Take Manhattan" virtually irrelevant in the hands of any other singer.
Most of all Dearie was a brilliant stylist, pianist and vocalist. Her sound and arrangements embody everything we desire now of mid-century style and swing. We put her on and are suddenly reclined on banquettes in smoky lounges where men wear suits and jeweled women are bought strong cocktails. There are singers who do pain well, but nobody does pleasure like Blossom Dearie. Tonight the Checklist will be sipping martinis and fantasizing about the naughty innocence behind that dolce voce.