Black Maple Hill Ltd. Edition Kentucky Straight Bourbon Whiskey
95-Proof, Kentucky Bourbon Distillers (?)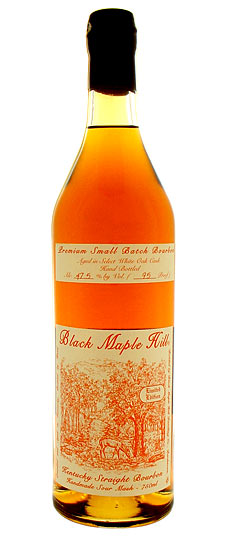 Wines can generally be divided into two broad styles: Old World and New World. Whether or not they come from the "old world," old world styles are restrained, balanced, display classic flavors and show a sense of place, or what the French call terroir. The New World style describes wines that are mouthwatering and full of fresh, full flavors. They often brim with fruit and oak and spice.
If the Black Maple Hill were a wine it would definitely be new world. In fact, I see it as a highly sought after boutique wine, something like a small-production Washington State syrah with great structure and depth and an upfront range of spice and super-ripe, right-off-the-vine fruit.
Only in this case instead of fruit, the BMH, aged eight years on average, shows off a nose of toast, toffee, candy corn and a whiff of grassiness. On the palate the bourbon really unwinds atop a glycerin barge revealing notes of grain, wood, caramel and earth. At the back end the rye shows up with a sharp, peppery bite.
You'd like to be able to age this like you can a wine to bring out a little more suppleness and third dimension characteristics, and the overall lack of real complexity is what's holding it back from a higher score. But in the end this will always be a big, young and enthusiastic bourbon to sip on its own, with a cigar, or to pour and very much impress your friends with.
6/30/17 Note: The original review was from 2010, when Black Maple Hills was part of the Kentucky Bourbon Distillers portfolio, which sources bourbons from unnamed distilleries (speculation is it was from Heaven Hill). KBD is also the parent company of Willett Distillery, which has begun its own bourbon and rye distillations (they also used to source their whiskey).
The quality and availability of Black Maple Hill had become erratic in subsequent years, and in 2014 the label began to use whiskey sourced from Oregon, which precipitated a rebranding. I have not tasted this version of BMH. Read more about it here.
Score: 6