Wathen's Kentucky Straight Bourbon Whiskey Single Barrel
Barrel 876, Bottled 1-19-09
94 Proof, Charles Medley Distillery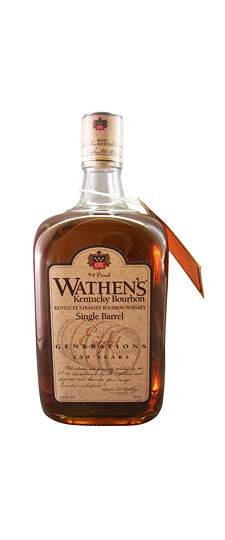 One of the better bar/gastropubs in the city I live uses Wathen's as their primary bourbon. They take their cocktails seriously here and the Wathen's shows up in a number of their original creations.
Of course, I'm interested in the bourbon on it's own, with a broken cube of ice or a splash of water mixed in. Though the flavors are not quite to my ideal—this is a show horse rather than a thoroughbred—the depth and construction is solid.
A broad palette of flavors, each segueing into the next, mask the bourbon's 94 proof and create a prism of apricot, caramel, graham cracker and even plums. Notes of cocoa and smoke weigh in, and though the mouthfeel is creamy there's also a winey, heathery element to this whiskey. To me this comes across as more of a wheated recipe than of rye.
If you're looking for a big mouthful of spicy sweetness, this may not be quite for you. It's not exactly for me, either, but the Wathen's is a great crossover bourbon for single malt lovers, and at $35-$40 delivers a similar level of complexity.
Score: 4