Rock Hill Farms Kentucky Straight Bourbon Whiskey Single Barrel
100 Proof, Buffalo Trace Distilling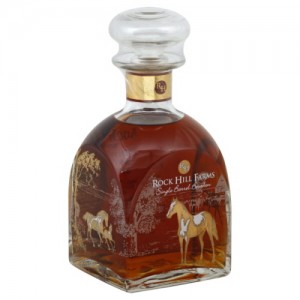 I really hate the Rock Hill Farms kind of faux-ornate bottles: this one is squat and square, has tacky colored etchings of horses on the sides, and the kind of glass stopper where you can tip it upside down and a measured amount pour into it. If the bourbon that flowed inside it weren't so good I'd be embarrassed for anyone to see it in my cupboard.
But the whiskey makes you forget the misguided packaging. The immediate reaction to tasting the RHF (I've had two bottles) is "Wow!" It's a bit of a spice bomb with pepper and tingly cinnamon notes up front followed with hints of apricot and honey and butterscotch. The barrel toasting comes through on the palate, which is also where you get the full peppery rye treatment balanced by a deep sweetness. On the finish I pick up fascinating traces of smoke and even bacon. Fascinating!
So effusive and complex, the RHF is really like a dessert bourbon, perfect at the end of the day on its own. At roughly $60-$75 most places it tips toward luxury bourbon, but it's still one of the best price-to-quality ratios on the market. I also admire the fact that this is the only expression with the Rock Hill Farms name.
Don't be put off by the bottle—go get it!
Score: 8