Blanton's Kentucky Straight Bourbon Whiskey Single Barrel
93 Proof, Buffalo Trace Distillery
Bottle 106, 4/09/09, Barrel 211, Warehouse H/G, Rick 56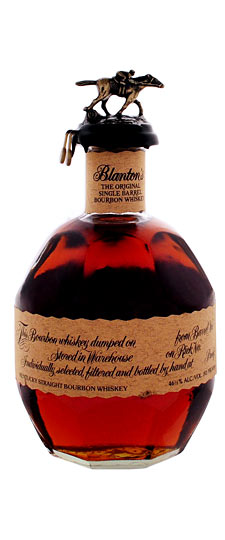 Blanton's is one of America's most important and historical bourbons. The Blanton family began making whiskey in Kentucky shortly after the Civil War, and in 1984 released the country's first single barrel bourbon, igniting a barrel-centric trend that helped bolster bourbon's legitimacy—not to mention its quality—in the age of pervasive vodka and dance club spirits.
The Blanton's bottle is equally iconic. You know it: the squat, faceted globe; the parchment wrapped equator; the pewter thoroughbred figure attached to the cork. It's perhaps the most instantly recognizable packaging in the spirit world, although I've often wondered if bottling it in a more traditional format might save us a few dollars at the register. It would still taste the same, right?
Oh well. It's worth the few extra bucks. One of the genius dimensions of bottling single barrels is that connoisseurs will keep coming back every year, like wine, to track the minor differences in the whiskey and dumps. Though the proof is constant at 93º, Blanton's labels its bottles by number, warehouse, barrel and rick. It would be impossible to exhaust every possible combination and experience the individual whiskeys can offer season to season.
So even if you've had Blanton's before, it's worth your money to try it again because it won't be exactly the same. What you can expect—at least what I got from the bottle I based this tasting on—are lush scents of pear and nectarine coming across on the nose buffeted by big spice, sugar and nutmeg notes. Vanilla and brown sugar add background complexity and a muscular frame, and I even picked up hints of blackberry on the palate and in the lingering finish.
While not the most profound in its category ($45-$55), this is a big, beautiful bourbon that shows impeccable balance. It would be great with a splash of water to whet the whistle before dinner, or to meditate over neat afterward.
Score: 6