Old Grand-Dad 114 Kentucky Straight Bourbon Whiskey
114 Proof, Jim Beam Distilling Co.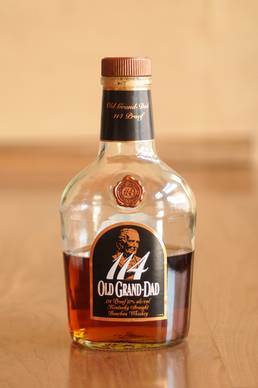 First things first: there may be no greater bang for the buck in the bourbon market than the Old Grand-Dad 114. In fact, I'm sure of it. And by bang I mean, boom, as in 114-proof sticks of dynamite packed in sheaths of baking spices, orange peel and streaks of exotic wood and maple. And by buck I mean around 20 of them.
Review: 114 proof. Mammoth, hot mouthfeel. Tongue coated in wood, spices and oils. $20-$23.
Aside from the sheer volume of the OGD 114, this is quite a complex whiskey and not just an in-your-grill slobber-knocker. You're going to want to water is a little to bring the proof down to drinkable levels and bring out the deep range of flavors and scents. I get mulled fruits and whiffs of cinnamon, five-spice and cardamom, a distant memory of candied apple, tea-like mandarin orange accents and exotic oils. Dry tannins, leather, brown sugar and crushed, dried flowers wrap it up on a strong but not especially long finish.
The OGD 114 is a bourbon that has Hall of Fame stuff if it could just harness its potential. It's toiling in the minors until it masters its junk. It's a raw Nuke LaLoosh on the mound saying, "I want to give him the heat and announce my presence with authority!" It's wicked movement on one pitch followed by a grooved fastball on the next. It's a hammer and everything around it, including your palate, is a nail.
Score: 5