The golf season may be off to a soggy start in southern Vermont, but at least the figurative sun shines brightly on those doing good work while swinging the sticks. If we've counted correctly, there are ten charity tournaments unfolding at the Brattleboro Country Club this season. If anyone plays in them all we'd like to hear about it for sainthood nomination (or golf addiction treatment). But even teeing it up in one gives you solid karmic credentials, so all the opportunities are listed, with some contact information.
We won't repeat the details of each tournament, since most follow a familiar format–shotgun starts, best ball scrambles, hole-in-one prizes, team prizes, closest to the pin and long drives prizes, with extra putting games, other challenges to ante up for, mulligans to buy, as well as a variety of door and raffle prizes and/or auction items announced during the post-round banquet.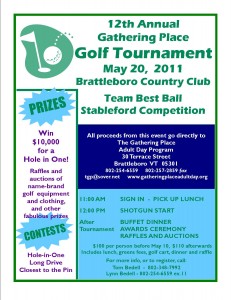 Calendars out? It all starts Friday, May 20. The Twelfth Annual The Gathering Place Golf Tournament is a personal favorite, since I'm the chair. That my wife is the executive director of The Gathering Place has nothing to do with that, of course.
We veer from the routine in playing a Texas scramble with Stableford scoring, making the play a little closer to real golf than a straight scramble, but still friendly enough for the occasional golfer. Walkups are welcomed. Registration begins at 11 a.m. ($100 per player), the shotgun start is at noon and, as usual, all proceeds directly benefit The Gathering Place adult day program in Brattleboro.
After the TGP tilt a full slate of worthy tournaments follows at the BCC. Here's the pertinent information:
On Wednesday, June 1, the First Annual Relay for Life Golf Tournament will begin registration at 11 a.m., the shotgun start at noon. The fee is $99 per player, all proceeds going to the Windham County Relay for Life. A putting contest is dangling two roundtrip tickets anywhere in the U.S. on Jet Blue. Register online at www.relayforlife.org/windhamvt, or contact Dana Zelenakas, 257-4469.
* * *
The Bob Royce Open Golf Tournament is sponsored by the Bellows Falls Polish American Club, with proceeds to benefit the Bellows Falls Union High School and the Fall Mountain Regional High School. Tee off time is 8:30 a.m. on Saturday, June 4, with a donation of $75 per player.
* * *
The 36thAnnual Brattleboro Rotary Charity Golf Tournament is Thursday, June 10, registration at 11 a.m., shotgun start at noon, proceeds going toward the West River Park project on Route 30. The fee is $125, $460 for a foursome. More information online at BrattleboroRotaryClub.org, or call Cathy Coonan at 251-3782.
* * *
The Corbeil Classic, to benefit the Jimmy Fund, is Wednesday, June 22, but by invitation only. It's already sold out, although hole sponsors are always welcomed, and dinner attendees (for $25) can join in on what Kellie Corbeil calls, "A tremendously large raffle." Contact her for more information at 380-6137.
* * *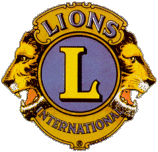 They'll start serving the coffee and donuts at 7 a.m. this year for The Chesterfield Lions Club Annual Tournament on Tuesday, July 12. The $100 per player fee remains the same ($500 for those who sponsor a team and a hole), the funds going toward the Lions scholarships, the Chesterfield School Foundation and other community uses. The shotgun start is 8:30 a.m. Call John Schlichting (603-363-4759) or Maryann Lauterbach (603-363-8872) to sign up.
* * *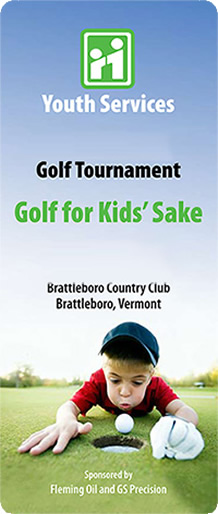 Last year was the silver anniversary of The Youth Services Annual Golf Tournament, and they're rolling right along again on Wednesday, July 27, with lunch at noon and the shotgun start at 1 p.m. Fees are again $120 per player or $480 per foursome. You can register online at youthservicesinc.org or call 257-0361.
* * *
The club's Ladies Invitational is on July 30, an 8:30 a.m. shotgun start with proceeds going toward the Comprehensive Breast Care Program at BMH, and the Forest Moon support group. Contact Jill Zachary for more information, 722-9622.
* * *
Registration begins at 10:30 a.m. on Wednesday, August 3 for the Sixth Annual Retreat Golf Tournament to Benefit Children's Therapeutic Services. The shotgun start is at noon. The fee is $130 per golfer. For more information or to register call 258-4313, or email: golf@brattlebororetreat.org.
* * *
The Second Annual Boy Scout Golf Tournament will begin registrations at 9:30 a.m. on Wednesday, September 7 with the shotgun start at 10:30 a.m. The fee is $125 per player with proceeds to benefit the Green Mountain Council BSA. For information or to register call Deirdre Baker (579-5922) or Art Magnaghi (380-3338).