[With more time on our hands thanks to the plague chasing us all inside, lists of best this and best that have been proliferating on social media. Best golf books among them. Well, in theory we have more time to read. So it seemed worth pulling out this chestnut, first published nine years ago this month.* Sure, I could ponder adding a few more since-published books to the list. But the thing stands up remarkably well, and who has time to ponder? I'll let it go forth mostly unchanged with the feeling that no golf fan would regret reading any of these.]
If I had one hundred years in front of me with nothing to do but read I'd still never reach the other shore on the ocean of golf books.
Naturally, there's some garbage floating around. But greatness, too. When I began thinking about what ten titles would constitute a solid desert island golf library, about five came immediately to mind. Then I put it out on the social media to friends and colleagues–if limited to one golf book to take to the proverbial desert island, what would it be?
The results mostly proved that great minds think alike, since we agreed on many titles. But extra points for thinking ahead to golf blogger David Rowell, who said he would take Dream On by John Richardson, along with his sand wedge.
Still, presuming there wouldn't be much chance to play on a desert island, it would be cruel to list any instructional books. So I haven't, concentrating on stocking the raft with good reads to see us all through, until rescued by the beginning of the season.
The Golf Omnibus by P.G. Wodehouse (Gramercy, 1996): I suspect even non-golfers would be seduced by this collection of 31 stories by the creator of Wooster and Jeeves. The rest of us will be helpless. Even the preface is hilarious, but the master unfurls a parade of hapless lovers, obsessed duffers, dastards due a comeuppance, most in tales narrated by that clubhouse fixture, the Oldest Member. Love, and golf, usually triumph.
Golf Dreams by John Updike (Knopf, 1996): The late Updike, renaissance literary man, was also a devoted mid-handicapper. He was besotted by the game and wrote about it often with his usual élan, on sustaining display here in stories, essays, and novel excerpts. (Yes, Rabbit Angstrom plays through.) My father and I once spent the better part of a dinner laughing over the title essay, about those impossible golf shots we face in our dreams. Worth the price of admission, and that's just the first hole.
My Usual Game by David Owen (Main Street Books, 1996): Like Updike a frequent contributor to The New Yorker, Owen was a mid-life golf recidivist. Having once forsworn the game, he fell hard upon his return, and in one comically entertaining essay after another about golf schools, Myrtle Beach, playing in Scotland and Ireland and inventing excuses to play golf that wives will buy, he speaks directly to the addict in us all.
Following Through: Herbert Warren Wind on Golf (Ticknor & Fields, 1985): You'll probably have to search the net or used book stores for this superb collection of pieces by the stylist the U.S.G.A annual book award is named after. Wind preceded both Updike and Owen at The New Yorker and it always amazed me how his pieces on major tournaments long over could be spellbinding cliffhangers. His paean to the Highlands, "North to the Links of Dornoch," will unleash a yearning that can be satisfied in only one way.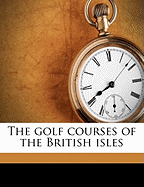 The Golf Courses of the British Isles by Bernard Darwin (Nabu Press, 2010): The grandson of Charles Darwin published his first and some say greatest work in 1910, surveying the great courses of the Realm, and in the process setting the bar awfully high for his successors. This reproduction volume includes the equally alluring illustrations by Harry Rowntree.
Blasted Heaths and Blessed Greens by James Finegan (Simon & Schuster, 1996): He's nowhere near the stylist of the other writers on this list, but Finegan's enthusiasm and love for Scottish links courses, and an amiable anecdotal approach make this an essential carry-on for any traveling golfer, and the same can be said for his companion volumes Emerald Fairways and Foam-Flecked Seas (Ireland) and All Courses Great and Small (England and Wales).
Doctor Golf by Richard Price Fox (Crane Hill Publishers, 2001): Next to the Wodehouse trove, this 1963 work remains one of the funniest golf books ever written, a wholly imagined epistolary collection. Head of the Eagle-Ho Sanctuary in Arkansas, where caddie flogging is still in vogue, Doctor Golf answers Dear Abby-like queries from the golf perplexed–players who slice even when off the course, a wife who thinks there's something wrong when her husband sleeps with his clubs (Doctor Golf fails to see this as a problem), all the while flacking dubious gadgets, such as the Doctor Golf Eagle-Ho Swing-Speed Whistle Control or the Eagle-Ho water-filled-head putter.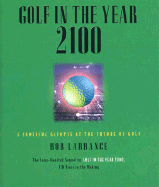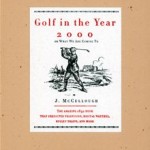 Golf in the Year 2000 by J. McCullough (Rutledge Hill Press, 1998), Golf in the Year 2100 by Bob Labbance (TowleHouse Publishing, 2003): Okay, cheated a little here, but this is an ideal pairing of novels, the first written in 1892, and yet prescient in visualizing such wonders to come as television, digital watches, bullet trains, remote-controlled golf carts and Ryder Cup-like matches. In Labbance's sequel of sorts, golf nut Martin Grant awakens from a century-long cryogenic snooze, and is soon teeing it up at the seventh Bandon Dunes course–at 9,384 yards long "short by modern standards." At long last, we learn, golf balls send out locating signals, scorecards speak, there are aerial hazards, magnetized bunker sand, and something called Altered Element Golf. Luckily, as Grant puts it, "beer was still beer."
The Legend of Bagger Vance by Steven Pressfield (Avon Books, 1996): From the Mystic Golf School of writing, with talk of The Field and The Authentic Swing, not to mention a time shifting battle sequence that sure wasn't in the movie. Heavy, man, but leavened by the great 1931 fictional match between protagonist Rannulph Junah, Bobby Jones and Walter Hagen.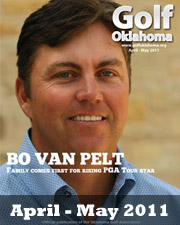 Missing Links by Rick Reilly (Broadway Books, 1997): Sportswriter Reilly presumably needs no introduction, but for those who know him mostly for his often comic nonfiction, welcome to the world of the Ponkoquogue Municipal Golf Links and Deli, presumably the world's worst municipal links, and right next door to the posh and ultra-private Mayflower Club. This is essentially a When-Worlds-Collide farce, the flawed heroes and craven villains clear, but the soundtrack filled with laughs and plenty of flavorful golf. What the heck, slip the sequel in, too–Shanks for Nothing.
*This piece first appeared, in slightly different form, in the inaugural April-May 2011 issue of Golf Oklahoma.