Though I'd been on Peter Kessler's "Making the Turn" radio show once, the Golf Road Warrior Scottsdale trip was my first chance to meet him, get to know him and play golf with the Voice of Golf, so called thanks to his stentorian tone, his many years with The Golf Channel and his regular stint now on the PGA Tour Network (SiriusXM).
Kessler had chided me about my back complaints in an email before we even departed for the GRW trip:
Enough with the back shit. I have had two back surgeries, minimally invasive and one on my neck. I have trigger finger in my right hand, all finger tips are numb, I dislocated a hip and tore my hip abductor and ripped a major tendon playing golf in northwest Ireland with friggin' Wallach in July. I have painful sciatica from my back to both of my numb AND pins-and-needles-ridden feet, and some body parts wake up 20 minutes later than others. And I have two stents. I am however an amazingly flexible and gifted lovemaker….
Turned out he's a damn good golfer, too. And as the self-appointed Rules Chairman, he laid out the GRW Scottsdale ground rules:
1. The highest score you can take is a triple.
2. All putts for double bogey or better must be holed.
3. If you lose a ball or can't play it, you throw one down at the nearest point of relief where it entered the trouble and add a stroke, so that everything is played as a red-staked hazard. Saves lots of time and aggravation.
4. We try to play the courses at between 6,400 and 6,600 yards for maximum enjoyment.
5. Summer rules, strict rules of golf, no improving lies anywhere on the course.
6. Play ready golf.
7. The two best net balls per group, an individual net score and a foursome net best ball are the competitions when we have two groups of players.
Please advise any tweaks you think appropriate. Be advised, as your chairman, that any tweaks suggested better make sense or they will be dismissed promptly.
As it turned out, proviso No. 7 had to go, as the games and teams had already been set up by Grow the Game Golf, a new cross-platform web and smartphone app we were being introduced to in a trial by fire. With all the data for the matches entered beforehand (more easily done at the GTG Golf website, gtggolg.com), on the day of the round players can enter scores on their smartphone for an ongoing live update of individual and team progress throughout the round, no matter how many foursomes are involved. (And that's up to 1,000 players!)
What this meant today was that, along with individual gross and net honors, our foursome was a four-man team using one best ball net against the foursome in front of us, all easily checked as the round unfolded.
I guess I have a dumb phone, since all it does it make and take calls, so my cart mate, the Voice of Golf, had to enter the scores on his phone. Kessler found this unclear and irritating at first–or pretended to, salting the air with some creative obscenities.
But once he found out he could also check on Jeff Wallach's score, he was sold: Kessler and Wallach have had an ongoing personal match since a past trip to Scotland, resumed in Ireland in the baptismal Golf Road Warrior trip, and carried over in Scottsdale.
It's a friendly match, of sorts. To hear either crow about winning the day's round, or moaning about losing it, you might think it falls just shy of a grudge match. But I had plenty of vicarious laughs listening to Peter cackle when he saw on the GTG Golf leaderboard that Jeff had double-bogied a hole ahead.
It worked the other way, too. Our fourth Golf Road Warrior, Terry Moore, is a stick, and he drove the par-4 fifteenth green, playing 283 yards from the gold tees, then sunk a long putt for the eagle. Hole safely won, he thought. But he was soon astonished to note on the GTG Golf leaderboard that Dave Akin, in our group, also eagled the hole.
Akin's was more impressive, actually. Dave had been struggling all day, and his pop-up drive on fifteen wasn't a thing of beauty, but it did land in the fairway. Then he hit what he thought was a pretty good second shot, though it was blind.
When we walked up to the green together he was puzzled, because he couldn't see his ball anywhere. Until he found it in the hole. Ah, golf!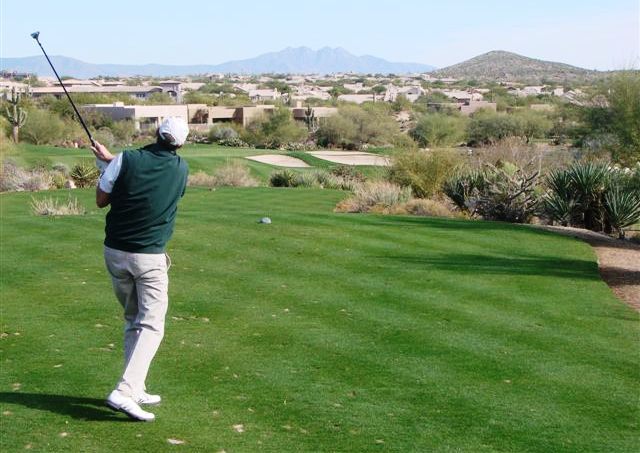 Dave Akin tees off toward the real Four Peaks, not the Four Peaks Brewery I'd visited the evening before.
More on this round in the preceding post, ""My Aching Back vs. The Monument Course"."