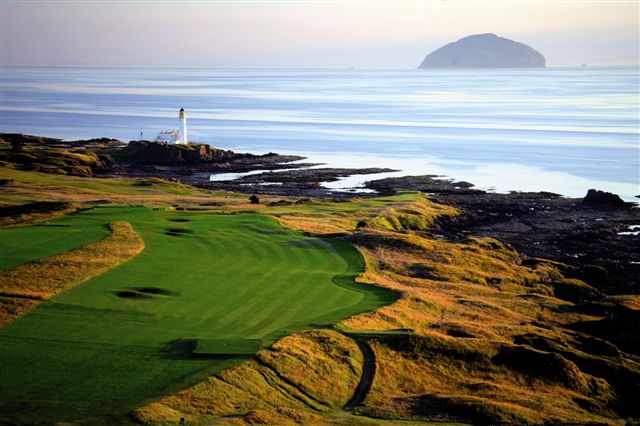 Ailsa Amber Ale is currently available in only one place in the world, and I'm lucky enough to be here–at the Turnberry Resort in southwest Scotland. The beer is named after the Ailsa golf course, easily among the world's most enchanting as it plays along the Ayrshire coast. In most recent memorable memory, it was the scene of the 2009 Open Championship, when Tom Watson almost turned back time, only to fall short at the final hole, and then lose in the playoff to Stewart Cink.
Watson will return July 26-29 for the Senior Open Championship. He'll be able to stay in one of suites named for the winners of the Open Championships played here–himself, Greg Norman in 1986, Nick Price in 1994 and Cink. Watson could also have a pint in the Duel in the Sun Lounge, named after the 1977 Open Championship epic, when he prevailed over Jack Nicklaus.
(Watson also won the Senior Open Championship here in 2003, Loren Roberts in 2006. Previous winners at Turnberry: Neil Coles in 1987, Gary Player in 1988 and 1990, and Bob Charles in 1989.)
Our group of five golf writers warmed up yesterday on the resort's Kintyre Course, a treat in its own right. We tackled the Ailsa course this morning, a lovely spring day, though with a fairly brisk wind playing about.
I have more on the history and layout of the courses in a series of posts beginning here. This is a quick trip, essentially a day and a half, two rounds of golf and two killer dinners, as we're off tomorrow on a long travel day to Greece to check out Costa Navarino. But there have been some big changes since last I visited. For one thing, the Ailsa Craig is for sale.
This may be of particular interest to curlers, since about 70% of the world's curling stones are fashioned from Ailsa granite.
It may also be of interest to twitchers, as birdwatchers are called here. The island is home to Scotland's third largest gannet colony. (Yes, I checked–the second is on the St. Kilda Islands, and the first is also within sight of a golf course–the Bass Rock off North Berwick.) Ailsa Craig–a volcanic mound uninhabited except by the gannets and friends–is leased by the Royal Society for the Protection of Birds until 2050. But the RSPB is not in negotiations for the island, falling a bit short of the £2.5 million asking price.
I was sorry to see fencing around the grounds of Souter Johnnie's Inn, a pub and restaurant on the site where the great Robbie Burns went to school. A troop of us had a grand evening here four years ago after an equally grand competition between U.S. and U.K. writers at Turnberry (click here). A recent fire which spread from the building's thatched roof gutted the place. But there are plans to rebuild.
The resort didn't rebuild itself, but it did undergo a multi-million pound renovation a few years past its centenary, evolving into a Luxury Collection Resort and re-opening just in time for the 2009 Open Championship.
Luxurious it is, and many of the 198 guest rooms reappointed in contemporary fashion. But many touches have restored the elegance of the original structure, such as the Grand Tea Lounge just off the main entrance.
The hotel has won a boatload of awards, not in the least because of the cuisine. Head Chef Justin Galea bends Escoffier traditions into modern twists in the signature 1906 restaurant, but can really dazzle guests at the Chef's Table, a private dining room inside the kitchen.
We wound up here our second night. Galea was away, but chef Martin Flanagan led us through the eight-course meal that had us surrendering like Durán by the end: "No más!"
Turnberry is big on local sourcing, and since 2009 that includes the beer offerings. A Glasgow brewery called West that opened in 2006 produces German-style lagers, and its pilsner, St Mungo Lager, was on hand. Both Boo Weekley and Mark Calcavecchia were big fans in 2009.
After a one-under opening round of 69 Calcavecchia suggested part of his success was due to the four pints of St Mungo he was allowing himself each night. It's a pleasing 4.9% ABV beer, making it hard to fathom why anyone would order a mass market lager with such evident local brewing artistry on hand.
I was delighted to find the Ailsa Amber Ale on hand and cooling in an ice bucket in my room after the Ailsa Course round. Serendipity. The beer is a light amber ale, I'd call it a bitter stylistically, with English and American hops producing a lightly floral nose. Mildly sweet with a touch of nuttiness, a reasonable hop bit, and she's done. At 4% ABV, easier to drink four of these than the St Mungo, methinks.
And as luck would have it, it was near seven, the hour each evening when the piper plays at Turnberry. I tried to get a shot of this happy confluence, foiled only by the window reflections.
Most of Turnberry's beers are now local. The Ailsa Ale is brewed for the resort by the nearby Strathaven Ales company, which has a full portfolio of tasty session strength beers. During the Chef's Table debauch–when we were probably supposed to be drinking more champagne, I stuck with Strathaven's Clydesdale IPA (3.8%) and its Craigmill Mild, an absolutely delicious black ale that comes in at a mere 3.5%.
Both beers, as well as the Ailsa Ale, put the lie to the belief that beers must be stronger to be tastier. Would that we could find them in the U.S.!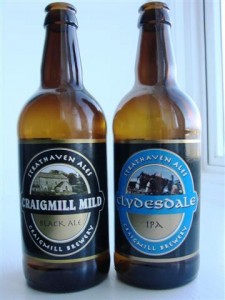 Although if the Clydesdale IPA were shipped to the U.S. I wouldn't be surprised if A-B InBev tried to slap some kind of trademark injunction on them. Budweiser usually comes in at about 5% ABV, Bud Light at 4.2%. In either case, the Clydesdale IPA is the better mount.
Name: Ailsa Amber Ale
Brewer: Strathaven Ales, Strathaven, Scotland for Turnberry
Style: Bitter
ABV: 4%
Availability: At the Turnberry resort, Scotland, year-round
For More Information: www.strathavenales.co.uk
Here's a wee taste of the nightly bagpiping ritual, showing the facade of the hotel, then overlooking the clubhouse, eighteenth green and first tee of the Ailsa Course:
Related posts:
Return to Turnberry
TAP Beer of the Week: Cup O' Kyndnes